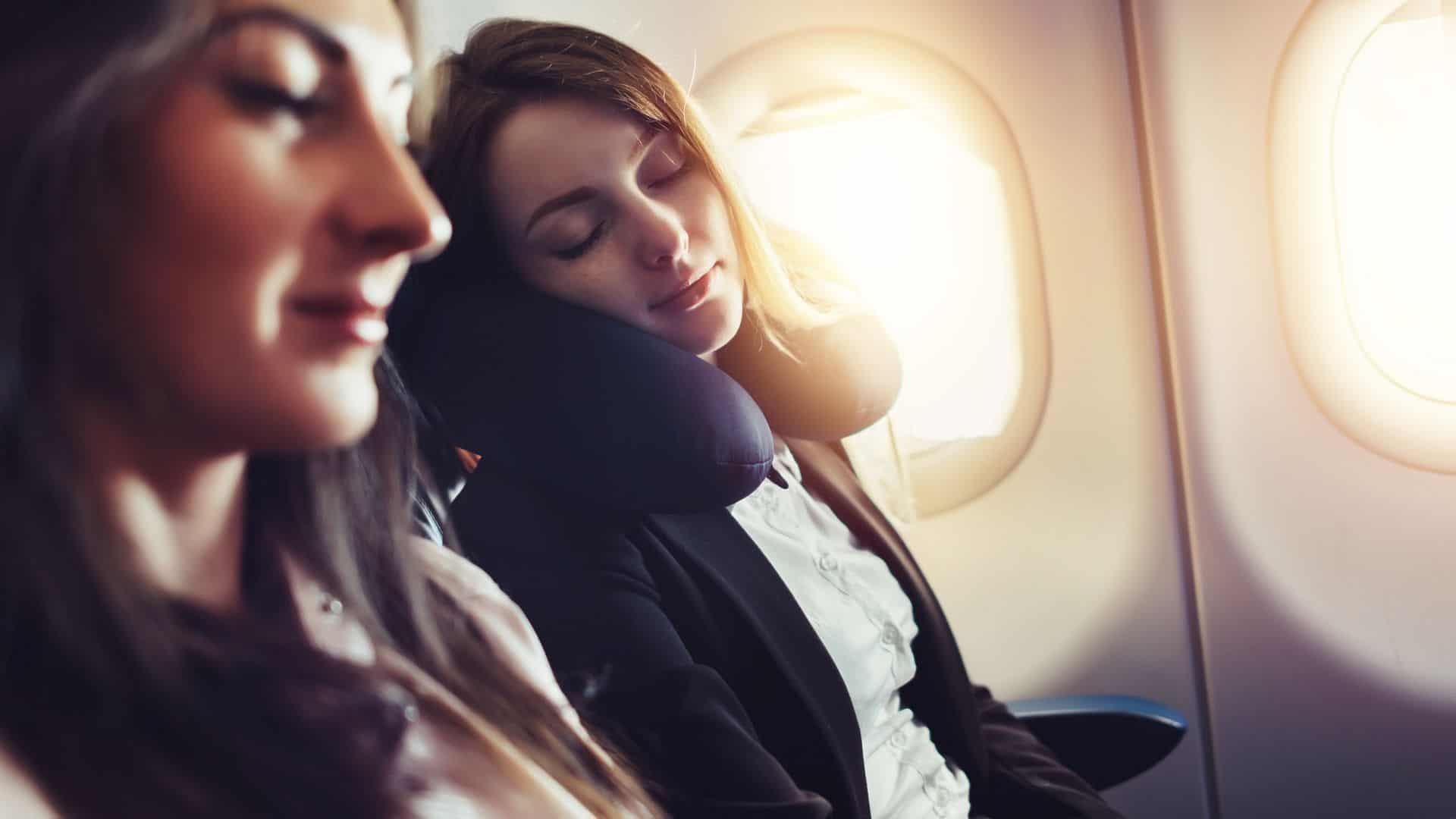 Even short flights can be physically uncomfortable and strain your neck and upper back. On long flights, particularly when you want to get some sleep and arrive rested at your destination, a travel pillow is essential for your comfort and rest during the flight. Travel pillows need to provide comfort and support, but also need to be able to stand up to the stress of travel. Even better when they are able to compress into a small size, so that they don't take up unneeded space in your luggage during the rest of your trip. Here are some of the best travel pillows for plane travel.
Comparison Chart
Travelrest Ultimate Memory Foam Travel Pillow/Neck Pillow - Therapeutic, Ergonomic & Patented - Washable Cover - Most Comfortable Neck Pillow - Compresses to 1/4 of its Size (2 Year Warranty)
Cabeau Evolution Memory Foam Travel Pillow - The Best Neck Pillow with 360 Head & Neck Support - Grey
BCOZZY Chin Supporting Travel Pillow- Stops The Head from Falling Forward- Comfortably Supports The Head, Neck and Chin in Any Sitting Position. A Patented Product. Adult Size, Navy
trtl Pillow - Scientifically Proven Super Soft Neck Support Travel Pillow – Machine Washable Black
Huzi Infinity Pillow Grey - Use It As a Desk Pillow, Neck Cushion, Back Support or Noise-canceling Pillow
Best Travel Pillow for ​a Plane Trip Reviews
1. ​Travelrest Ultimate Memory Foam Travel Pillow/Neck Pillow
Review
Memory foam is a great material to provide comfort and support, and the Travelrest Ultimate Memory Foam Travel Pillow/Neck Pillow allows you to enjoy the benefits of memory foam in a travel pillow. It has a contoured shoulder cut out, and a non-slip backing to support you as you lean back in your seat, instead of pushing the head forward to rest on the chin. It's secured with a Velcro closure, so it stays in place while you relax. The microfiber cover is soft and comfortable, and easily removable for washing in between journeys.
It compresses down to ¼ its size, fitting into the included stuff sack that easily attaches to luggage. It also comes with a pair of memory foam earplugs to make your flights even more restful. It's backed by a 100% money-back guarantee.
2. ​Cabeau Evolution Memory Foam Travel Pillow
Review
The Cabeau Evolution Memory Foam Travel Pillow is made of memory foam and has a lot of features to ease stressful flights. The flatter shape at the back of the neck prevents the pillow from pushing the head forward, and the 360° design allows you to rotate it to get the perfect head and neck support for your position.
The removable and washable cover is made of comfortable velour and comes in a wide range of appealing colors. It has adjustable sliding support toggles for a secure fit, and contains a media pouch for mobile devices, so you can keep your device conveniently located.
The Cabeau Evolution Memory Foam Travel Pillow collapses down to ¼ of its size and fits securely in the included sack for convenient travel. It comes with memory foam earplugs. This travel pillow has a patented, award-winning design, and is backed by a money-back guarantee.
3. ​BCOZZY Chin Supporting Travel Pillow
Review
The BCOZZY Chin Supporting Travel Pillow has an easily adjustable design to support your head and neck in any position. It is designed to support the chin and keep the head from falling forward, no matter how you prefer to lean your head. It is available in a wide range of attractive colors and is available in children and adult sizes. It is durable and machine washable, with a snap strap that attaches easily to luggage.
The innovative design of the BCOZZY Chin Supporting Travel Pillow has a flat back, and doesn't rely on front closures to stay securely in place; it simply wraps around the neck. That makes it more comfortable for a wider range of head and neck sizes since it conforms in any position. The design is also good for not allowing heat to build up around the neck and head, unlike some memory foam travel pillows that can feel like a hot box around the neck. The BCOZZY is more like a stuffed animal companion, and a great choice for young travelers.
​4. ​​Trtl Travel Pillow
Review
Sleeping on a long flight can be difficult, if not downright painful, which is why so many travelers are constantly on the search for a great neck support pillow. Unlike other neck support pillows on the market, this travel pillow helps to keep the head held in an ergonomic position, which will eliminate neck pain upon waking. Additionally, even though it is filled with internal support, the cozy cushioning helps to stop the support from digging into the skin.
This neck support pillow comes in a variety of different colors so that users can easily choose one that appeals to them. While it is a little bulky to pack, it weighs only 8 ounces, which makes it perfect to carry without adding a lot of additional weight. Because it can be attached to the outside of luggage or a backpack or purse handle, it's simple to bring this Trtl pillow on the go, no matter the destination. When the pillow gets dirty, it's easy to wash it by tossing it in the washing machine with some mild detergent.
Thanks to being made from a super soft fleece, this pillow will prevent users from getting neck cramps and from sleeping on an uncomfortable fabric. It is hypoallergenic, which makes it perfect for anyone who has allergies. Not only is the fleece comfortable and soft, but it is very warm, which is great for when traveling by plane, train, or car and combating cold travel conditions. With a combination of internal support ribs and a layer of foam inside the fleece, this pillow is comfortable, supportive, and won't cause a neck cramp during use.
​5. ​​Huzi Infinity Pillow
Review
Most travel pillows are only designed to be used in one way and, but this travel pillow from Huzi can be used in a myriad of different ways thanks to the infinity design of the pillow. It provides comfort to any sleeping position, no matter whether the user wants extra neck support, wants to use the pillow against the window or desk, or simply needs extra comfort along their back. Because the pillow is so soft and flexible, it can be used in many different ways without breaking.
Not only is the Huzi travel pillow flexible, but the bamboo fabric prevents the pillow from feeling too hot and causing the user to overheat. It is incredibly breathable and does a great job helping regulate body temperature and allowing air to pass through the fabric. This means that users won't wake up as sweaty and uncomfortable as they may with other types of travel pillows. Packed with thousands of different layers of microfibers, this pillow is designed to be supportive and comfortable without causing the user to become too hot when sleeping or resting during travel.
At the end of a long day of travel, this pillow can be put into the washing machine to ensure that it is completely clean before the next time it is used. While it is naturally hypoallergenic and antimicrobial, thanks to the material used in construction, this pillow washes and dries quickly and easily, which ensures that no germs are lingering in it before the next time it is used.
​The Verdict
We love the award-winning design of the Cabeau Evolution Memory Foam Travel Pillow. The supportive memory foam, 360° positioning, and soft, washable, velour cover are great features. We especially love the built-in pocket for devices, so you can listen to music, set an alarm, or just keep your device safe and secure while you sleep on the plane. For those with long necks, it's easy to use over-the-ear headphones with this neck pillow, and many people love it.
For those who are smaller and have shorter necks, or if memory foam is just too hot, the BCOZZY Chin Supporting Travel Pillow is a great alternative. The super-flexible design lets you position it in a variety of ways, whether you are seated in a window, aisle, or middle seat, or however your head is most comfortable.
Even people with short necks and small heads can use over-the-ear headphones with the BCOZZY, and the different positioning options allow you to adjust as necessary and prevent heat buildup.