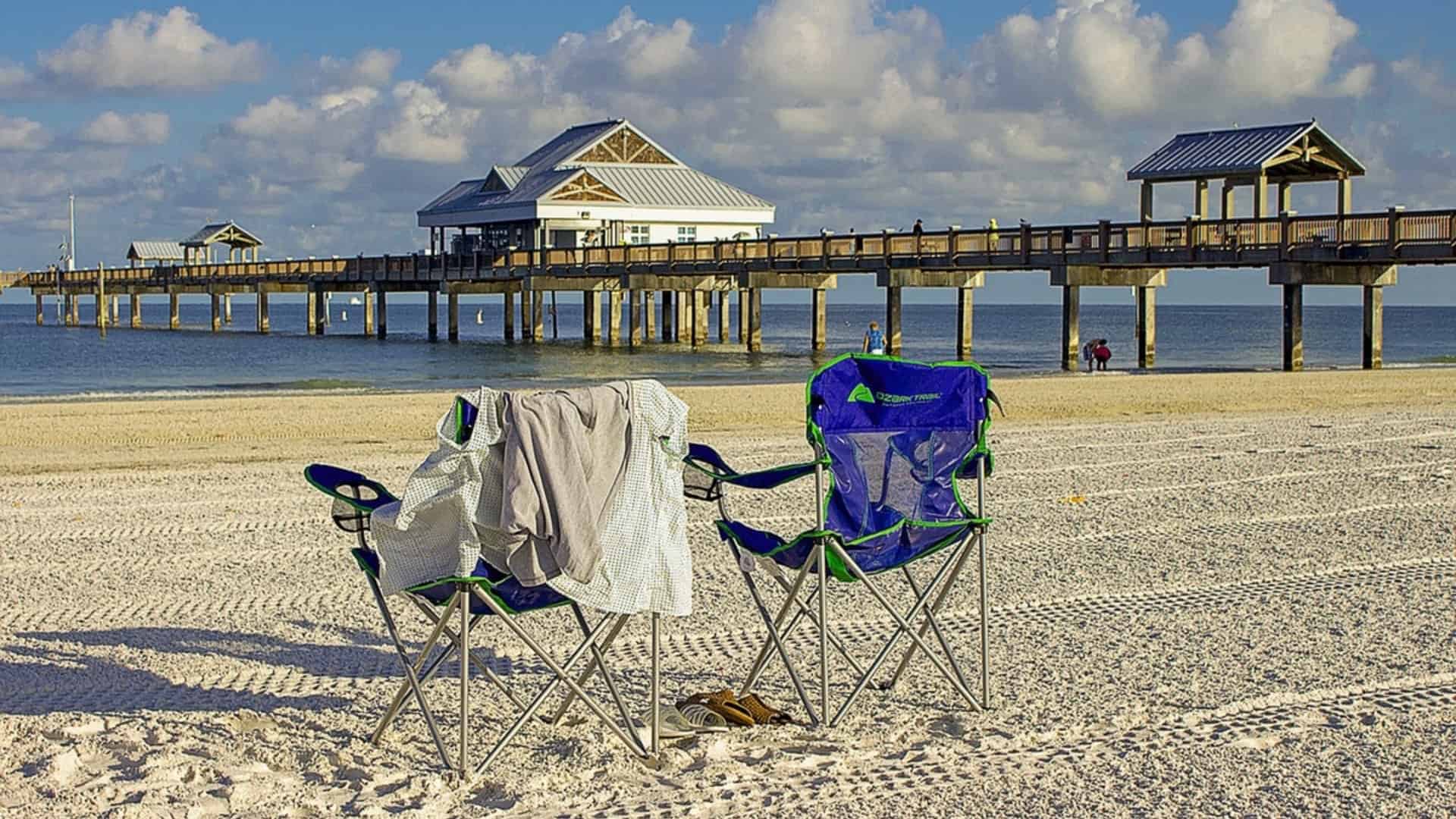 When you're taking a trip to the beach, you want a chair that can keep up. In most cases, something lightweight, durable and easy to carry is something well worth having so you won't need to worry about carrying around something heavy, or the chair breaking as soon as you get there.
In addition, you want something comfortable. Luckily, these chairs offer all of these features and more. So take a close look, and you'll surely find the perfect beach option to suit your needs. Each provides some truly excellent benefits, bright colors and a range of different prices.
Comparison Chart
Rio Brands Bright Wide Stripe Bum Beach Chair
Coleman Utopia Breeze Beach Sling Chair
WildHorn Outfitters Terralite Portable Camp/Beach Chair (Supports 350 lbs) with TerraGrip Feet - Olive
Best ​Packable Beach Chair Reviews
1. ​Rio Beach Folding Chair
Review
​The Rio Beach Chair comes with a bright, tropical look and a height that ​we find to be perfect for the beach. Also, it includes the ability to recline into 4 different positions while keeping you safe with the Safe Adjust addition. It also includes a locking bracket to stop the beach chair from slanting or folding while it's in use and strengthens the seat frame for a stronger, sturdier, chair. It's also made from solid wood, ensuring durability.
For when you want to keep your items safe, you can also make use of the zippered pocket. You'll also get a cup holder to store a drink for keeping you hydrated on the beach easily. At only 8 lbs., this option is very easy to fold up and carry to wherever you need to go without too much hassle.
Generally speaking, ​we enjoy the height of this chair because it allows​ you to stretch out or rest your feet in the water. We also find it to be a very comfortable option, which is great when you plan to hang out at the beach all day. The lightweight design also makes it very easily portable.
Rio Brands Bright Wide Stripe Bum Beach Chair
Provides a higher beach seating option at 12 ½ inches off the ground.
4-position recline with Safe Adjust feature to protect fingers and hands.
Solid hardwood, extra wide arm rests with built-in carry handle
Includes an adjustable padded shoulder strap and a compact fold for portability.
2 separate storage compartments. 1 large zippered pocket and 1 smaller velcro pouch.
2. ​Coleman Utopia Beach Chair
Review
For those who want a great chair, this is a great option to consider. This little beach chair is ​lightweight and durable. Furthermore, it includes a cup holder so that you can keep your drink above the sand. Thanks to the coloring, you'll also be able to find it just about anywhere easily.
Like the previous option, this is a lower chair, so it's great for resting your feet in the water or sand. The back is also designed to be quite relaxed so that you can lean back in it quite easily. In addition, there's a pocket on the back of the seat that allows you to store things you don't want to get wet or sandy.
This is a very lightweight option, weighing in at just over 6 lbs. At the same time, it can handle weights of up to 250 lbs., so it's a very durable little chair. Users also typically find that this option is very easy to set up in a matter of seconds, and highly comfortable to hang out on for hours.
Sale
Coleman Utopia Breeze Beach Sling Chair
Lightweight, portable beach chair ideal for soaking in the sun
Relaxed back and low seat allow you to spread your legs out in the sand
Durable, powder-coated steel frame supports up to 250 pounds
Seatback pocket and cup holder provide storage room for beverages and personal items
Comes with carrying bag for easy transport and storage
3. ​Terralite Portable Beach Chair
Review
If you want a unique ​chair to take to the beach, this one is worth checking out. While it seem a bit unorthodox, the Terralite chair is one with a quality design. It weighs in at only 2 lbs., which means you'll barely even notice it as you carry it to the beach. The Terralite's super compressed size, and sturdy construction make it the perfect companion for any beach trip.
​This chair can hold up to 350 lbs. and the fabric cover can easily be tossed into your washing machine. It even includes a great storage bag.
Overall, ​we appreciate that this chair ​is very lightweight while still having a high weight limit. This just goes to show how durable and reliable it is. Also, it's an option that is very easy to set up with a simple process of unfolding, which takes just a few seconds.
Only downside is the feet of the chair tend to sink too far down when used on sand or a soft surface even though it has rounded feet which are meant to prevent this from occurring. On a positive note though, the feet are changeable, so you can easily put other feet on for a better grip.
Sale
WildHorn Outfitters Terralite Portable Camp/Beach Chair (Supports 350 lbs) with TerraGrip Feet - Olive
PORTABLE - Quit hauling huge bulky chairs around. At only 2 lbs the lightweight Terralite chair is perfect for any outdoor activity. Easily attach the chair to a backpack or bag with the built in velcro straps for hands free transport.
WON'T SINK IN SAND OR MUD - With our exclusive Terragrip feet the chair floats on the sand or mud making it perfect for the beach or other sandy / muddy conditions. We also include 4 standard feet that are interchangeable.
DURABLE - Made from heavy duty aircraft grade 7075 aluminum the Terralite supports up to 350 lbs. The materials are also rustproof- great for salty air! Seat cover is machine washable for easy care.
EASY SETUP & COMFORTABLE- Sets up in seconds so you can sink into the mesh fabric and enjoy that sunset on the beach, camp fire, kids sports events or music festival. Good things come in small packages!
MESH STORAGE BAG - Our mesh bag was designed so you don't have to be a magician to get it back in the bag. You can also attach the bag with the velcro straps under the chair and have it double as a storage pouch.
​The Verdict
Among all of these chairs, the Coleman Utopia holds the top spot. ​It's just plain comfortable, very portable and allows ​the perfect height for resting ​your feet in the waves.
However, that option isn't going to suit everyone. If you're looking for something different, it's absolutely worth your time to check out the other chairs in this list. You'll surely find something that suits your preferences, needs and most importantly, your budget.