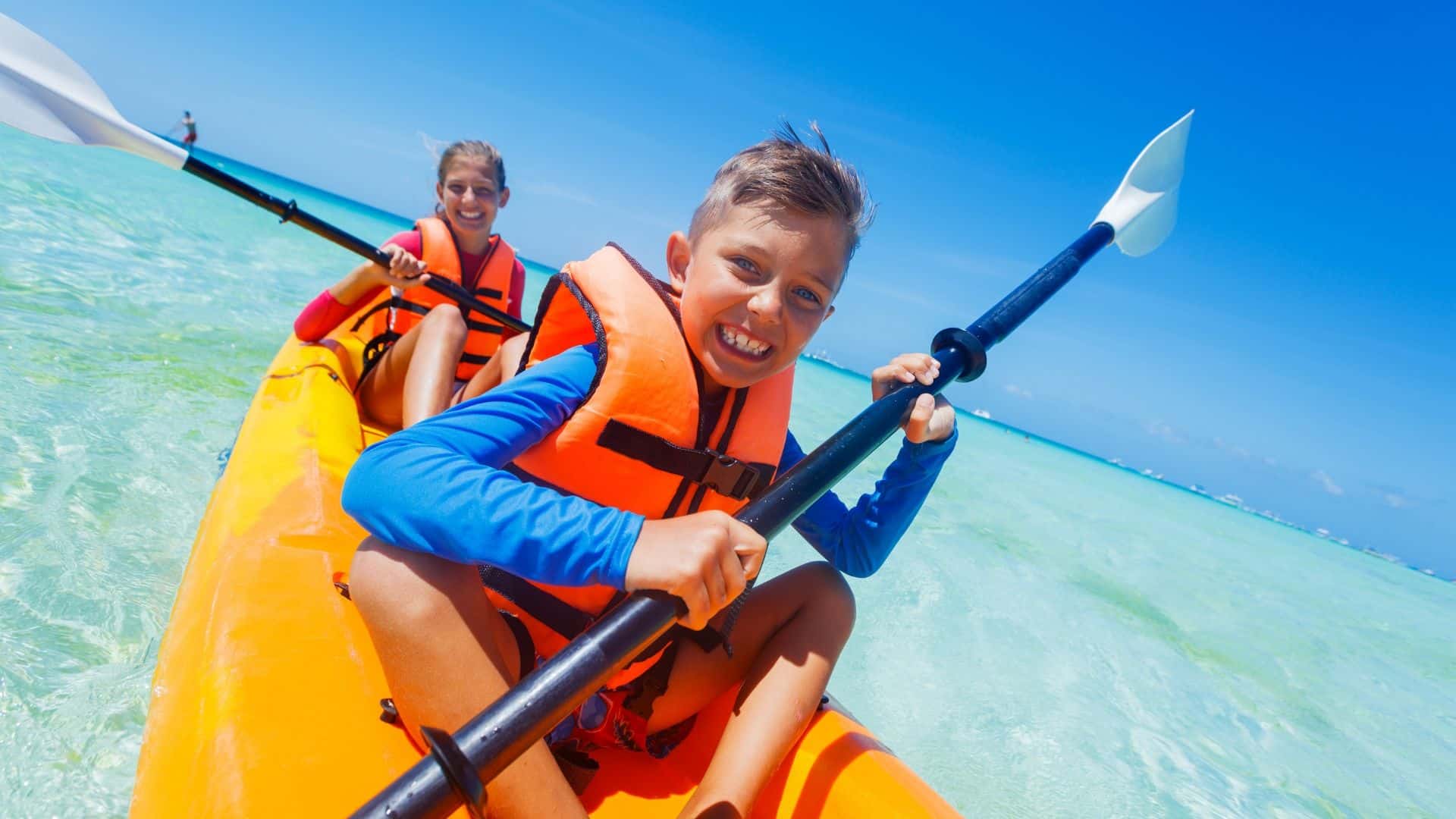 Kayaking is a fun and safe way for whole families to enjoy summer activities and water sports. It's an activity that is enjoyable and healthy, and lets you build special memories together. But not all kayaks are good for the whole family, so it's important to look for a kayak with enough space and the right features to be safe and pleasant for everyone. Here are our top picks for the best kayaks for families:
Comparison Chart
Ocean Kayak Malibu Two Tandem Sit-On-Top Recreational Kayak, Yellow, 12 Feet
ADVANCED ELEMENTS AE-1007-R AdvancedFrame Convertible Inflatable Kayak, 15', Red
Lifetime 90118 Manta Tandem Sit on Top Kayak with Paddles and Backrests, 10 Feet, Yellow
Best Kayaks for Families Reviews
1. ​Ocean Kayak 12-Feet Malibu Two Tandem Sit-On-Top Recreational Kayak
Review
The Ocean Kayak 12-Feet Malibu Two Tandem Kayak can hold up to 425 pounds, and has plenty of room for two adults and a child. It has three paddling positions so that it can be used by one, two, or three people at the same time. Overlapping molded-in foot wells allow everyone to use the kayak in comfort and safety. The two comfort-plus seats, molded-in handles, and side carry handles provide extra comfort and versatility, no matter how long or short your legs may be.
Even better, the design of the hull and deck of the Ocean Kayak 12-Feet Malibu Two Tandem Kayak are designed for easy stacking, for compact storage and transportation if you need more than one for a growing family. It comes in three colors: Yellow, Envy, and a two-tone Sunrise color.
It is more stable and versatile than other sit-on-top kayaks and has bow and stern carry handles, gear straps, and a skid plate so everything stays easy, safe, and secure. Ocean Kayaks are known for their durability, and the 12-Feet Malibu Two Tandem will last for years with proper care.
2. ​Advanced Elements AdvancedFrame Convertible Inflatable Kayak
Review
For a tandem kayak without all the weight, the Advanced Elements AdvancedFrame Convertible Inflatable Kayak is an inflatable kayak with a capacity of up to 550 pounds. It collapses down into a bag for the easiest transport possible, but, when inflated, the built-in aluminum ribs define the bow and stern for improved tracking. Three layers of material provide sturdy puncture resistance for safety, and it has three paddle positions for solo or tandem kayaking.
When folded, the Advanced Elements AdvancedFrame Convertible Inflatable Kayak weighs 52 pounds and is just 35 x 21 x 12 inches. It is pre-assembled, so you just unfold it, inflate it, and attach the supportive, adjustable padded seats. It has an integrated pressure relief valve, molded low-profile rubber handles, reinforced seams in rip-stop fabric, a skeg tracking fin, and six chambers. D-ring tie-downs and deck lacing provide easy options for gear and transporting the kayak.
For an additional purchase, you can take advantage of AdvancedFrame's different deck configurations and make the most of this convertible kayak, so you can have the open, closed, or tandem decks that suit you best.
3. ​Lifetime 10 Foot, Two Person Tandem Sit-on Kayak with Padded Backrests
Review
The Lifetime 10 Foot, Two Person Tandem Sit-on Kayak is a great choice for a small family. Although it's just 10 feet long, it holds an impressive 500 pounds, and can be used singly or tandem. It has a lightweight design with molded front, and rear carry handles for easy transport. The built-in soft backrests support you in comfort, and the high and dry seating keeps you dry. The tunnel hull design provides excellent stability and tracking, and it's almost impossible to tip over.
It comes in yellow or green, and two 2-piece sports paddles are included with the kayak. While it may not be as fast or as sleek as many other kayaks on the market, that's not what you get this kayak for. You get it because it's a safe well constructed kayak that can easily be used by the whole family.
​The Verdict
When kayaking with kids and pets, safety is the most important thing. For that reason, our No. 1 recommendation for those with small children and young pets is the Lifetime 10 Foot Tandem Sit-On Kayak. It isn't as fast or sleek as other kayaks and doesn't always track well, and some don't like the exaggerated "banana boat" shape, but it's virtually impossible to tip over and extremely safe for the whole family. It's a great way to have fun, relaxed, safe water outings, even with young children, and ensure that everyone stays safe on the water.
For those with older children or pets, the Ocean Kayak Malibu Tandem is also a great choice. It has a good weight rating, excellent handling, and is perfect for two adults and a child or a pet, even if you want to go ocean kayaking and handle some waves. Kayaking is a spectacular family-friendly activity, whether it's just exploring and playing, or fishing and relaxing, and these kayaks are a great way to do it together, and in safety.