Some links in this post are affiliate links. This means if you buy something through our posts, we may get a small share of the sale at no additional cost to you. As an Amazon Associate we earn from qualifying purchases. Click here to learn more.
While you're having fun at the beach, one of the last thing you want is to see your beach umbrella flying through the air. Not only can this ruin your day, but it could potentially hurt someone.
To make sure this doesn't happen, you need to anchor your umbrella securely. Save yourself from having to go after it and bring it back.
​If you want to learn how to anchor beach umbrella in the sand, there are some things that you need to take into account and follow a few fairly easy steps. Here's everything that you need to know.

​Anchoring the Umbrella the Right Way

1. Choose the Right Umbrella
Many people make the mistake of taking their patio umbrella to the beach. This isn't really a good idea. There's a reason why these are two different things, so make sure that you choose the right one.
This means going with an umbrella that has been designed to lower the risk of it flying away. This includes a strong pole, a vent on the top of the canopy, and thicker canvas. Once you take these factors into account, you've already made it easier for yourself.
Related: ​Beach Umbrellas Reviews

2. Find a Good Spot
It would be great if you could go to the beach before it becomes crowded so that you can scout for the best place to place your umbrella. If possible, place your umbrella next to something that can act as a windbreaker. This can be a building, a large rock, or anything that can provide shelter from strong wind.
An alternative is placing your umbrella near the water – just make sure that the top layer of the sand is dry. This way, you can make yourself comfortable, and the wet sand underneath you will do a good job of keeping the umbrella in place.
3. Anchor the Umbrella
Having a sand anchor can make a world of difference. It can make the job so much easier. Some umbrellas come with sand anchors. If yours doesn't, it'd be smart to invest in one, as it's fairly affordable and awfully useful.
Here's how to use a sand anchor:
Choose the right angle
The top should be facing the wind, so that the umbrella acts as a windbreaker. If you find the right angle, the wind will actually anchor it further, instead of blowing it away. You can also position it upright if you want to get better sun protection.
Twist the anchor into the sand
This isn't hard to do, and it usually doesn't take more than a couple of seconds.
Put the umbrella pole inside
Grab the pole and place it inside the tube, and then fasten it. Make sure that it's tight enough, so it doesn't slip away.
On the other hand, if you don't plan on using a sand anchor, there's really only one thing you can do – start digging. Shove the pole into the sand, then push it back and forth, until you can't do it anymore. This will take around 2 feet, and you'll know that you're done when you can't rock the umbrella anymore.
Another thing you can do is find some stones nearby, and use them to secure the umbrella even better. Just place them around the pole and ensure that they're tightly positioned.
This usually takes quite some time and effort and can be pretty inconvenient. Also, you get a lower umbrella height. Still, if you want to do without a sand anchor, you can do it this way.
Still not sure about how to use a sand anchor? Check out this helpful video:
4. Readjust if Needed
Chances that the wind will only go in one direction are pretty slim. As the wind changes direction, your umbrella might fly away, especially if it's placed at an angle.
As soon as you notice that the wind is changing its course, make the necessary adjustments. If you see that your umbrella is getting loose, don't wait any longer, because it will probably fly away. Instead, reposition it, and if the wind is getting really strong, you might want to think about taking it down.
The Final Word
Anchoring your umbrella can be a pretty easy job, and it can ensure safety of the people around you as well as yourself. Follow the steps that you read here, and you'll minimize the risk of anything going wrong.
There are also some umbrellas that have a very strong base, so if you think that anchoring an umbrella is bothersome, you can get one of these instead.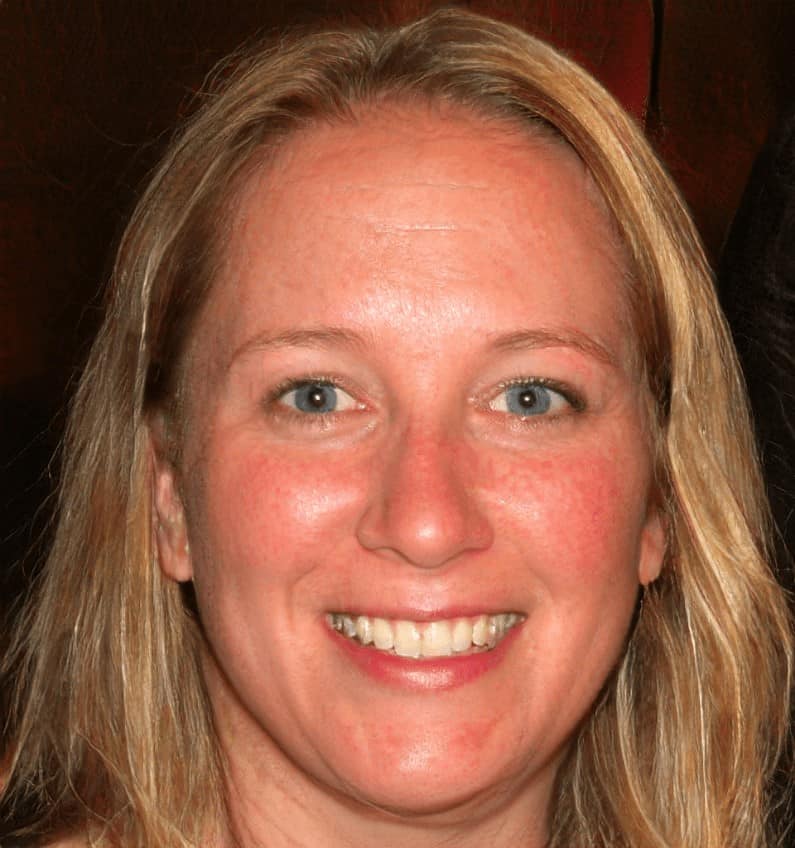 Megan Jones is the lead author of Seaside Planet. She is an avid surfer, scuba diver, and travel enthusiast who takes any opportunity she can to spend time in the ocean. You can learn more about Meg and the rest of the editorial team here.