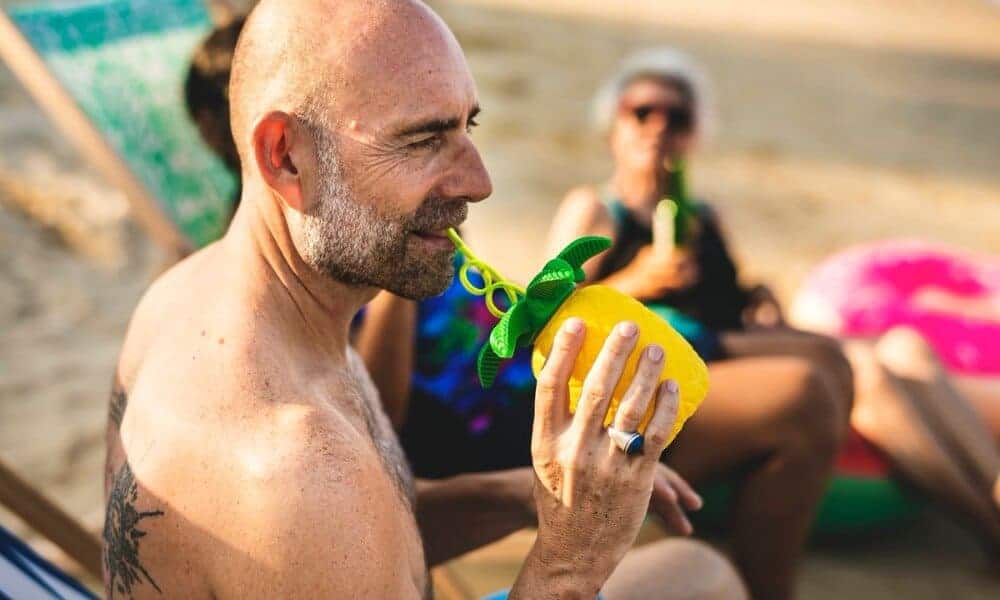 Do you have a man in your life that you would like to spoil a little bit, a man who loves going to the beach? Maybe it's his birthday, Christmas, or your anniversary. The point is that the special somebody in your life deserves to be treated right, and that means the occasional gift. Yes, finding a present for your man, the one you love, can be a little difficult considering all of the possibilities out there. However, this is what we are here to help with today – to help you find the best beach lover gifts for him. We have a few pretty neat things to look at, so let's get right to it.
Comparison Chart
Super Ultra Wide Wheel Wonder Wheeler Beach Cart w/Bodyboard Holder
Grand Trunk Parasheet Beach Blanket or Picnic Blanket with Patented Sand Anchor Pockets, Stake Loops, and Attached Stuff Sack - Best Beach Blanket for Outdoors- Turqoise/Sky Blue
LA LEELA Rayon Vintage Casual Camp Party Shirt White XL | Chest 48" - 52"
Sea Turtle Sports Luxury Beach Bocce Ball Injection Molded Crack and Rust Proof Set
​Beach Lover Gifts for Him Reviews
Review
If your man needs something for the beach, might it be a cart? Yes, we always bring tons of items to the beach, but we rarely have a good way to carry those things. If your man needs a good cart, one that won't get stuck in the sand, to carry all of his beach gear, the BeachMall Beach Cart might be a great beach lover gift.
First and foremost, this cart has ample storage space for all of your necessities. It has a bodyboard holder for body boards, it has a beach chair hanger, an umbrella hanger, plus it has tons of storage space in the interior compartment too. The BeachMall Beach Cart has a maximum capacity of 77 pounds, which should be more than enough for all kinds of beach gear for a day of fun. It can hold up to 4 chairs, a cooler, and tons of other items too.
What is great about the BeachMall Beach Cart is that the rear wheels, and the front wheels, are specially designed to deal with sand. Both sets are made to be extra wide and sturdy, so they get a lot of surface area on the sand, kind of like snowshoes on the snow. These wheels definitely won't have you sticking in the sand trying to push your belongings along to no avail.
We also do like this cart because it can easily fold down to size. Once folded, the BeachMall Beach Cart is very small and portable, plus it only weighs around 11 pounds. It is not so light that it will fall apart when loaded up, but also not so heavy that you can't carry it with ease.
Review
There is no doubt about the fact that the beach is sandy. However, when you lay down after a swim, you want to get dry and you don't want to be full of sand. This great beach blanket will get your man dry and stop him from getting all sandy too.
The Grand Trunk Parasheet Beach Blanket is a great blanket to go with because it is made out of parachute nylon. For one, this means that it is super durable and it should not rip or tear no matter what. At the same time, the nylon material used here is great because it is both sand and water resistant. In other words, you can lie on it all you want, but it won't absorb water, plus sand does not really stick to it either.
With that being said, this is not a towel you can use to dry yourself off. However, what is neat about the Grand Trunk Parasheet Beach Blanket is that it comes with sand pockets so you can anchor it down. Your beach blanket flying away in the wind is a pain in the neck, something that does not happen with this particular item. This is 7 by 7 feet, so you can easily fit quite a few people onto it.
3. ​La Leela Beach Shirt
Review
If your man is going to the beach, and he needs a good shirt, one that is semi-casual, but also quite elegant and manly, the La Leela Beach Shirt is a good choice to keep in mind. It's a simple white, short-sleeved dress shirt, but it looks nice and it is comfortable too. Mind you, the base color here is white, but this shirt does come in many different color options.
Although this is a simple button up dress shirt, it makes for a great top for many occasions. The La Leela Beach Shirt is a button up shirt, which helps to add a bit of class to a situation, even if your man is just going to the beach. It's ideal for warm weather occasions on the beach, such as weddings and other such events, plus just for a nice stroll along the water too. At the same time, this is a short-sleeved shirt, so it would be considered casual attire. At any rate, the La Leela Beach Shirt is a good beach shirt to go with no matter the occasion.
The La Leela Beach Shirt is made of rayon​ and is very lightweight and breathable so your man will never get too hot. If he needs fancy/casual beach attire that will keep him cool and sweat free, this is a good option to keep in mind.
What does need to be mentioned is that the La Leela Beach Shirt needs to be hand washed and line dried. It cannot go in the washing machine or dryer, or else it will get ruined. ​
​4. ​​SeaTurtle Luxury Beach Boccee Ball Set
Review
While many other bocce ball sets simply aren't durable enough to use on the beach, this set from SeaTurtle Sports features balls that are durable, heavy, and bright, all features that make them perfect for use on your trip to the ocean. The eight balls are all designed to be easily found in the sand dunes, and the jack is made from the same durable material so that it won't be damaged during play. Also included in the set is a string to make it easy to measure ball placements that may be too close to tell with just the naked eye.
Thanks to the tough carrying case and strong handle, users are able to take their bocce ball set with them on a walk down to the sand without having to juggle multiple balls. The case is designed to last for decades and is made of a thick and durable canvas, it features a zipper that can withstand sand, and it even has a small interior pocket for the jack so it doesn't get lost.
The balls in this set are Petanque size, which means that they have a three-inch diameter and are perfect for younger players to use as well. Unlike some bocce ball sets that feature very heavy balls that are difficult for children and petite adults to handle, the smaller size and lower weight of these balls means that the whole family can easily play together.
To ensure that the balls will last for generations, they are made from a combination of synthetic polymers. Since these polymers have been specially chosen for use in the set, there is very little worry about the balls cracking or chipping. This is great, as many beach bocce ball sets are filled with water, and simply aren't as durable or able to last as long this set does.
Due to the design of the balls, they can easily roll on most any surface without problems, although they can get a little bogged down in loose materials such as sand or sticks and twigs. Since they are impact resistant and rust proof, they are great to use on sand, pavement, and even grass without being damaged.2
​The Verdict
If you need a great gift for a man that loves the beach, any of the above options make for really nice choices. We are not going to recommend one over the other, as they are all such radically different gift ideas. It all comes down to what that special somebody prefers.