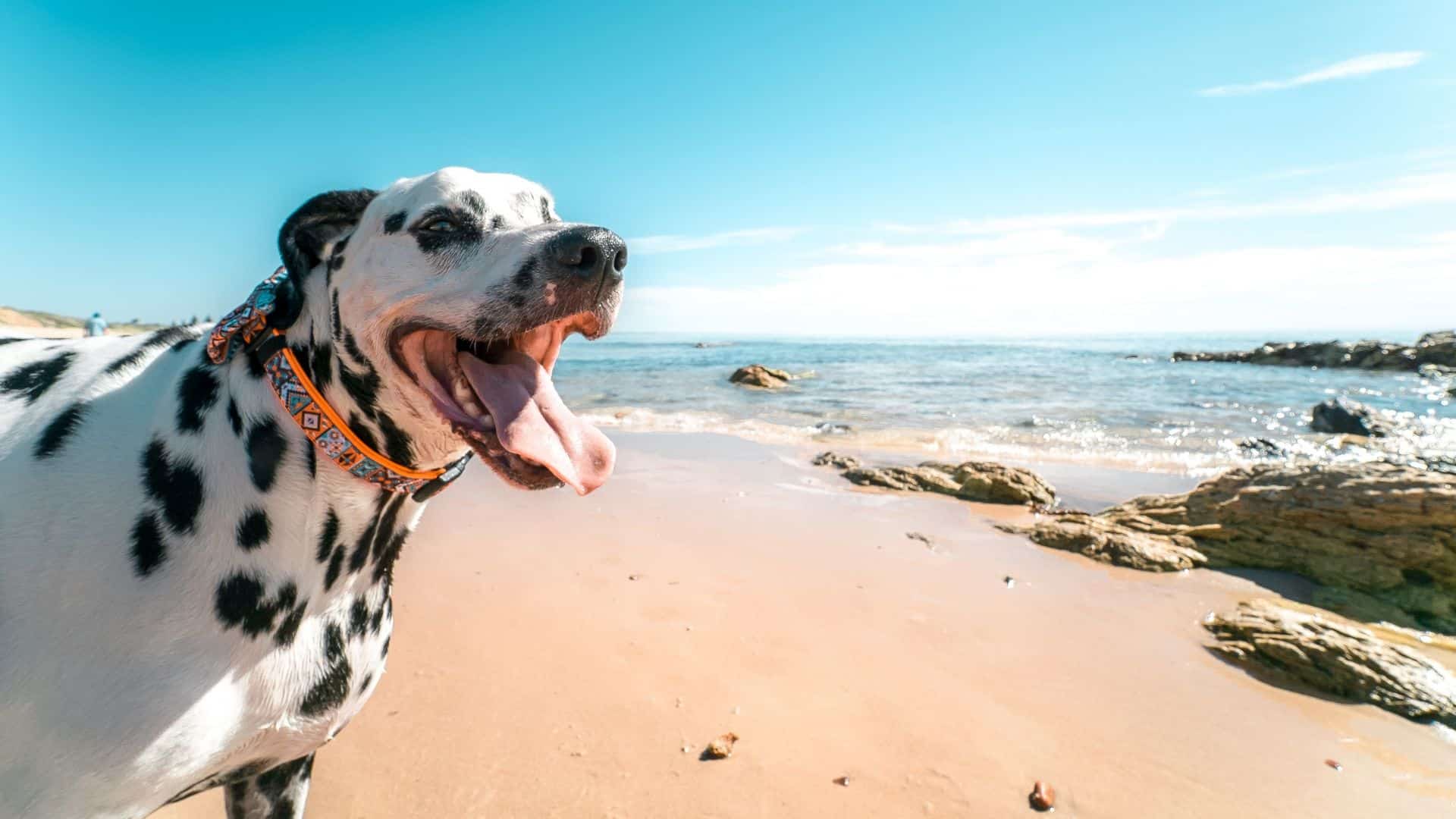 If you love to go to the beach and want to take your furry friend, then you need to make sure that you plan how you are going to keep it safe. While many people do a great job planning for what their family members will need to stay safe while on vacation, including sunscreen, plenty of water, and a first aid kit, it is unfortunately easy to overlook the family dog when preparing for a trip.
To ensure that your pet is safe while you are at the beach and to decrease the possibility of it being seriously injured, I have found that you will want to invest in a pair of the best dog shoes for the beach. By getting a pair of dog shoes and making sure that your pet is comfortable wearing them before you go to the beach, you can make sure that its feet will be protected not only from the hot pavement and sand but also from broken glass or other sharp items that may be in the sand or water. I know that it can be a hassle but you need to make sure that your dog is comfortable with their new shoes before your vacation or you are likely to be very frustrated if it won't wear them.
Related: The Top Life Jackets for Small Dogs

Comparison Chart
RUFFWEAR - Grip Trex (All-Terrain Paw Wear), Blue Spring, 2.5 in (64 mm)
QUMY Dog Boots Waterproof Shoes for Large Dogs with Reflective Velcro Rugged Anti-Slip Sole Black 4PCS (Size 6: 2.9x2.5 Inch)
My Busy Dog Water Resistant Dog Shoes with Two Reflective Fastening Straps and Rugged Anti-Slip Sole | Dog Boots Perfect for Small Medium Large Dogs | Size Chart in Pictures (Size 5, Green)
Canine Equipment Ultimate Trail Dog Boots, Large, Black
Best Dog Shoes for the Beach Reviews
1. ​Ruffwear All-Terrain for Dogs
Review
If you want to make sure that your dog will be ready to go outside on the beach at a moment's notice, then these shoes are a great choice for you. They are easy to put on your dog's feet and since they close with a piece of durable Velcro, you don't have to worry about spending a long time trying to get them on, which can annoy some dogs and make them feel antsy. Additionally, the opening is large enough that it can slip over your dog's paw quickly, thanks to the gusset in the fabric providing a little more room than a traditional shoe.
I have found that the sole of this shoe is great if you want to make sure that your dog has plenty of traction when it is running. Since the top of the shoe is made with a breathable mesh, your dog's feet won't get too hot, no matter if you are in the sun all day or not. This also means that air can circulate around its feet, which I have found to be very comfortable for my dogs. While many people are worried about whether or not sand will get into the shoe from the mesh, I have found that water and air can circulate through the shoe but most sand is kept out due to the tight weave.
2. ​QUMY Dog Boots with Velcro
Review
These boots are the absolute best ones to choose if you are worried about your dog slipping while you are at the beach. If you are going to be playing mostly in the water and sand, then you may not need these boots; however, if you are going to climb wet rocks with your dog and want to explore areas off the beaten path, then they are the right choice for you and your pet. The sole is incredibly durable and hard and does a great job at protecting your dog's foot from anything that may try to poke through the material.
The wide split seam means that if your dog has larger feet, you can still get them off and on relatively easily and the Velcro closure makes the process fast. While the thick sole was designed to protect your dog's feet from damage, it also does a great job preventing a lot of heat getting to your dog's feet, which is great as it will keep them from being burned by accident. One thing that surprised me was that even though the sole is incredibly thick, it is still flexible and doesn't prevent the dog from being able to feel where it is walking and stay stable on its feet.
3. ​My Busy Dog Anti-Slip Shoes
Review
These rugged dog shoes are great if you want to provide your pet with a tough sole that will prevent it from slipping on any type of surface, no matter how wet it is at the beach or if it is still raining. While they are ideal for climbing over driftwood, large boulders, and along wet piers, they are also durable and strong enough to offer your dog plenty of protection from jagged or rough surfaces so that it doesn't cut its feet. The shoe itself is water-resistant, which will help keep your dog's feet from being wet but can be a little uncomfortable if its feet overheat in the hot summer sun.
I love these shoes because they are so easy to put on and take off and come with two -- not just one -- adjustable Velcro straps to ensure a snug and secure fit. Additionally, they are stitched together instead of glued, which means that you have less chance of them accidentally ripping apart while your dog is wearing them or the sole coming loose. If you want your dog to be able to wear its shoes on the beach but also out in the snow, on rainy runs, or just around the backyard on a hot day, then these shoes are a great option as they are sturdy, are durable, and will last a long time.
​4. ​Canine Equipment Trail Boots
Review
If you want to protect your dog's paws from anything harmful at the beach but don't want to worry about whether or not its shoes need a lot of care to remain in great condition, then these boots are a great option for you. I was wary at first about washing these shoes in the washing machine even though the company included a garment bag; however, they are so well made that there isn't a problem with them coming undone or fraying, even when you wash them on a longer cycle. This means that after a long day at the beach, you can clean your dog's shoes and have them ready to go again the next day.
One thing that sets these shoes apart from others on the market is that they have specific shoes for the front and back paws. As a dog owner, you know that your dog's front and back paws are shaped and sized differently but most dog shoes only come in one shape. Because you have specific boots that are ergonomically designed for front and back paws, you don't have to worry about how well they will fit or if they will be comfortable.
​Final Thoughts
Finding the right shoes for your dog to wear while you are at the beach can take a little work and research but here are four wonderful options for you to consider before your next trip. It's up to you to make sure that you do everything possible to protect your dog's paws while you are on vacation. Great shoes will ensure that its feet are protected and that it can run and play with you and your family all day long.