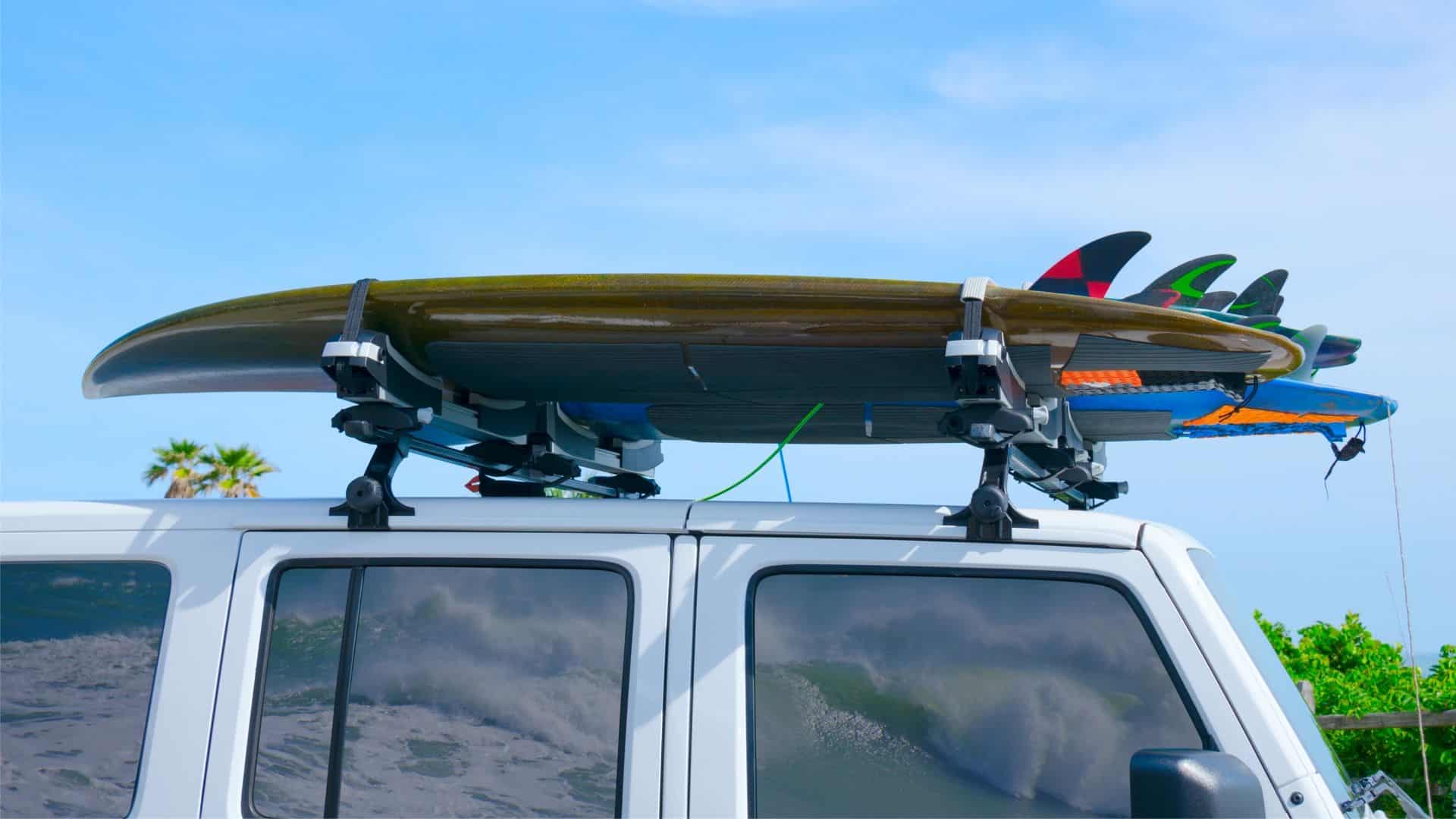 Taking a well-deserved vacation to the beach is indeed an exciting time. You probably already have fun activities lined up for you and your family—surfing included. But imagine reaching your destination only to find your surfboard scratched and damaged or worse still if it falls off the car roof en route. What a way to dampen the mood, right?
And yes that can happen if you don't put careful consideration on how you'll transport your board safely. Sure, your SUV might be roomy enough to squeeze it inside but at what cost? Damaging your leather seats? Uncomfortable seating arrangements? Selecting the right surfboard rack for SUV is the only answer to your problem.
Buying the best surfboard rack for SUV is worth considering because it's safer for your passengers—and board. Unless you're driving alone placing your surfboard inside the car isn't only uncomfortable, but it might injure passengers during those curves and bends. Let's help you—have a look at a few recommendations below.
Comparison Chart
Block Surf Double Wrap Rack
Dorsal Aero Roof Rack Pads 28 Inch Wide 15 ft Straps for Car Surfboard Kayak SUP Long
OrionMotorTech Universal Car Soft Roof Rack Luggage Carrier Surfboard Paddleboard Anti-vibration w/Adjustable and Heavy Duty Straps
Best ​Surfboard Rack for SUV Reviews
1. ​Block Surf Double Wrap Rack
Review
These are some of the most affordable types of racks on the market. And any equipment which is affordable and effective is definitely on our list of recommendations.
Whether your SUV has gutters or not you can still install this rack thanks to the Wrap—Rx design which wraps around the roof and inside your car. You can fit surfboards for the whole family on this rack because it carries up to six short boards. However, if they're long boards it can only carry two.
This double rack includes a carrying case with a Velcro closure for a more secure fit and is designed with heavy aircraft buckles for safety a strength.
The material the racks are made of is important, particularly the straps. If they're not made of weatherproof material you might find yourself wet when you reach your destination if it happens to rain. Why? Some materials like foam absorb water which in turn drips into your car. Therefore, this rack might not be an ideal option for rainy weather because the fabric ties absorb the water and it makes its way inside.
Related: Best Surfboard Travel Bag

2. ​Dorsal Aero Rack Pads for Car
Review
If quality is first on your list of priorities when selecting a surfboard rack, you might like this one. It's rated one of the best quality surfboard racks in the market.
One of the reasons it made our picks is its aerodynamic feature. Did you know whatever you put on the roof of your car will impact noise and your fuel consumption? Choose a rack with a lower or aerodynamic profile which will essentially make loading and unloading easier as well as minimize noise and fuel use. That's why we love this one.
Apart from the rack pad set being integrated with top grade EVA foam, it's secured by a weatherproof nylon sleeve. You can secure your board effectively from your car's cross bars thanks to the pads and middle positioned closure straps provided.
It's ideal for carrying your bigger surfboard since it's wide enough and transports it in an aerodynamic style, making for smooth driving. The top of the bar is padded for a sleek fit and the rack pads are made of polyester making them very durable.
3. ​OrionMotor Tech Universal Car Soft Rack Luggage Carrier
Review
Looking to transport your surfboards without damaging your car in the process? You might appreciate this type which is made of ultra-soft material and you're guaranteed no scratching or scuffing to your car.
It has adjustable and heavy-duty straps to carry your boards securely. The ultra-long straps and aircraft buckles can secure items of over 165 lbs. We know you might also like the versatility of these racks as they have a universal car fitment so you can fit onto any SUV.
This set comes with two soft racks. Note the racks are either soft or hard. If you're traveling a short distance and your car doesn't have side rails, the soft racks are ideal—also if you're working on a budget.
Please note they're not permanent fixtures and they may also break the seal that your doors create with your vehicle.
The upside is these racks are pretty lightweight. The weight of the rack is important since you'll be adding more weight by carrying a surfboard. The perfect combination is having a lightweight but strong rack so as not overload your car. Bear in mind: Strong is good—heavy is not. You get it all with this brand.
Best of all, this one has anti-vibration features for a more pleasant and comfortable drive. This means you won't experience any vibrations when you hit those high speeds. You'll also hear what's going on in traffic around you which makes for safer driving.
​Final Verdict
Now you have the facts, which one do you prefer? We recommend the Orion Motor rack which will transport your surfboards securely thanks to the heavy-duty straps and aircraft buckles. As a result, chances of reaching the intended destination without any problems are pretty high.
We like that the rack is made of high-quality material meaning your car will arrive at its destination without any scratches. The anti-vibration feature is also another plus if you want a peaceful ride to the beach.
Because of the aerodynamic feature of the racks, you can also save on fuel consumption. That means more cash for your holiday. Stop crowding everyone and everything inside the car; will you spend a little money to make your next holiday that much more enjoyable?