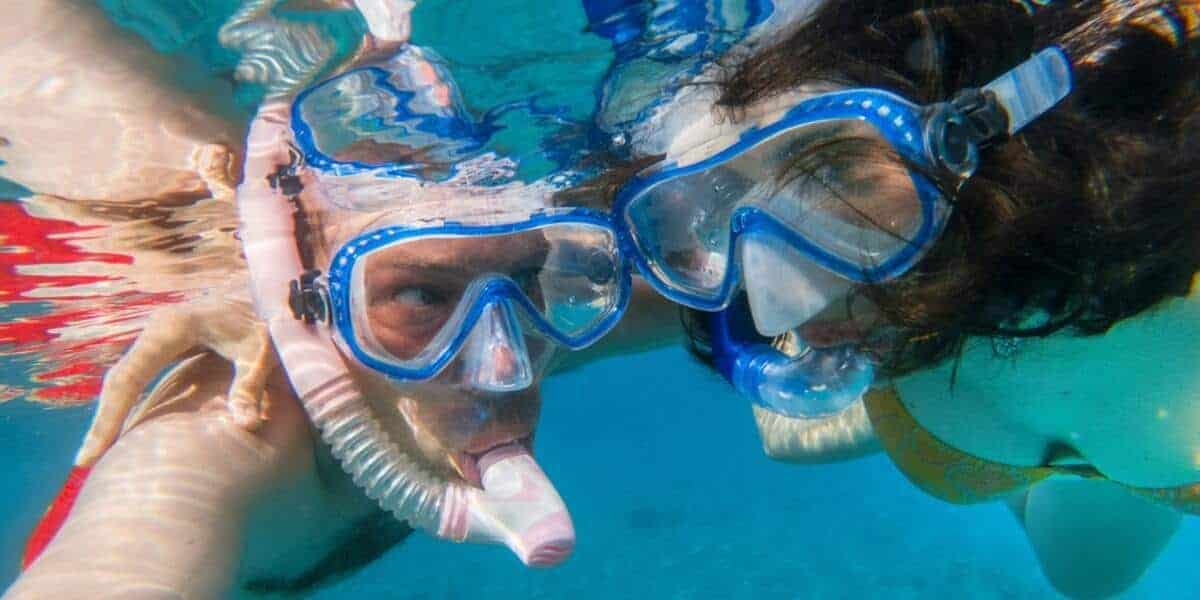 The right snorkel makes getting out into the ocean fun and easy, especially if you want to enjoy your recreational diving fully. Because snorkels make it easy to breathe with your face under water, they are an important piece of equipment that you shouldn't go without. They make it much easier for you to swim long distances without getting tired, which is very important if you were to ever get lost in the ocean or turned around.
While there are a lot of different snorkels on the market, not all of them are right for beginners. If you or a loved one are just getting started snorkeling, then you will want to consider these three best snorkels for beginners when you are shopping as you can then rest easy that you have found the right piece of equipment for your needs. I know how important it is to be safe when you are out in the water, which is why I found these three great options for you to choose from.
Comparison Chart
Cressi Supernova Dry, black/black
Aqua Lung Impulse 3 2-Valve Flex Snorkel, Black Twilight
Kraken Aquatics Dry Snorkel with Comfortable Silicone Mouthpiece and Purge Valve for Snorkeling and Scuba Diving | Black
​Top Picks Reviewed
1. ​Cressi Supernova Adult Snorkel with Guard: Great Value and Overall Snorkel
Review
Beginners who are interested in learning how to snorkel need to make sure that they have the right equipment for the task or they are going to struggle and become frustrated, which is why this snorkel from Cressi is such a great choice. Any water that gets into the tube will be held in a small reservoir and can be quickly and easily expelled simply by blowing through the purge valve. Additionally, thanks to the quick release, it's easy for the person wearing the snorkel to disconnect it from the mask without having to remove the keeper from the strap.
If you accidentally go under water, then this snorkel has a float mechanism to automatically close off the snorkel and keep water from getting to your mouth. The flexible silicone tube will reduce the stress that you feel when holding it in your mouth, making it easier to breathe comfortably for long periods of time.
Sale
Cressi Supernova Dry, black/black
This snorkel is the best choice if you want a quality product well designed that have all the features that make you happy. Don't worry about the entry of water: choose an easy-to-use dry snorkel and enjoy your diving.
Features a float mechanism which close instantly to prevent water from entering the snorkel whether accidentally or purposely submerged.
At the end of the tube, there is a small reservoir that collects water, which is very easy to expel thanks to the purge valve, simply by blowing without effort.
The quick-release keeper allows you to join easily the snorkel to the mask strap by a simple clicking. Push the button for unjoin the snorkel from the mask without removing the keeper from the mask strap.
The snorkel has a highly flexible silicone corrugated tube that reduces jaw fatigue.
2. ​Aqua Lung Snorkel: Basic Snorkel That Is Easy to Use
Review
This is a very flexible snorkel that is incredibly easy for beginners to use and offers an optional smaller mouthpiece for the ultimate comfort while in the water. When you do swap out the supplied mouthpiece for the smaller one, then you will not have to worry about mouth fatigue. This makes it perfect for both children and adults.
While this snorkel has been designed to keep water out of the tube and away from your face, if that does occur, then it only takes a small breath of air to clear out the water. This is perfect for people who are just learning how to snorkel as it will keep them from being scared when water is in the tube. The two-valve system included with this snorkel helps to prevent the majority of water coming down the tube when you get caught in a wave or accidentally put your head underwater, which are both things that can easily occur to someone who is new to snorkeling.
Aqua Lung Impulse 3 2-Valve Flex Snorkel, Black Twilight
The reservoir located below the mouthpiece keeps breathing path clear of excess water.
In the rare event that you need to clear the Impulse 3 Snorkel, almost no breath is needed. All it takes is an easy puff.
The unique design of the Impulse 3 snorkel, with its large bore, delivers extremely low breathing resistance while the body of the snorkel creates little drag.
Patented Comfo-bite mouthpieces, which eliminate jaw fatigue, are replaceable and an optional, smaller size is available
Removable keeper allows easy attachment or removal of the mask
3. ​Kraken Aquatics Snorkel: Rated Top Out of Best Snorkels for Beginners
Review
When you want the easiest snorkel for a beginner to use when learning how to snorkel, then you will want to make sure that it is not only easy to use but also offers features to ensure that the user can easily breathe underwater without problems. This snorkel from Kraken has not only a comfortable mouthpiece made of very flexible silicone but also a floating ball system to help keep your snorkel dry so you don't get a mouthful of water.
Beginners are often afraid of getting water in their mouths when snorkeling, which is why it is so important to have built-in safety features to not only prevent this from occurring but also make it easy for the user to clear out the water. While a purge valve is common on snorkels, this one is powerful and easy to use.
Sale
Kraken Aquatics Dry Snorkel with Comfortable Silicone Mouthpiece and Purge Valve for Snorkeling and Scuba Diving | Black
Keep salt water out of your mouth while snorkeling: Our dry snorkel uses a floating ball system at the opening of the dry snorkel to keep water out. This system closes the opening at the top of the snorkel while submerged under the water and reopens when the snorkel reaches the surface.
Comfortable to use silicone mouthpiece: Enjoy a dry snorkel that has a comfortable, soft and form fitting silicone mouthpiece allowing for prolonged use without any discomfort while snorkeling, scuba diving or spearfishing. Forget about those cheap mouthpieces that leave your mouth hurting.
Corrugated silicone hose for easy flexibility: The corrugated silicone hose allows the dry snorkel to have more of a natural curve around the face which helps make it easier to keep in your mouth. Also helps the mouthpiece to fall out of the way when the mouthpiece is not being used.
Easily clear any water out of the dry snorkel with the one way purge valve: There may be times when water gets into your dry snorkel but it can easily be cleared out with the one way purge valve. Water can even be cleared out of the dry snorkel while under water.
Connect or disconnect your mask with ease using the quick release clip: The easy to use quick release clip makes it very easy to connect and disconnect your mask to the dry snorkel. The quick release clips also easily adjusts up and down for better fitment with your snorkel mask.
​The Verdict
Buying a snorkel can be intimidating but shouldn't be difficult, which is why I put together this list of three of the best snorkels that you can buy and use as a beginner. Rather than being afraid of spending time in the water or feeling as if you are going to get water in your mouth each time you are faced with a wave, when you invest in the Kraken Aquatics Snorkel, you can rest easy that you won't have any problems learning how to snorkel.
Snorkeling is a lot of fun but only when you have the right gear. A great snorkel will make you feel comfortable when your head is under the water and reduce any fear that you have of water getting close to your mouth. While water may still enter your snorkel, when you opt for one that is easy to clean out, then you won't have to worry about breathing.
Next Step: Uncover the Top Snorkel Mask for Beginners
Related: Top Snorkel Sets for Kids