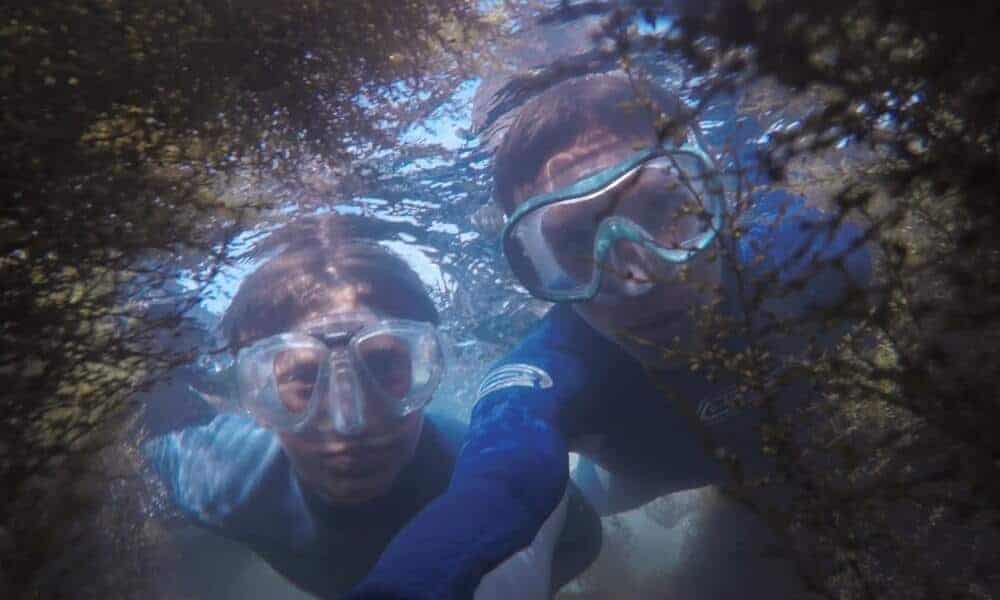 Snorkeling is not only a fun activity, but it's great for feeding your child's inquisitive mind. So what better way than to make their exploring adventure that much more fulfilling than investing in a snorkel set? And for your child, we're sure you only want the best.
We're reviewing the best snorkel sets for kids on the market, with safety features being the common denominator in all of them. We understand parents' priorities. All you need to do is choose the one you think will work for your child.
When purchasing an item for your child, there's a popular notion of buying a size up so your child "grows into it." Sadly it doesn't apply here. Though these sets come in varying sizes, make sure you buy an age-appropriate one for your child. A tight fit is vital if you want your child to enjoy this new hobby.
The size of the mask is the most important thing. Make sure it's the right fit for your child's face. If it's too big or small it might leak and that'll just spoil your child's snorkeling experience. Now, which one will you take with you this summer?
Comparison Chart
cozia design Snorkel Set with Snorkel MASK - Swim FINS Included - Snorkel MASK Full FACE with Adjustable Flippers - 180° Panoramic View Full face Snorkel mask and Open Heel Snorkel fins
Usnork [SAFETY UPGRADE] Full Face Snorkel Mask, Easybreath Snorkeling Gear, Anti-Fog and Anti-Leak Snorkel Set, Scuba Mask with 180 Panoramic View + GIFT Towel Included (Blue Kids, X-Small)
Greatever [Newest Version] Snorkel Mask Foldable 180 Panoramic View Free Breathing Full Face Snorkeling Mask with Detachable GoPro Mount, Dry Top Set Anti-fog Anti-leak for Adults & Kids
U.S. Divers Youth Buzz Junior Snorkeling Set, Neon Blue, Large (3-6)
Cressi Junior Rocks Mask Fin Snorkel Set (White Blue, Large/X-Large)
Best ​Snorkel Sets for Kids Reviewed
1. ​Cozia Design Snorkel Set
Review
We like that this full face snorkel set is suitable for the whole family—kids included. It comes with a pair of adjustable fins with easy click buckles making it easy and comfortable to wear. The set also has soft foot pockets (fins) for your child's comfort.
Here's an example of why the right fit is important; if fins are too small they'll cause discomfort through cramping or blisters while snorkeling. Luckily, these are adjustable and something as simple as snorkel socks can ensure a perfect fit.
This set is made from high-quality materials that make it durable. You might also appreciate the dry-top seal which prevents water from entering the snorkel mask. If water happens to enter, it has a one-way drain valve which ventilates the leaked water.
Though this full mask is designed to eliminate fogging you may experience a bit of it. However the breathing chambers create an air flow for easier breathing.
2. ​Usnork Full Face Snorkel Mask for Kids and Adults
Review
Here we have a snorkel set designed with your child's safety—and yours in mind. The snorkeling mask has an anti-leak function where it's designed to prevent water from entering the tube during a high wave or dive.
Your kids can enjoy all the benefits of a high tech mask because the tube contains a special float which lifts and clogs the upper opening of the tube when submerged in water.
The mask is made of high-quality silicone and plastic. For your comfort and safety it has adjustable straps which create a watertight seal. However, despite this seal some water might still seep in with this model.
Your child can enjoy a clear underwater view equivalent to a professional's scuba diving equipment thanks to the high visibility of the snorkeling mask.
The full snorkel mask allows comfortable and effortless breathing through your nose as if you're not underwater. It's the ideal way to ease your child into this new activity; you don't want them to panic on day one. The easier it is to breathe with the equipment, the better. Just make them aware of possible leakages so it doesn't put them off.
3. ​Greatever Foldable Snorkel Mask
Review
This brand of snorkel mask will make for a pleasant snorkeling adventure for your little one because it's equipped with lenses designed for added comfort and visibility. Plus they can breathe comfortably through the mouth or nose.
Following the dry design, this snorkel mask stops salt and water from getting into your child's mouth, therefore, preventing gagging. Snorkel sets come in different designs. For your child's safety we recommend the dry design snorkel. Why? Because of the dry mechanism, even if the top of the snorkel accidentally dips in the water no water will flow in.
And if water does flow into the mouthpiece a purge valve allows it to be expelled when they exhale. We place value on a non-leaking mask because a leaking set has disadvantages including swallowing or breathing in water. This lead to panicking and gagging.
The set also has an anti-fogging feature; it creates airflow away from the main viewing visor, therefore, eliminating fogging.
The folded snorkel design will ensure the mask stays in place and won't fall off during snorkeling although this design might not make it as durable. It comes with a detachable mount so your little one can attach an action camera to share the adventure with their friends.
​4. ​​US Diver Snorkeling Set
Review
To ensure that children will be safe when trying to snorkel and explore the underwater world, parents have to make sure that they buy them a high-quality and durable snorkeling set. It needs to provide not only the flippers needed to allow children to propel themselves easily through the water, but also a mask and a snorkel that is very easy to use.
This snorkeling set is made for children, but it has a lot of the same technology that is included in adult snorkeling sets. While it is a smaller size than an adult set, it features dry-top technology to ensure that water doesn't enter the snorkel and pass through the valve into the child's mouth. When water does enter the snorkel, which is almost inevitable, any child will be able to easily clear it thanks to the durable purge valve.
With a contoured barrel designed for youth users and fins that are created to help reduce leg cramps, it's easy to see how this snorkeling set can benefit a new user.
Unlike some snorkeling sets that can be difficult to keep track of when they are not in use, this set from U.S. Divers comes with a backpack-style bag that is large enough for all of the parts of the set. This bag will help to protect the parts of the snorkeling set and ensure that they aren't lost. Additionally, the separate mask pocket will help to prevent the lens from getting scratched.
​5. ​​Cressi Junior Snorkeling Set
Review
This Cressi snorkeling set is designed for ease of use, with a splash guard placed to prevent water from entering the snorkel, a one-way purge valve that drains water in the tube quickly, and adjustable straps so that both the mask and the fins can be adjusted as the wearer grows. The soft mouthpiece is replaceable, so parents can order another mouthpiece instead of buying a whole new snorkeling set as their child ages or ruins the mouthpiece.
To make it as easy as possible for children to see when they are snorkeling, the mask features not only a wide field of vision, but also tempered glass in a dual window design. The glass is very strong and unlikely to accidentally break, which will give parents and their children peace of mind. Thanks to the comfortable flex tube section, most children will be completely comfortable when wearing this snorkeling mask.
​This is a great set for both beginners and more advanced intermediate swimmers. The parts of the snorkeling set all pack neatly into an included mesh bag, making it easy to take them on the go and allowing plenty of airflow around them to help dry them out after a day in the water. Users are sure to enjoy the fun and bright colors, as well as how comfortable they are when on.
​Final Verdict
After going through the above reviews, we prefer the Greatever snorkel mask because it's designed with your child's safety in mind. It goes without saying the mask should seal firmly around the face to prevent water seepage. Always choose the right size.
We like that the Greatever snorkel mask drains easily, keeping water out. As a result, your child can breathe comfortably which is another plus.
Another great feature is the lens. Unlike the conventional curved lenses which might cause dizziness, this mask has a different design for increased comfort.
In this digital age, it's all about capturing fun moments and sharing with your friends. With that said, we like that they can do so because the mask allows for a camera to be attached. So why not select the right snorkel and mask combo for your kids and allow them to enjoy this water adventure with all the important ingredients—comfort, safety and fun.
Related: Top Snorkels for Beginners, Top Snorkel Masks for Beginners