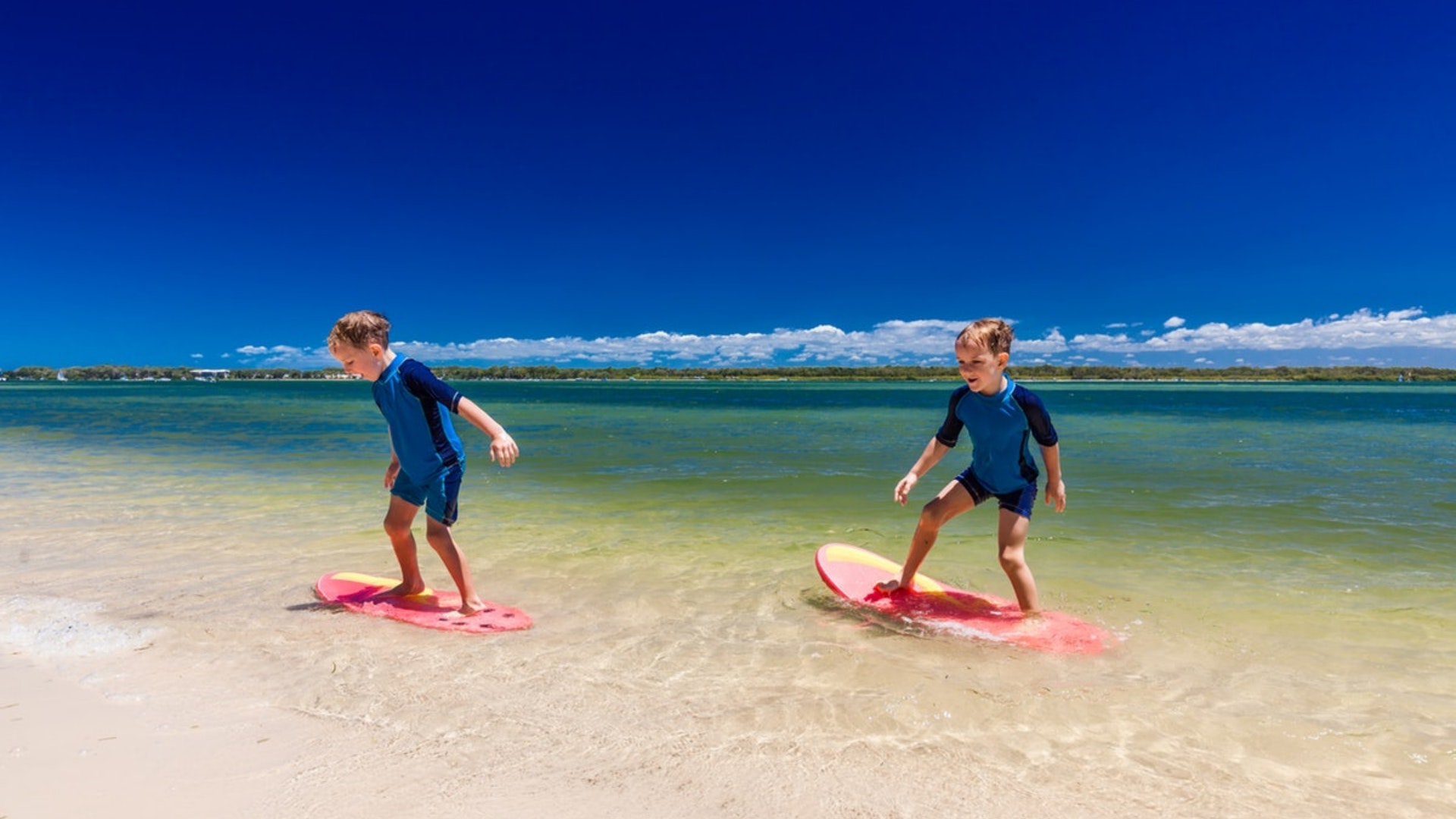 Skimboarding is a great way for me to experience the thrills of surfing without having to wait for the perfect wave to come along. The advantage skimboarding has over surfing is that I can either skim on the shore or head out into the ocean and skim some waves.
When first starting out on a skimboard, beginners will want to ease into the sport on the sand before moving on to skimming waves. The biggest hurdle when I first started skimboarding was maintaining my balance on the board. Just like riding a bike, once I got the hang of it skimming began to come naturally.
What makes skimming so much fun is how easy it is to find a good spot on the shore. All I need is a stretch of flat sand for the good times to start rolling.
Below are my recommendations of the best skimboards for beginners.
Comparison Chart
Wave Zone Diamond - 38.5" Fiberglass Skimboard for Beginners up to 110 Lbs - Green
Zap Lazer Skimboard -40.25x20 / Custom Artwork - 2016
Victoria Woody Skimboard - L
BPS Skimboard 40" - 2018 - Improved Grip - Orange
30 inch Small Beginner Deluxe Wood Skimboard w/EVA Traction Pad for X-Grip
Wave Zone Diamond - 38.5" Fiberglass Skimboard for Beginners up to 110 Lbs - Green
Zap Lazer Skimboard -40.25x20 / Custom Artwork - 2016
Victoria Woody Skimboard - L
30 inch Small Beginner Deluxe Wood Skimboard w/EVA Traction Pad for X-Grip
Best Skimboards for Beginners Reviewed
1. ​Wave Zone Diamond
Review
The Wave Zone Diamond is a fiberglass skimboard made for beginners and is perfectly capable of handling both sand skimming and wave gliding. The Diamond is Wave Zone's best-selling beginner board, and for good reason.
The outside of the board is made from fiberglass with a gel coating, while the inside features a Divinycell high-density foam core. The combination of fiberglass on the outside and foam on the inside creates for a board that is durable yet also lightweight and fast.
The Wave Zone Diamond gets its name from the diamond shaped tip on the tail of the board. The diamond tip allows for more control, while giving the board more speed by creating less drag. The design of this board is more forgiving, allowing for the rider to glide in a straighter line.
Wave Zone Diamond - 38.5" Fiberglass Skimboard for Beginners up to 110 Lbs - Green
Wave Zone's #1 Best Selling Beginer Skimboard Shape
Performance: Sand Skimming. Diamond tail assists in keeping the board straight as it glides through the water.
Specs: Weight Limit - 110 Lbs Size - 38 1/2"x x 19 1/2" x 3/8"
Art: What you see pictured is VERY close to the design you will receive. Each board is individually hand made, so there will be subtle variations.
Construction: Fiberglass, Gel Coat, Foam Core. Individually Handcrafted in the USA
2. ​Zap Lazer
Review
The Zap Lazer was built specifically for gliding across the sand and is an ideal board for little ones just getting into the sport. The Lazer is made from light and durable molded materials and is for riders up to 95 lbs.
What sets the Zap Lazer apart is the shape of the board, and the design of the rocker and rail contour on the bottom of the board. The result is a near effortless ride down the shoreline.
Zap Lazer Skimboard -40.25x20 / Custom Artwork - 2016
Model: LAZER (Beginner Sandsliding) - Dimensions: 40.25in x 20in - Thickness: 3/8in - Rider Height Range: 4'2 to 5'0- Rider Weight Limit: 95lbs
Ideal for sandsliding - For the smallest groms in the family - Slides fast and very floaty woodies just can't compete.
Say hello to the best board money can buy for getting your little guy or girl into skimboarding. The Lazer was specifically designed for the optimal sand sliding experience.
The shape, rocker, and rail contour offer kids an almost effortless ride. It's crafted from lightweight materials making it easy for youngsters to handle and hold.
IMPORTANT CUSTOMER NOTICE: ***ZAP SKIMBOARD with CUSTOM ARTWORK in ASSORTED COLORS - Amazon image is an artistic rendering and NOT REAL *** -- Zap skimboards are custom paint finished meaning all Designs and Colors Will Be Different for Each Board. HAND MADE IN THE U.S.A. SINCE 1983
3. ​Victoria Woody Skimboard
Review
The Woody is one of the original skimboards for beginners. The main difference from the two previous boards is the Woody's (obviously) wooden construction. Victoria has been hand-making their boards in the U.S.A. for over 30 years and this board still holds up as one of the best options for beginners.
The Woody features a Russian birch core, making it as sturdy as any board on the market. Each board is hand painted meaning no two boards will look the same. There is something to be said for the timeless and unique qualities of the Victoria Woody.
While the Woody may not be as fast as other boards, it makes up for that in its versatility. Whether I want to stick to the shoreline or crash into some waves, the Woody can handle it no problem.
Victoria Woody Skimboard - L
Entry level wood skimboard
Great for riding the shoreline or Flatland
Size: 41.6" x 21.3"
Suggested Weight: 150 - 200 lbs
​4. ​GATOR Skimboards by BPS
Review
​The GATOR by BPS may be the best bang for your buck. ​The GATOR is suited more for the true beginner who may not be as serious as a rider in the market for a ​premium board.
What makes the GATOR unique is its dual plywood and EVA design. The GATOR features a durable plywood construction on the bottom, and a 'GATOR GRIP' layer of EVA foam on the top to provide for an easier grip. Raw wood is also available on the top of the board if that is preferred but requires wax for grip.
While the GATOR uses wood in its construction, it is still incredibly lightweight to walk around with. It also features a generous nose rocker which should help prevent nose-dives, as well as a low-drag tail.
Sale
BPS Skimboard 40" - 2018 - Improved Grip - Orange
'Gator' Skimboards by BPS feature durable plywood construction with an epoxy coating to prevent water damage and breakage and generous nose rocker. All boards (except the Raw Wood) feature a 'GATOR GRIP' layer of EVA foam which provides great grip when wet - so no need to EVER wax your board! Raw wood is also available for those who want to customize the grip or preferred applying wax to their boards.
INSTALLATION GUIDE - New to SKIMBOARDING? No problem. On top of an amazing skimboard, you will be emailed an E-Guide with easy-to-follow instructions written by us explaining how to properly get on the board and do some basic tricks. To select the correct size board just choose according to rider weight, 30 Inch for riders up to 80 pounds, 35 Inches for Riders around 80 to 150 pounds, and 40 Inches for riders over this weight.
After Sales Service - We email every customer to check everything has arrived in perfect condition, and provide an Amazon email link to the business owner in case of any issues or questions. You can also ALWAYS reach us through selecting the highlighted 'Surf and Snow Warehouse' on ANY of our products (where is says 'sold by') - and then using the 'Have a question for Surf and Snow Warehouse' feature. We try very hard to respond within 12 hours.
Buy with complete confidence, as all our products are stored and shipped quickly and reliably to you. All BPS products come with a 'Bullet Proof' guarantee for 12 months. So if you encounter any quality issues at all, just let us know and it will be replaced or you'll be refunded -- your choice!
Thank you for looking at a product from our store, Surf and Snow Warehouse. We are a small family business that ONLY sells what we know and love -- water sports gear. We know our products, use our products, and stand behind them 100%. We are known for the great product support, advice and after-sales service we provide -- so if you have ANY questions about any of our products, please just ask.
​5. ​​Beachmall Deluxe Wood Skimboard
Review
With four different sizes to choose from, it's easy to buy a skimboard that is the right size for the weight of the user. The smallest board only weighs 3.2 pounds, while the largest is just 5.2 pounds, which means that children can easily handle these boards without any problems. Unlike other skimboards that tend to be very heavy and difficult for younger users to manipulate, these boards are light and have been designed with a high performance shape to help them cut across the sand.
Thanks to the rocker on the board, there is very little concern over the nose of the board digging into the sand. This design prevents users from being frustrated and also from being injured. The rocker also allows the board to gain maximum speed when cutting across the sand and allows additional control over the travel direction.
Unlike other skimboards that are made from a lower quality laminated wood, this one is made from solid wood, which means that it will last for a very long time. Thanks to the high-quality components used in its construction, it will easily stand up to hours out in the sun and salt water without damage. Thanks to this, it's perfect for families to use on extended trips to the beach.
One concern when buying a skimboard is how well the rider will be able to maintain their balance and their traction on the board. The top of this skimboard has a layered EVA traction pad. Not only does this add a little cushion to the board to keep users from having sore and tired feet, but it also helps users grip the board.
Another great feature is the hard protective resin that is coated on both the bottom and top of the board. This resin was chosen specifically to allow the board to gain a lot of speed when used. It is durable enough to resist scratches and other damage from sand and shells, and it allows the board to skim easily over the surface of the wet sand without friction causing it to really slow down.
30 inch Small Beginner Deluxe Wood Skimboard w/EVA Traction Pad for X-Grip
30 inch solid wood core skimboard with layered EVA traction pad for high performance grip. skimboard is made from solid wood unlike the traditional wood skimboards with laminated wood.
top surface is diamond shaped grove for traction.
Hard Protective Resin Coated Top and Bottom
Weighs 3.2 lbs and Recommended Rider Size: under 80 Lbs.
Dimensions (inches): 7.3 Tail x 18.8 Widest x 30 Height x 0.45 Thickness
​The Verdict
For the rider just getting into the sport, the GATOR by BPS is an excellent option. The only issue here is that after starting off with the GATOR, the temptation will be there to buy a more ​premium beginner board such as the Wave Zone Diamond. ​I was also tempted to give the award for best beginner skimboard to the Woody due to its combination of versatility, durability and affordability.
Ultimately though, The Wave Zone Diamond is the best board for the beginning rider. The Wave Zone Diamond takes the best qualities of all the other boards and wraps them into one. It is durable, lightweight, fast, forgiving and easy to control. It can also handle either the shoreline or waves with ease. Adding up all these factors makes the Wave Zone Diamond the ultimate board for the beginning rider. Once you become more advanced, you can step up to a board designed for wave riding.