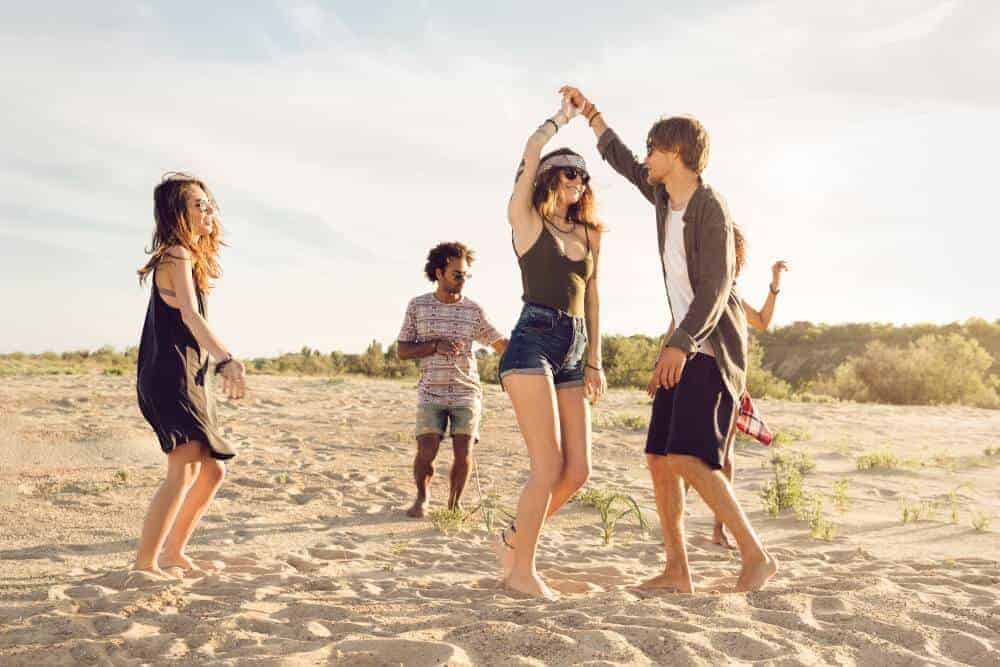 Whether you're organizing a beach party, or just want to make your beach day more fun, a portable speaker can be a perfect addition. It can help you create a great atmosphere and get the most out of warm sunny days at the beach.
Sure, you can just use your phone, but chances are that it won't be nearly as capable as a good portable speaker.
When looking for the best portable speaker for the beach, there are some things that you need to take into account. To make your search easier, here are our favorites.
Top 5 Portable Speakers for the Beach Comparison Chart
Photive M90 Portable Waterproof Bluetooth Speaker with Built in Subwoofer. 20 Watts of Power- IPX5 Water Resistant- Rugged
TREBLAB HD55 - Deluxe Bluetooth Speaker - Impeccable 360° HD Surround Sound & Best Bass, Great For Office, Travel & Beach Parties, Waterproof IPX4, Loud 24W Stereo, Portable Wireless Blue Tooth w/ Mic
Bluetooth Speaker, 24 Hour Loud Wireless Speaker VAVA VOOM 23 Outdoor Rugged Portable Speaker (IPX6 Weatherproof, Dual Bluetooth 4.1 & 3.5 mm AUX Port, 5200mAh)
Best Portable Wireless Bluetooth Speaker - IPX6 Waterproof Rating - Powerful 10W Sound. Perfect to Use at The Beach, Camping, Hiking. Use Anywhere Indoors or Outdoors. The BTS10 by BW DISTRIBUTORS
iJoy Beach Bomb IP66 Waterproof Shockproof Portable Bluetooth Speaker - Mint (MNT)
Best Portable Speaker for the Beach Reviews
1. ​Photive M90
For all the audiophiles who appreciate supreme sound quality, the Photive M90 can be the perfect product for the beach. It's very powerful, has a great battery life, and can't be easily damaged by water.
​Review
This is a powerhouse of a portable speaker. With 20W of power, you'll be able to blast your favorite music for everyone to hear. If you're a bass head, you'll love this one as it has a passive subwoofer built in and boosts both the high and low frequencies.
The build quality is pretty impressive as well. The speaker features a waterproof housing and an aluminum grill that adds to the durability. There's also a rubberized handle which makes it easy to carry around.
Even though this speaker is advertised as waterproof, there are many manufacturer warnings about using it with caution around water. This may be one of its biggest flaws.
2. ​TREBLAB HD55
This is another speaker that can be a good choice for everyone who enjoys loud and clear music. The 360° sound will provide a great experience, and you can pair with virtually any Bluetooth-enabled device.
​Review
This is without a doubt one of the strongest portable speakers out there. The two 12W speakers provide a truly powerful sound reproduction, and the oval design allows for 360° HD surround sound.
It allows you to connect any devices (wired or Bluetooth) and stream music from your favorite apps. The 4,000mAh battery is good for 10 hours of play time, so a long day or night at the beach won't be an issue for the TREBLAB HD55.
It's rated IPX4 water resistant, which means that it will survive splashes, though submerging it in water wouldn't be a good idea. It features touch buttons for changing songs, but some users find them to be confusing.
3. ​VAVA Voom 23
The rugged design of the VAVA Voom 23 screams durability. Both the look and performance are very powerful, and it features some pretty neat features that you'll fall in love with.
​Review
The first thing worth mentioning about this device is its battery life. With 5,200mAh of electric charge, you can listen to music for up to 24 hours, if you keep the volume at around 80% or less. You can also receive phone calls and control the speaker using the buttons on top.
The weatherproof design ensures that bad weather won't kill the party. It's resistant to shock, dust, and splashes of water. It's also surprisingly affordable, which makes it even more appealing.
However, the max volume isn't that good. It's decent and what you'd expect from a speaker in this price range. Also, it's a bit heavy, so carrying it around might be an issue to some.
4. ​BW Distributors BTS10
This versatile speaker can be a great choice for everyone that likes to listen to loud music wherever they go. It might not be the most powerful speaker, but the sound quality is great and it offer great value for money.
​Review
The BW BTS10 features two speakers, both of which are powered at 5W. Compared to our other picks, 5W per channel doesn't sound like much, but rest assured it is loud enough to ensure a good time at the beach. The sound is very rich and deep, so you won't have to worry about its quality.
You don't have to bring any other devices with you if you bring this speaker to the beach. It has an FM radio and can support a card of up to 32GB, which is a lot of songs. If you wish to connect it to your devices, you can do it via Bluetooth 4.0 or the AUX input.
BW Distributors is very confident in their product, which is why they offer an 18-month, no-questions-asked warranty.
The biggest drawbacks are the inconvenient buttons; they have dual functionality, so it can get a bit confusing to use them.
5. ​iJoy Beach Bomb
If you're looking for a truly waterproof speaker, this can be your choice. Unlike many others, this one will survive more than just a few splashes.
​Review
While many manufacturers promise waterproofing, most of them fail to keep that promise. The iJoy Beach Bomb, on the other hand, won't let you down in this regard. The IP66 is a real waterproof rating that means you can submerge it in 3' of water and not have to worry about damaging it.
It's compatible with all Bluetooth-enabled devices, and it also offers wired connection. The design allows it to float on water, so not only can you take it to the beach but in the water as well.
Unfortunately, this one suffers from some drawbacks. First of all, the Bluetooth range isn't the longest, about 30' we'd say. Also, the battery life of 4-6 hours doesn't really impress. The volume is decent, but could be louder.
​​The Verdict
There's no doubt that all of these devices can make beach days a lot more fun. However, not all of them are equally capable, and if you really want to find the best portable speaker for the beach, you need the one that checks all the boxes.
In our opinion, the Photive M90 Portable Bluetooth Speaker is the best one. Despite some issues with waterproofing, it has many qualities and features that put it over the top. Loud volume, strong bass, and a high-quality housing are only some of the main reasons that make the Photive M90 a great portable speaker.
But if you want another great option, you should check out the TREBLAB HD55 that offers an immersive surround sound. The bottom line is you can't go wrong with any of our choices above.