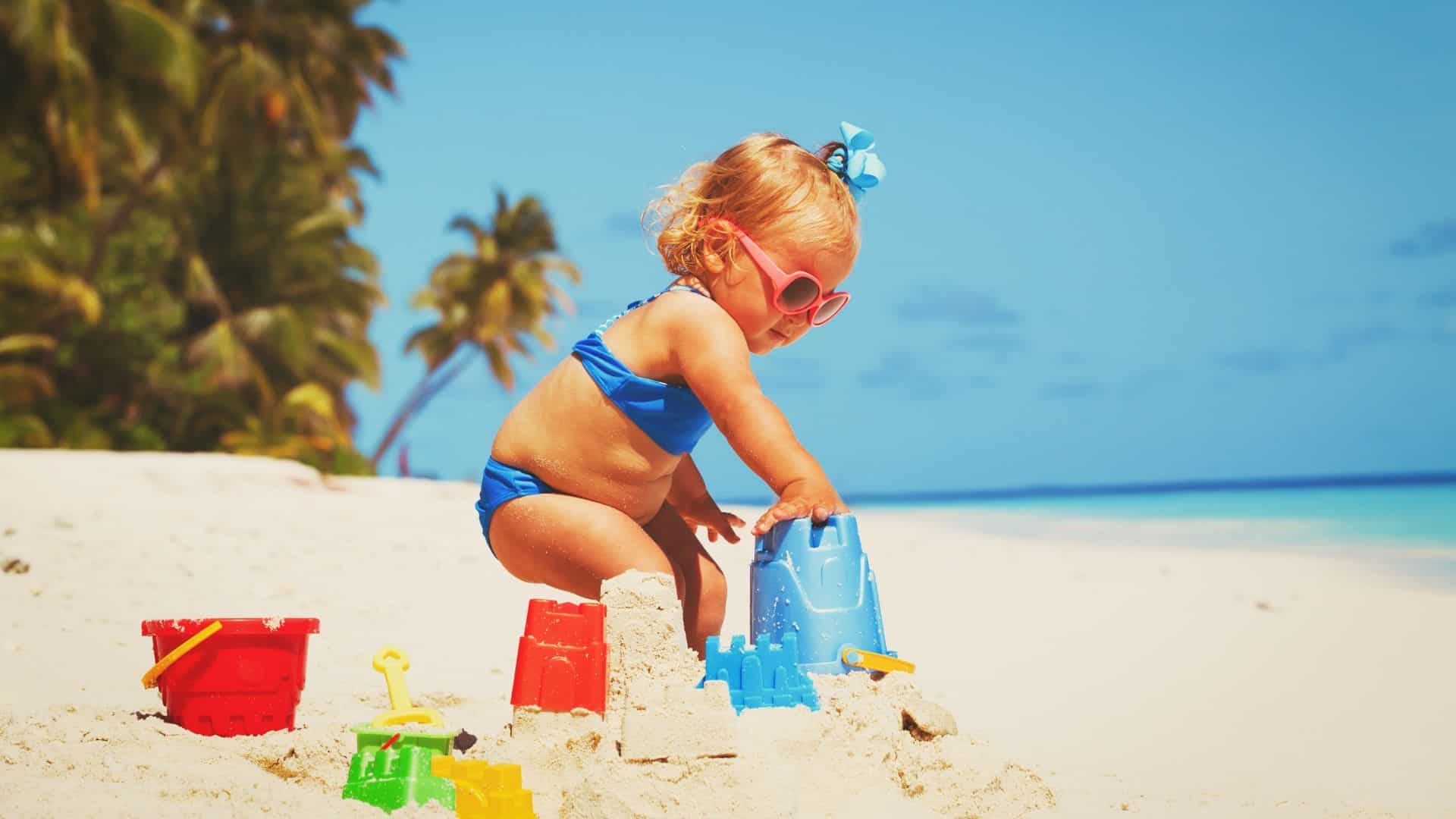 Sure, bringing your kids to the beach is fun, but you cannot always control them and keep an eye on them every minute. To make things a little easier on you, you might want to look into getting a playard. These offer convenience, comfort, and most of all safety for your little one's day at the beach. We've found four of the best playards for the beach which we are going to review in today's article.
Comparison Chart
4moms breeze GO portable travel playard - easy one push open, one pull close
Summer Infant Pop N' Play Portable Playard
D.LIN Playpen Pop N' Portable Playard for Babies/Toddler/Newborn/Infant with Travel Bag,6-Panel,More Protect,More Funny Time [ Blue ]
Portable Playard Play Pen for Infants and Babies - Lightweight Mesh Baby Playpen with Carrying Case - Easily Opens with 1 Hand (Turquoise)
Best ​Playard For The Beach Reviews
1. ​​4moms breeze GO Portable​
Review
Any parent who wants to be able to provide their child with a safe place to rest while they are out of the home or away from the crib needs to make sure that they have a travel playard with them. This product is ideal for providing baby with a safe place to nap or rest while on a road trip or even in the backyard with the family so that everyone can be sure that the child will be safe.
This playard from breeze GO is very easy to use and can be opened and closed with just one hand, making it ideal for the busy parent who is unwilling to spend a lot of time fighting with a playard to get it to operate correctly. Because the latches on this playard are automatic, it's easy to simply push the central hub in the playard down and allow the entire unit to pop open. When it is time to close the playard, pushing the central hub accomplishes it quickly and easily.
This playard has mesh sides for ventilation and so that the baby can easily see where they are. The floor of the playard is lifted up off of the floor, making it impossible for a parent or older child to enter the playard, and the baby inside has to be lifted up and in; there are no zipper doors on this playard to make access easier. The travel bag is large enough that the playard can be broken down and easily slipped inside for travel to a new location or storage.
2. ​​Summer Infant Pop N' Play Playard
Review
This is a simple but effective playard, one that can be taken to the beach, the park, a friend's house, or just set up in your own back yard. It's an easy-to-set-up playard that is durable, but also lightweight and portable. It will keep your kids in check and in the same place.
The Summer Infant Pop N' Play Playard features 14 square feet of space, which should be more than enough to contain 1 or 2 kids, but no more than 2. It comes in at 26 inches tall and 46 inches wide, which is large enough for a kid, but be aware that this playard is only made for toddlers, not for larger children, as the walls will probably not be enough to contain any child over 3 or 4 years old at the most. We like this playard because it comes with mesh walls, which means that you can always keep a close eye on your kids no matter what.
What is convenient about the Summer Infant Pop N' Play Playard is that it simply pops open and closed. You don't have to go through any lengthy assembly process, which is always nice. Simply unfold it when you want to use it, and then fold it back together when it is time to go back home. It folds down with ease and comes with its own carrying case.
The weather-resistant canvas floor is very durable and will not absorb moisture, but it is not ​as soft as we might have liked.
​3. ​D.LIN Playpen Pop N' Portable Playard
Review
The D.LIN Playpen is quite similar to the model which we just looked at, but it does have a couple of differences. When it comes to playards for kids, the D.LIN Playpen is pretty standard, but it gets the job done, ​it easy to transport and use, and is comfortable for your little one.
Unlike the previous playard we looked at, which had a fairly hard canvas floor, the D.LIN Playpen comes with a very thick and soft mat. This means that your kids can sit or lay on it for hours without discomfort. Although the mat is thick and soft, it is waterproof and stain resistant, both features which are a necessity when it comes to anything which will house children. The padding is a good feature here that your kids will definitely appreciate.
To make sure that you can see your kids at all times, and so that they can see you from the inside, the D.LIN Playpen comes with mesh walls. These mesh walls are convenient for vision's sake, plus they help with ventilation, but be aware that they are not overly durable; they won't be able to handle a child willfully trying to destroy them.
With that being said, the D.LIN Playpen is very easy to set up. It does not require any kind of lengthy setup – just pop it open and closed when needed, use the carrying case for transportation, and get on your way. This playard is quite lightweight, yet another bonus.
​4. ​Pack and Play Portable Playard
Review
Ideal for any parent who wants to be make sure that their child is safe, no matter whether they are at home or on vacation, the BabySeater pack and play portable playard is a highly portable, sturdy, and durable option. Unlike other types of portable pack and plays that only function well either inside or outside of the home, this playard is easy to clean, making it perfect for long days at the beach as well as spending a summer afternoon in the backyard.
Parents love how easily the playard zips up and how safe the child is once inside. With two separate safety locks, it's impossible for children to open or close the playard, giving parents complete control over when the item is open or closed. Additionally, because the playard easily folds up into a compact shape and will slide into a carrying case, it's simple to fold it up when you are finished with it without worrying about the hassle of packing it up.
The padded bottom of the playard is not only easy to wipe clean and remove spilled food or drink, but it is comfortable enough for children to sit on the ground without being uncomfortable. Additionally, thanks to the see-through mesh that surrounds the entire playard, it's easy for baby and parents to keep an eye on each other the entire time so that nobody gets worried about where the other person is. This reduces any fear of being separated on the part of the child.
​The Verdict
At the end of the day, all four of these playards make for good choices. This is one of those unique situations where it comes down to the exact features you are looking for when it comes to the product selection. The D.LIN Playpen Pop N' Portable Playard and the Summer Infant Pop N' Play Playard are both traditional portable pack and plays that will meet many parents needs. However both the Pack and Play Portable Playard and the 4moms breeze GO Portable offer unique more upscale features that make them well worth a look.