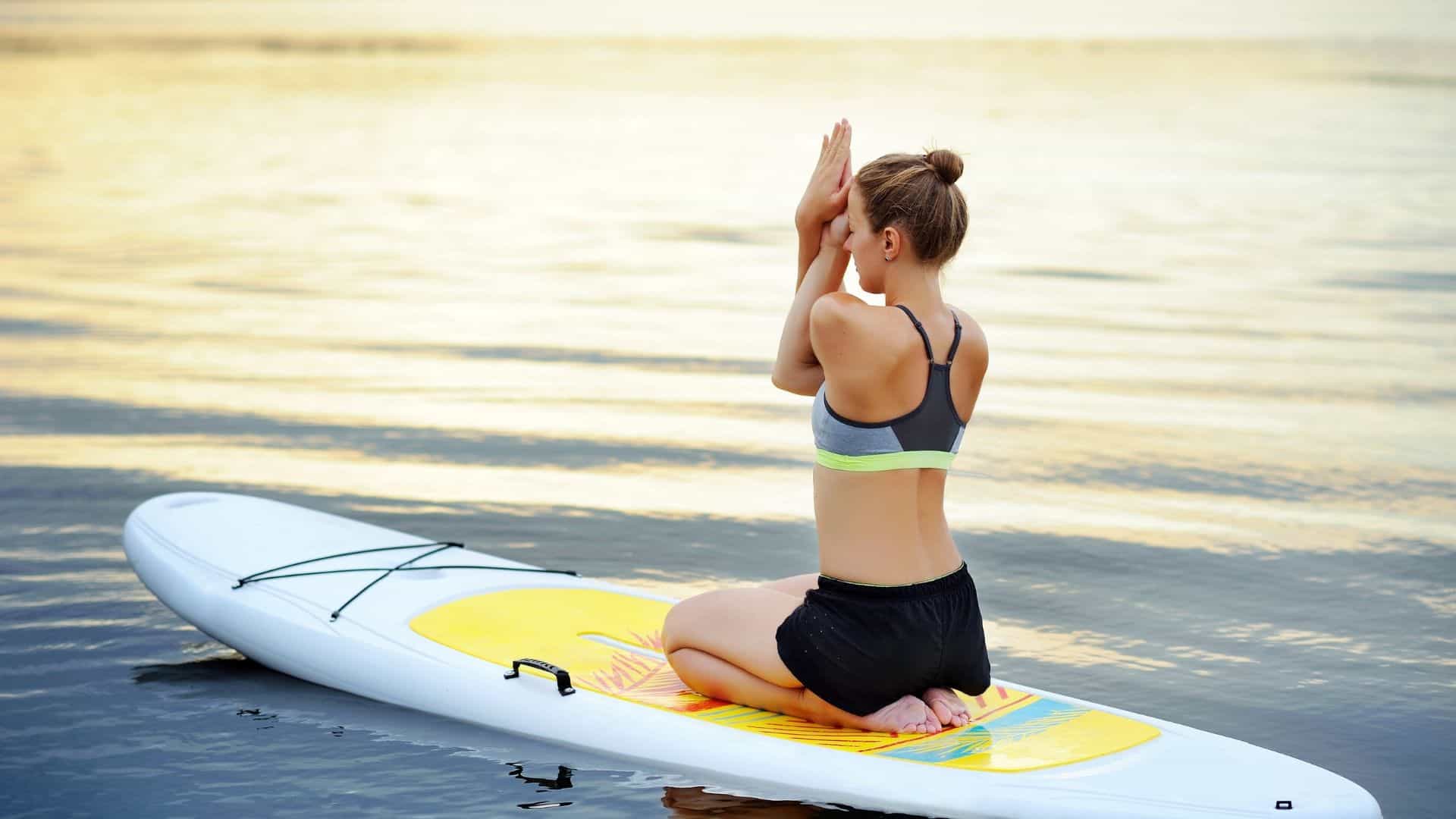 Paddleboarding is great exercise and combining it with yoga is a wonderful way to push your body and free your mind. I know that finding the best paddleboard for yoga can be intimidating, especially if you aren't sure where to look or how to get started, so I did some searching online and came up with the following three paddleboards as great choices for anyone looking to combine paddleboarding and yoga. Even beginners can benefit from practicing yoga on a paddleboard, although it is likely that they will need a little extra time to be able to get into some of the trickier poses out there.
​No matter if you are new to either practicing yoga or getting out on a paddleboard, one of these paddleboards will likely meet your needs and provide you with the support and safe place that you need to practice yoga out on the water. Unlike regular paddleboards, ones that are designed specifically for yoga will offer a wider surface so that you don't have to worry about losing your balance or not having room to get into a pose correctly. Choosing the perfect paddle board for doing yoga on the water doesn't have to be hard when you pay attention to the pros and cons that I've outlined here.
Comparison Chart
Surftech YOGA-Versal Stand Up Paddle Board, 10-Feet 6-Inch
ADVANCED ELEMENTS Lotus YSUP Yoga Inflatable Stand Up Paddle Board, Orange
BIC Sport ACE-TEC Cross Stand-Up Paddleboard, Platinum Blue, 10-Feet
​Our Top Picks Reviewed
1. ​Surftech Yoga-Versal: Lightweight and Durable
Review
Made with a very dense molded core to provide you with plenty of stability when you are out on the water, this board from Surftech was specifically made with the practice of yoga in mind. This means that it the perfect size and shape for users to perform even the most intricate or difficult poses without worrying about whether or not they are going to lose their footing or flip over. While it is easy to make a paddleboard that is lightweight, it is hard to make one that is this stable and will offer plenty of security.
While very lightweight and easy to maneuver, it's important to realize that accidentally running into a rock can greatly damage the board due to its lightweight design and construction. This board was designed specifically to float on a placid body of water for yoga practice. It is nowhere near strong or durable enough to last in harsh or wilder water and can become damaged irreversibly if you are not careful. This board is great for sitting still on the water and will allow you to practice yoga without worrying about drifting too far to a new location while in a pose.
2. ​Advanced Elements Lotus Board: The Best Paddleboard for Yoga
Review
Made with a drop-stitch construction to ensure that the board is as thick and reliable as possible, Advanced Elements has created a paddleboard that is perfectly suited for yoga and ideal for both beginners and more experienced practitioners. The deck surface has a double layer skin and provides plenty of space for you to move around on the board and grip the surface easily. While you may balk at buying an inflatable board, this one inflates and deflates in only about five minutes, making it fast and easy.
One problem with some inflatable paddleboards is that they are not as sturdy or rigid as traditional boards are but this is not a problem with this model from Advanced Elements. Additionally, inflatable boards are significantly more portable and can be deflated for easy transportation in your vehicle. The included paddle is not only durable enough to allow you to control where you are going to be performing yoga but also will break down to fit easily inside of the carrying bag.
Sale
ADVANCED ELEMENTS Lotus YSUP Yoga Inflatable Stand Up Paddle Board, Orange
High pressure 6" thick drop-stitch material allows for ultra stiff performance
Extra wide for increased Large traction foam area for improved grip and comfort ability
Large traction foam area for improved grip and comfort
Double layer outer skin for superior durability
Durable Single-action Hand Pump with Gauge for high-pressure inflation
3. ​BIC Sport ACE-TEC: Get a Grip on a Comfortable Board
Review
While BIC has been around for a while, this board from them shows that they can produce paddleboards that will also meet the needs of people wanting to practice yoga. While this board may seem large and bulky, it is incredibly lightweight and will cut through water quickly and easily, allowing you to move quietly so you do not break the flow of your practice. Additionally, this board is incredibly stable, which means that while you are transitioning from one yoga pose to another, you won't have to worry about the board tipping or becoming unstable.
The wave-grooved pad that runs from the tail to the nose makes it very easy to get a good grip on the deck of the paddleboard, no matter if you are holding on with your feet or your hands. One problem with this board is that it is so light and stiff that when dropped or knocked into a rock, that the board can become irreversibly damaged; when the structure is compromised, then the board will not be good for paddleboarding any longer.
BIC Sport ACE-TEC Cross Stand-Up Paddleboard, Platinum Blue, 10-Feet
The ultimate 'All Conditions' board for all abilities
Keeled nose for enhanced tracking and increased glide
Full Rail to Rail volume for enhanced stability and maximum use of the entire deck and a drier ride
Six deck attachment points for securing gear and easy transport
Flat deck - Perfect for Yoga, Fitness, Cruising and Family Fun
​The Verdict
I found that when you are in the market for a board that has been made specifically for yoga out on the water, you want to invest in the Lotus board from Advanced Elements. That's because this company has done everything possible to create a strong and durable board that is easy to bring with you when you are going to practice out on the water. No matter what kind of vehicle you have, how strong you are, or whether or not you could carry a heavier and rigid board, when you buy the Lotus, you won't struggle with controlling the board before you even get out on the water.
This board was designed specifically for people to use when they are going to be practicing yoga on the water. At 10 feet long, it offers plenty of space to practice yoga without compromising the integrity of poses or preventing you from stretching out completely.
Related: Best Life Jackets for Paddleboarding