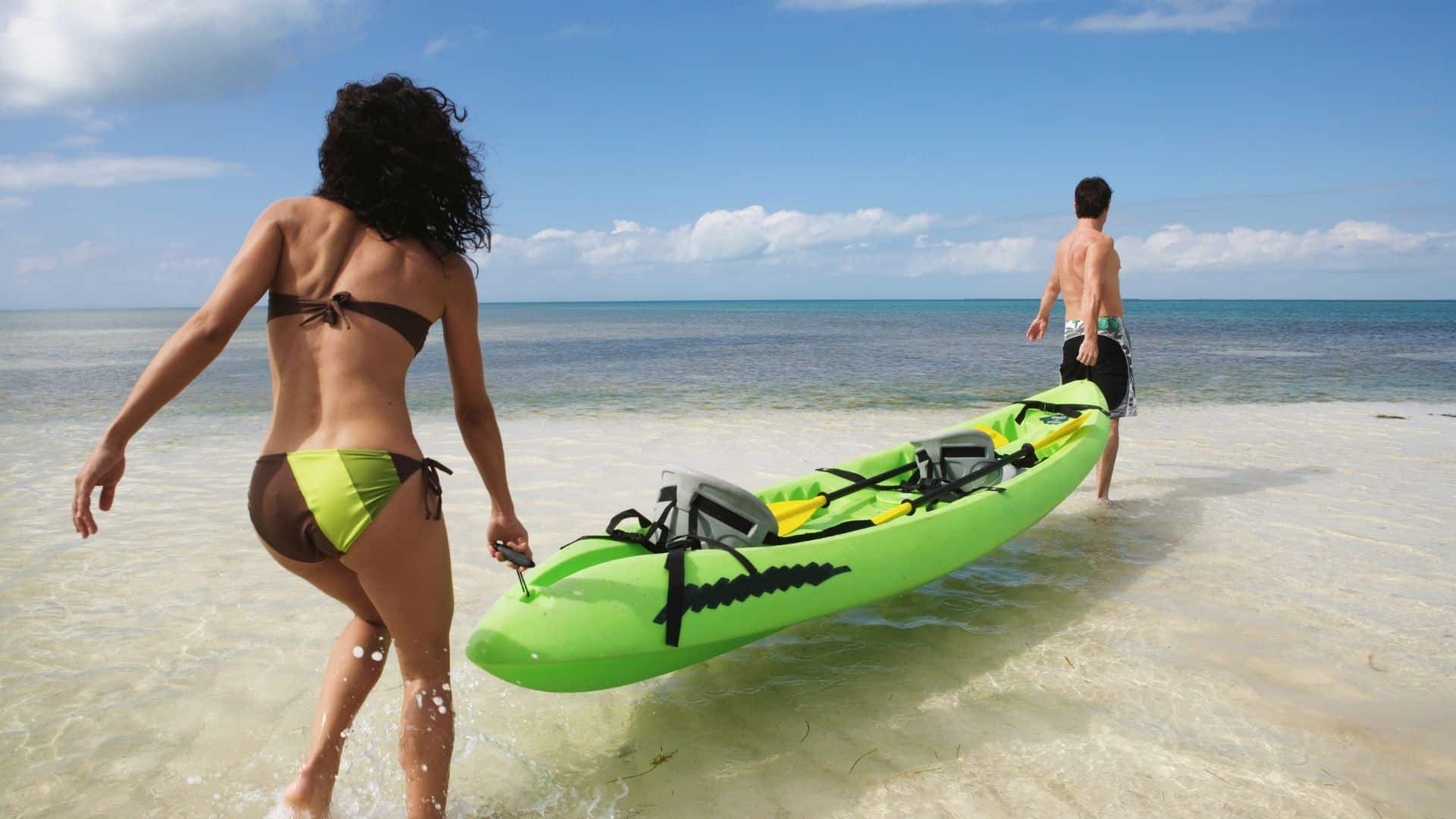 When you don't have access to a boat, then a kayak can be your best friend while you're fishing. High-quality options are known to be comfortable, durable and easy to use while you focus on fishing. Luckily, there are plenty of fantastic kayak options out there.
Fishing offshore will offer you a new standpoint on life. The sea will hold larger and more diversity of fish than small freshwater lakes, so saltwater fishing is a great adventure which is why you need kayak.
Whether you're looking for a sit-on or sit-in, inflatable or hard shell, you'll find whatever you need in this list. The options listed here are all highly rated and are unlikely to let you down! Read on and find the best kayaks for saltwater fishing to suit your needs as well as your budget.
Comparison Chart
Ocean Kayak Frenzy One-Person Sit-On-Top Recreational Kayak, Sunrise, 9 Feet
Perception Kayak Pescador Pro
Intex Explorer K2 Kayak, 2-Person Inflatable Kayak Set with Aluminum Oars and High Output Air Pump
Lifetime Muskie Angler Sit-On-Top Kayak with Paddle, Tan, 120"
Vibe Kayaks Skipjack 90 9-Foot Angler Sit On Top Fishing Kayak Paddle Deluxe Kayak Seat (Blue Camo)
Intex Explorer K2 Kayak, 2-Person Inflatable Kayak Set with Aluminum Oars and High Output Air Pump
Vibe Kayaks Skipjack 90 9-Foot Angler Sit On Top Fishing Kayak Paddle Deluxe Kayak Seat (Blue Camo)
Best Kayak for Saltwater Fishing Reviews
1. ​Ocean Frenzy Kayak
Review
If you prefer something with a simple, easy design, this is a great option. When you want a simple, go-to option, this kayak is worth a look. It offers a high maximum weight limit of 325 lbs., making it quite reliable for many users. Furthermore, it also provides a solid 9 ft. length and weighs under 50 lbs., so it's easy to travel with.
The included padded seat also ensures you'll be more comfortable during use. There's also plenty of adjust-ability so that you can keep the kayak situated exactly as you need it. Because it's a sit-on option, you'll easily stay above the water.
2. ​Perception Pescador Pro
Review
​Without a doubt, this one has a lot to offer. This is a truly cool kayak option, with some very unique color choices. It's made to track well and move along the water more quickly. On top of that, it includes a chair that can be removed or adjusted as needed so that you can get the perfect fit.
There are also plenty of storage zones, including the one under your seat, so that you have space for just about everything. You'll even be able to bring along your fish finder and rear tank well, so nothing will be missing. It's truly a great kayak that ​will serve you well in your fishing adventures.
3. ​Intex Explorer
Review
For those who prefer an inflatable option, check out the Intex Explorer. This is a great option for those who are looking for a more casual experience. It's an inflatable kayak, meaning it's going to be extremely easy to travel with and inflate when you need it. It's also able to hold up to 400 lbs. of weight, making it more suitable to multiple people.
Due to the bright yellow coloring, you'll also be highly visible to people or other boats on the water. This is also fantastic for when you need to be rescued. Keep in mind that this kayak is designed to work well in smaller bodies of water, for the sake of safety.
​4. ​Lifetime Tamarack Angler
Review
If you're looking for a quality budget option, this kayak is a fantastic choice. While it may not offer the same cool look as some other options, this is a great choice when you want something simple and reliable. ​The hull ensures it will be stable and the integrated skeg assists with tracking.
Furthermore, this option provides convenient rod holders so that you don't have to keep the rod in your hand at all times. There are also two storage compartments to keep all your items organized. In addition, the padded seat keeps you comfortable as you fish.
​5. ​Vibe Skipjack 90
Review
For those who like a lot of color as well as quality, this option is worth a look. This is another option with a really interesting look. The bright colors make sure that you're looking great while enjoying your time on the water. This one person kayak is made to allow you to sit-on, meaning you'll be up on top of the water rather than surrounded by it.
In addition, it also offers a mount for a variety of different accessories. On top of that, you'll have convenient paddle parks to make sure your paddles don't get lost when you aren't using them. You'll be able to choose from three bright, unique color options.
​The Verdict
The best kayak will allow you to paddle for extended periods of time while adding comfort to your adventure. A comfortable cockpit, tons of storage space, and a tough frame are important aspects that you should factor into your decision.
The Vibe Skipjack 90 takes the top spot on this list. It's an ideal option for those who want to enjoy their kayaking trips and look great doing it. ​It provides 9 ft. of space and is offered in a variety of absolutely gorgeous colors.
Related: Top Kayaks for Beginners