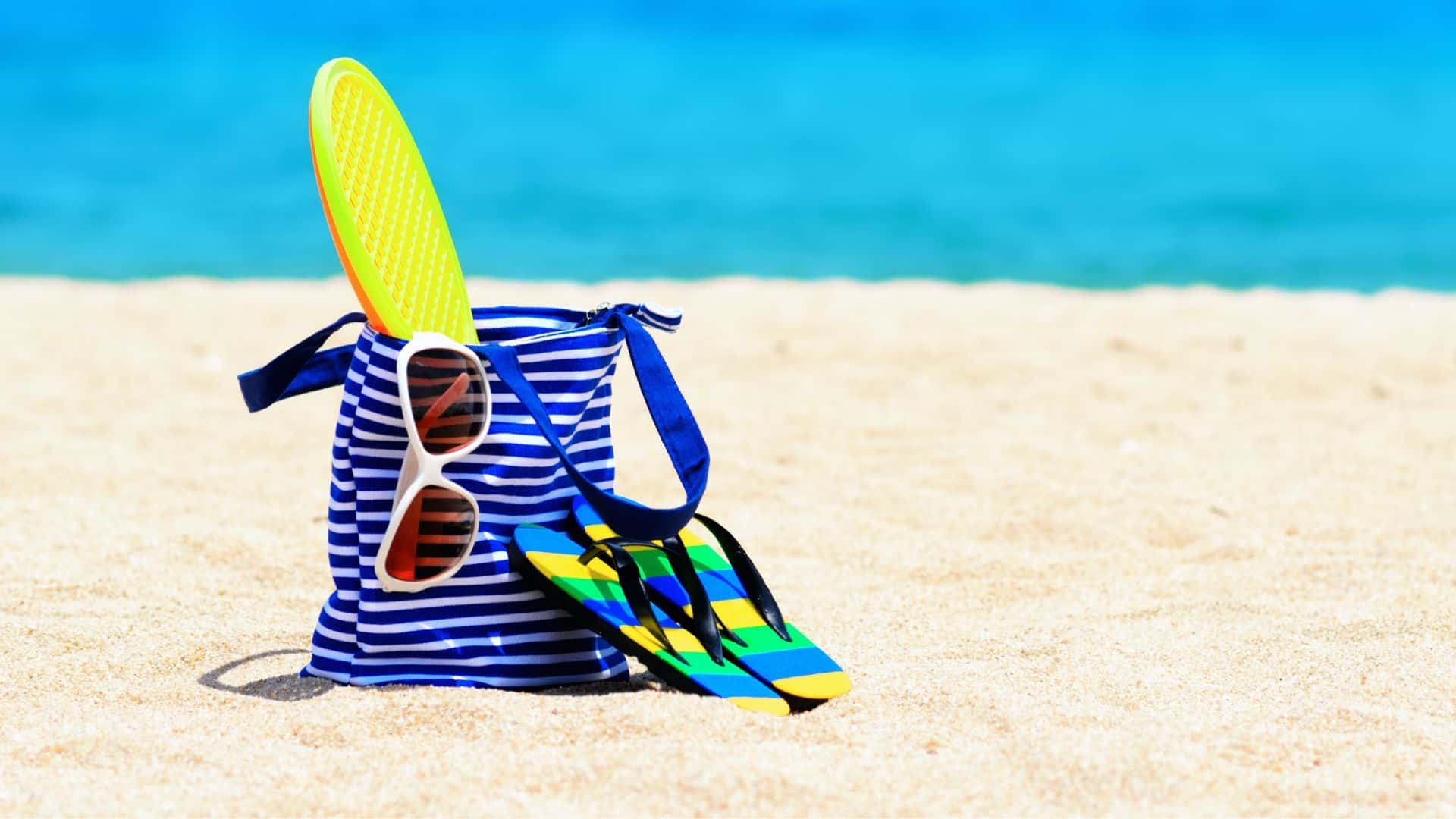 Do you know someone who is going on a beach holiday and you want to get them a gift? No matter who it is, people always love gifts, but of course, finding the right thing can be hard. Especially when you're looking for the right gift to help them enjoy their vacation or relaxing day away. So, today we are here to help find you some of the best gifts for someone going to the beach. It's a varied collection of items but they all represent some of our favorites!
Comparison Chart
Mpow 097 Universal Waterproof Case, IPX8 Waterproof Phone Pouch Dry Bag Compatible for iPhone Xs Max/XR/X/8/8P/7/7P Galaxy up to 6.5", Protective Pouch for Pools Beach Kayaking Travel or Bath (2-Pack)
Tree Tribe Floating Bamboo Sunglasses with Polarized Lens - Mirror Green Lens
Waterproof Charger Portable Charger, Jackery Armor Power Bank 9000mAh External Battery [Water/Shock/Dust Proof] with Emergency LED Flashlight for Camping, Hiking and Other Outdoor Activities
Viva Sol Premium Horseshoes Outdoor Game Set with 4 Horseshoes, 2 Stakes, and Wooden Case
Tuvizo Microfiber Beach & Travel Towel, Quick Dry & Sand Proof for Pool, Swimming, Gym, Camping or Gift - XL with Free Carry Bag
Best ​Gifts for Someone Going to the Beach ​
1. ​Mpow Universal Waterproof Case
Review
People are always on their phones nowadays. It really doesn't matter where we go, we're always checking our social media accounts, shopping, and watching videos too. If someone you know is going to the beach, you might want to get them this Mpow Universal Waterproof Case for their smartphone. It's a great way to keep your phone and other small belongings from getting wet.
The Mpow Universal Waterproof Case is really nothing more than a waterproof plastic bag with a snap-shut feature on the top. To be clear, here you actually get 2 waterproof cases, which is nice if there are 2 people, or if there are worries about one of the cases breaking. This item is rated with an IPX8 waterproof rating, which means that it can be submerged for any amount of time without breaking down or letting in water.
Now, this item itself can be submerged as deep as can be, but be aware that phones can only go so deep without suffering from pressure issues. The Mpow Universal Waterproof Case is transparent, so you can still use your phone and the camera.
Most touchscreen buttons should work just fine, but fingerprint ID will not work through this case. Also, to use the camera, you will need to use the volume buttons on your phone as opposed to the touchscreen. This item can fit any phone under 6 inches, plus keys, cash, and credit cards too. The snap lock access on the top of the Mpow Universal Waterproof Case helps ensure that it never opens up without you being the one to open it. It is indeed quite secure and useful too.
Mpow 097 Universal Waterproof Case, IPX8 Waterproof Phone Pouch Dry Bag Compatible for iPhone Xs Max/XR/X/8/8P/7/7P Galaxy up to 6.5", Protective Pouch for Pools Beach Kayaking Travel or Bath (2-Pack)
NOTE: 1. Phones with large otterbox are not recommended in this bag! 2. Cell phone may suffer hydraulic pressure under certain water depth , which will impact the operation of the touchscreen. Please take photos by volume buttons in this case. 3. Easy to operate the touch screen functions, but NOT for touch ID fingerprint. 4. Waterproof bag inside the fog is a normal phenomenon.
IPX8 Certificated: Fully submersible and waterproof, the waterproof case is designed for extreme condition.
Free Operation and Transparent Cover: This waterproof phone cover is designed not to hinder touch screen use underwater. Transparent cover to not block the camera use. You can perfectly operate your cellphone but NOT for touch ID fingerprint.
Universality: It fits all large Smartphones below 6.5 inches & your cash, credit cards, etc, good for indoor &outdoor activities, water sports, travels. Compatible with most smart phones including iPhone Xs Max, Xs, Xr, X, 8, Samsung Galaxy S9 S8 etc.
Multi-functional Waterproof Phone Bag: Features a simple snap and lock access, easy to keep out water, snow, dust, sand, and dirt.
2. ​Tree Tribe Bamboo Sunglasses
Review
The beach is definitely very beautiful, especially when it is a sunny day. You can go swimming, hiking, play in the sand, and so much more. With that being said, anyone who goes to the beach knows how bright it can get. Surviving a day at the beach without a good pair of sunglasses and a hat is nearly impossible. If you know someone who is heading to the beach, maybe yourself, the Tree Tribe Bamboo Sunglasses make for a great gift.
The Tree Tribe Bamboo Sunglasses are made of 100% real bamboo. Bamboo is very sustainable for the environment, plus it is very strong. These sunglasses can handle a fair amount of punishment without breaking. The frame is actually carbonized, which means that it has been specially treated to make it harder and more resistant to many forms of damage.
There is also the fact that these particular sunglasses have a very nice glossy finish, which combines with the bamboo pattern to look really nice. The Tree Tribe Bamboo Sunglasses actually float on top of the water. This means that you can wear them right into the water without fear of them sinking and being lost, a problem that occurs a lot at any beach. The lenses are polarized and feature UV400 protection, which is pretty good, all things considered. The lenses also feature a scratch resistant coating to ensure that you don't have annoying scratches blocking your vision.
Sale
Tree Tribe Floating Bamboo Sunglasses with Polarized Lens - Mirror Green Lens
POLARIZED LENSES - Provide crystal clear vision with UV400 protection and a scratch resistant coating. 53mm x 39mm lens.
UNIQUE BAMBOO FRAMES - Crafted with 100% real bamboo frames, so every pair is different. Carbonized frames strengthen the material and enrich the color.
FLOATING SUNGLASSES - Because of the porous nature of bamboo, these sunglasses float in water!
CLASSIC NATURAL STYLE - Classic unisex style looks good on everyone. Flexible hinges can hyper-extend for a comfortable fit. Frame size: 143mm front width x 156mm length x 46mm height (5.6" x 6.1" x 1.7"). Bridge 18mm (Distance from inner lens to inner lens)
WE PLANT TREES - Tree Tribe is an outdoor lifestyle brand that plants 10 trees on every sale. Inspired by the beauty of the natural world, we are dedicated to creating cool products with eco friendly materials, while giving back to the Earth on every purchase.
3. ​Jackery Waterproof Charger
Review
As we said before, people love going to the beach, but people still love taking their technology with them. We are of course talking about phones and tablets. After all, we use these things to communicate with people, and as cameras too, and so much more. However, what happens when you run out of battery? You won't have a power outlet at the beach, so the next best option might be to get a portable charger like this one.
This is a good charger to have if you need a device to charge your phone or tablet on the go. Yes, being at the beach is great, but not all devices have the best battery life. The Jackery Waterproof Charger solves the problem of dead devices with ease.
It features a 9000 mAh battery, which is more than enough to charge a phone around 3 times, or a tablet a little more than once. So, the next time you or your friend's phone runs out of juice, the Jackery Waterproof Charger can save the day. One thing that does need to be mentioned is that this charger takes quite a while to charge, which is of course not too ideal.
The Jackery Waterproof Charger is totally waterproof. It can be submerged in water for a few minutes without breaking. Yes, it is mostly waterproof for safety and durability, but you probably should not go swimming with it. It does have a hard shell, which helps to make it fairly impact resistant. It is also dust and shock proof, both important aspects. It even comes with a built-in emergency LED flashlight for those times when the lights go out.
Sale
Waterproof Charger Portable Charger, Jackery Armor Power Bank 9000mAh External Battery [Water/Shock/Dust Proof] with Emergency LED Flashlight for Camping, Hiking and Other Outdoor Activities
Jackery Portable Power Station, Power Outdoors!
Jackery Armor, a Must-Have Power for Outdoor, A waterproof/shockproof/dust-proof power bank.Portable Travel Phone Charger: Ultra compact 9000mAh battery pack,huge capacity it can charge an iPhone 8 for 3 times, iPhone Xs for 2.1 times or Samsung Galaxy S8 for 1.8 times , it is the perfect companion for your camping/travelling/hiking... Lightweight and portable designed for the adventures
Emergency LED Flashlight: Built-in flashlight to light your life, perfect for a dark in times of emergency or disasters
UL certified Safety: featuring UL certified battery cells, with professional management system, Jackery ensures comprehensive protection for you and your devices. Made of durable and reliable ABS+PC material, Designed to be snow proof, dirt proof, drop proof, and water proof (IP67)
What's Included: Jackery Armor 9000mAh Portable Charger, Micro USB Charging Cable for the power bank, Compass, Strap, Carabiner, User Guide, Thank You Card. 24-month product guarantees friendly customer service.
​4. Product Name
Review
Any family who wants to spend more time out in the backyard or on the beach playing games together will benefit from buying a quality horseshoes set. This is a classic game that has been around for a while, but to ensure that you have the best time possible playing, then you need to make sure that the set that you buy is high-quality and built to last, which is why the Viva Sol Horseshoes are such a great option. No matter whether you have never played horseshoes before or are a backyard expert, you're sure to love this set.
Not only will you receive heavy forged steel horseshoes that have the perfect weight for a great game, but when you put this set from Viva Sol, you also get rust-proof metal stakes that are easy to push into the ground and a sturdy carrying case. It's no longer a hassle to transport your game from one location to another, as everything fits neatly into the wood case, and the rope handle allows for easy carrying.
Unlike other horseshoes that will chip or rust, these have been coated with a special coating to protect them and to make it easy to distinguish teams thanks to the blue and green colors. The attractive colors aren't garish and are sure to make you feel very classy when using them. This is a great set for hanging out with friends or for setting up a larger tournament, as you can have confidence that nothing will be damaged and that your horseshoes and stakes are all high-quality.
Sale
​5. ​Tuvizo Microfiber Beach & Travel Towel​
Review
Whether you are going to the beach, the pool, or the gym, you want to make sure that you have the right towel with you to stay dry, towel off, and protect yourself from sand. The Tuvizo Microfiber Beach towel is a great option for anyone looking for a bright and fun towel for a long day at the beach or time at the gym. Microfiber is well-known for being incredibly absorbent and for drying quickly, which makes this towel a great option for when you are going to need to dry off, as you can do so without worrying about a heavy and soggy towel in your bag.
This towel from Tuvizo is very lightweight, which makes it great for taking with you on a trip and ensuring that you can dry off anywhere that you need to. In addition, the fun colors and designs make this towel really stand out, and because you can choose from five color options, it's easy to find one that you will like the most.
Microfiber towels are a great option for anyone who is active and wants to stay dry and healthy, as it naturally resists bacteria and dirt from building up in the fibers. This means that you don't need to worry about getting sick when using your towel or sharing it among family members. While this towel is incredibly compact and light, it is so long and wide that you can easily stretch on the sand or on a beach chair without being uncomfortable.
Tuvizo Microfiber Beach & Travel Towel, Quick Dry & Sand Proof for Pool, Swimming, Gym, Camping or Gift - XL with Free Carry Bag
🥇 PREMIUM MICROFIBER TOWEL XL 71 x 31" (180 x 80 cm) - Get ready for your weekend getaway with this fun extra large beach towel. Our new range of high end, microfiber towels, in a retro flower print, available in five vibrant colors are all you need to stake your claim on the beach. Microfiber with its state of the art technology combining super absorption with amplified quick drying properties.
🏖️ SOFT, LIGHTWEIGHT, QUICK-DRY & SUPER ABSORBENT 🏖️ - Ultra soft and lightweight, 200 GSM weighing only 288 grams, gentle enough for kids and adults, microfiber towels dry 3 times faster than other towels. Made from fine microfibers of the highest standard, it soaks up water in seconds. Sand proof too, it brushes sand right off at the beach.
🌞 BACTERIA RESISTANT & DURABLE FUN BEACH TOWEL 🌞 - The best choice of towel for active people, microfiber fabric naturally resists the build-up of dirt and bacteria maintaining optimum hygiene for you. Make your days even brighter with these plush and long lasting, printed, colorful beach towels.
🎁 COMPACT & GIFT READY 🎁 - Take this travel towel anywhere. Extremely compact, it will pack away into the smallest of spaces. Perfect for a day at the beach, pool, gym, spa, camping, hiking, lake, sport or even the bath. Keep one in your car, it's the ideal travel essential for all your adventures! Makes a great gift too. Comes gift ready in a free carry case.
😊 100% CUSTOMER SATISFACTION GUARANTEE - Purchase with confidence. Your satisfaction is our #1 priority! Love it or your money back. If you are not fully satisfied, simply reach out to us for a hassle-free full refund, leaving you with absolutely no risk to try out our amazing microfiber towel today.
​Final Thoughts

It is not like we can really recommend one of these things over the other, as they are all vastly different products with varied uses. However, if you know someone that might appreciate one of these items, they are all excellent choices for gifts.
Related: Handpicked Beach Lover Gifts for Him