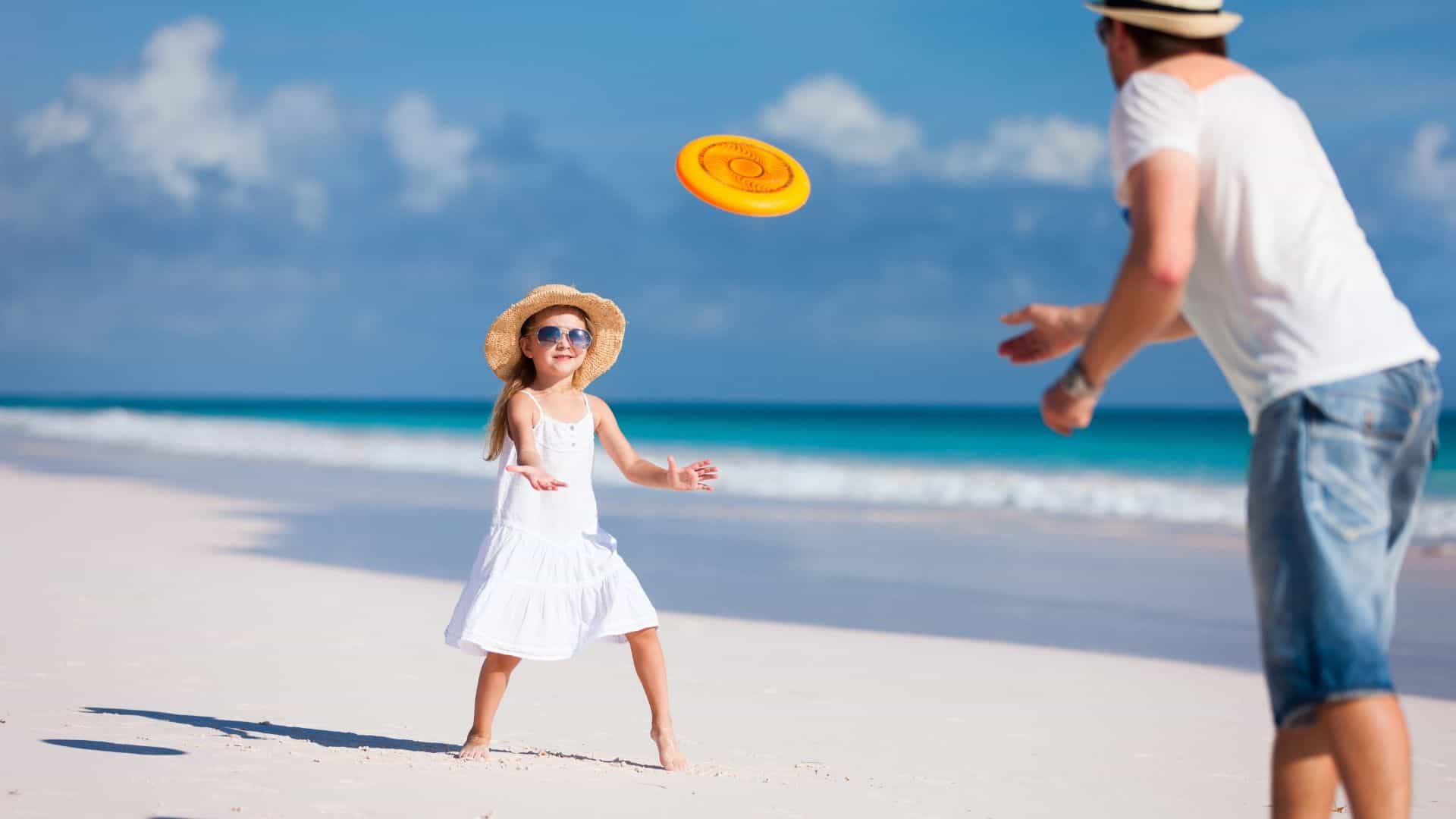 Is a beach day truly a beach day without a frisbee? We think not! There's a reason why one hundred million Frisbees have been sold since their invention in 1871. This timeless sport can be enjoyed by anyone and is perfect for a beach day. It's portable, fun and suitable for the whole family.
Your free promotional frisbee is not going to cut it this summer! It's time to upgrade and let the fun begin. Impress the guys and girls on the beach with a trendy new frisbee that will give you more glide and power in your throw.
If you thought a frisbee was a simple toy, think again! We have reviewed three best frisbees for the beach to help you decide which one is best for you.
Comparison Chart
Innova - Champion Discs DX Destroyer Golf Disc
Discraft 175 gram Ultra Star Sport Disc
Innova Star Destroyer Disc Golf Paul McBeth Distance Driver (Colors Will Vary)
Best Frisbee for Beach Reviews
1. ​Innova - Champion Discs DX Destroyer Golf Disc
Review
Disc golf is very similar to golf but it's played with frisbees. The object is to get the disc into a series of metal baskets on a course in as few throws as possible. Although the Innova destroyer is a disc that's been designed for this sport, you can also use it on the beach for practice or simply for fun.
If you want to step your game up a notch, this is the frisbee for you due to its weight and predictability. Beginners may find it a bit tricky at first but will soon get used to it. It's perfect for players with a powerful and precise throw.
If you're throwing into headwinds, the Innova destroyer will remain stable through the air on both short and long distances. You'll get the most out of it if you are a sidearm thrower with lots of power. It comes in a variety of different weights which affects the speed. You'll easily achieve a consistent throw once you get used to the weight of the disc.
The Innova destroyer does tend to pull a bit left but will become more stable as you wear it in.
Sale
Innova - Champion Discs DX Destroyer Golf Disc
Best choice for: Maximum Distance; Long Hyzers and Headwind Drives
The Destroyer is a fast, stable power driver with significant glide; Great disc for sidearm throwers and those with lots of power; Is recommended for advanced and pro players
DX material offers widest selection of weights
Speed 12, Glide 5, Turn -1 and Fade 3
Colors May Vary
2. ​Discraft 175 gram Ultra Star Sport Disc
Review
Esquire magazine listed this frisbee among the 31 things all men should own. Besides it's trendy looks, it also delivers on speed and stability.
Did you know there is a 7-player frisbee game like soccer called Ultimate? The Discraft is the official standard for the sport, in fact it was the official frisbee of the USA Ultimate Championship Series held in 1991.
The Discraft is great for distance and balance. The soft and flexible plastic makes it great to catch and its stability will increase your confidence when throwing into headwinds because it does not lift and fall. This disc is great for trick shots which you can find instructions for on YouTube.
It comes in some funky colors and designs. It even comes in UV, so there's no reason to stop playing after dark. Whether you're a beginner or a more advanced player you'll enjoy the ease and glide of this frisbee.
Sale
Discraft 175 gram Ultra Star Sport Disc
The world standard for the sport of Ultimate
Official and exclusive disc of the USA Ultimate Championship Series since 1991.
Listed among the 31 things all men should own by Esquire magazine
175 grams
Foil color on the disc will vary
3. ​Star Destroyer 165-170g
Review
This is a great frisbee for windy beach conditions. Some players have even described it as being 'over stable' with its predictable flight path in strong winds.
Much like the Innova destroyer, this disc is suited to more advanced players or those who want to improve their game. It's forgiving in extreme weather conditions making it perfect for practice. You'll need a powerful throw as it is a fast and stable long distance driver. If you have a tendency of throwing off axis the star destroyer will accommodate for this.
The bright colors make the Star Destroyer easy to find if you miss a long distance throw and it ends up in the bushes. We recommend buying the maximum weight to get great distances on your forearm throw.
This disc is a bit tricky on a backhand throw but with some practice it will serve you well for this too. If distance and speed are important to you this disc is a good option. Once you master your technique you will have the Star Destroyer gliding through the air.
Sale
​The Verdict
Choosing the right disc is important whether you're a novice or an advanced frisbee player. We hope our reviews will help you choose the right disc for you.
We liked all three models we reviewed for different reasons. The two Destroyer models were similar, both heavier and balanced for more advanced players.
If you're a beginner who wants to take your throwing skills to the next level, the two Destroyer discs will challenge you to do this as they are not the easiest to master. It will take some time and patience, but once you learn the technique, you will get good performance from these discs. When you start throwing faster and further with a more direct flight path you will start to enjoy these two models more and more.
The Discraft Ultra Star was our favorite of all three of the models that we reviewed. Besides the fun and colorful designs, it is also a versatile disc. Any level player can use it even in windy weather conditions. It is a light disc which will make learning easier for beginners.
This is the disc that you keep in your bag or in your car throughout summer and whip it out whenever the sun is out. We are not surprised that it made the top ten of most of the frisbee reviews that we have seen. We suggest getting one in each color and design!