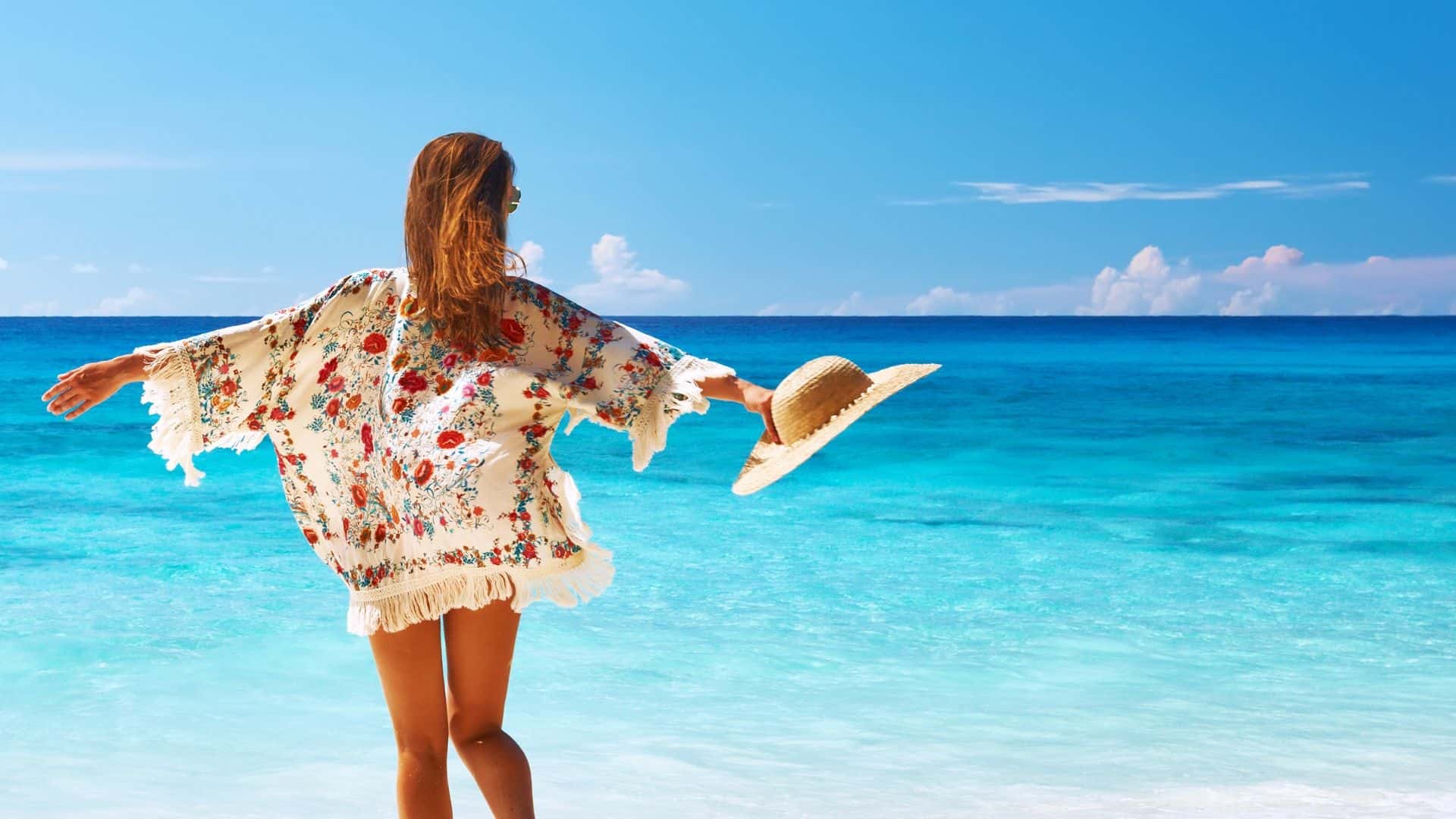 Let's be honest, ladies. A pretty beach cover up is a stylish staple with a multi-purpose. The ​right beach cover-up protects after sunning. The garment offers modesty for entry into common places like bars or stores where too much skin looks inappropriate. A fashionable cover up also goes from day into night. Sometimes you might want to go to a restaurant after the beach or go for a night out in the town​. If you do not want to bring a full set of clothes along, a nice beach cover up might be the best choice for you. Let's get right to it and help you find the best cover up for the beach right now. There are lots of different options to go with.
Comparison Chart
Coolibar UPF 50+ Women's Beach Cover-Up Dress - Sun Protective (X-Large- Poppy Red)
La Blanca Women's V-Neck Lace Tunic Cover Up, White/Island Fare Medium
HARHAY Women's Summer Swimsuit Bikini Beach Swimwear Cover up
GDKEY Women Chiffon Tassel Swimsuit Bikini Stylish Beach Cover up
Floating Time Women's Floral Chiffon Kimono Cardigan Summer Beachwear Swimsuit Cover up
CHERRY CAT Colorful Cut Loose Swimsuit Cover-ups Swim Cover Ups Plus Size Clothing Beach Dress (Navy)
Best ​Cover Up For The Beach Reviews
1. ​Coolibar UPF 50+ women's beach cover-up dress - sun protective
Review
We adore this elegant and classic beach cover up by Coolibar because it has been designed to flatter all figure types from X-Small to 3X. The garment is offered in 10 shades that include four with nautical stripe patterns. The solid colors are elegant and classic like Poppy Red, Brilliant Blue, Light Yellow and Mint Green.
We know you will appreciate the hoody feature and two front pockets, making this a versatile beach piece. It's an easy cover up to put on over the head with a pull-on closure. The material is light and breathable and made with easy-care cotton/viscose from a bamboo/spandex blend.
What truly makes this chic beach cover up a winner is its conscious design. In other words, it's been made with unique sun protection against 98% of UVA and UVB rays. That's impressive, so when you're done tanning and playing in the sun, you can toss this on to keep your bronze body safe and not overexposed.
The cover up even contains zinc oxide particles embedded into the fibers. We also like that the length of the garment is 34 inches, so it comes down to about mid-thigh, and you can feel comfortable walking around restaurants, bars, hotel lobbies, etc. without feeling your bikini is on show.
2. ​La Blanca women's v-neck lace tunic cover up
Review
Lovely lace and boho bell sleeves create a glamorous look as another ​great cover up for the beach. You can agree that this cute garment is ideal for socializing apres sun. It's the kind of cover up that is feminine and sexy without showing too much bosom or exposing your behind.
This tunic-length cover up looks nice for a walk on the beach, a date at a seaside bar or for sitting on a yacht. It features a loose kind of style construction, but it's gorgeous for slim to curvy figures. There is zero dowdy about this cute piece for the beach or resort.
Another plus we like is the variety of solid shades this item comes in. From Ice Blue to Pink Berry and Iris, there is a pretty popsicle shade for everyone. Sizing is also a good reason to like this cover up. From XS to XL, this tunic top will enhance your silhouette.
A great-looking cover up is half the battle, and protecting your skin after sunning is essential. This garment is made of all cotton and is light enough for comfort. It also isn't tight and form-fitting. The cover up will easily accommodate a bathing suit with details like ruffles, for example.
​The Verdict
You should be choosy when it comes to buying​ a cover up for the beach, and styling and fit are always important. We believe that the Coolibar Cover Up is the finest choice here because it looks flattering on women with any shape, size or height. The length is ideal, so it can be worn as a beach dress, and it offers pockets and a small hoodie.
We love the cover up for its clean, classic styling. You're getting the ultimate protection with the garment's special sun protection fabric. The other plus are the colors and nautical pattern choices. This cover up is a must-have and will travel well.
Related: Beach Hats For Women