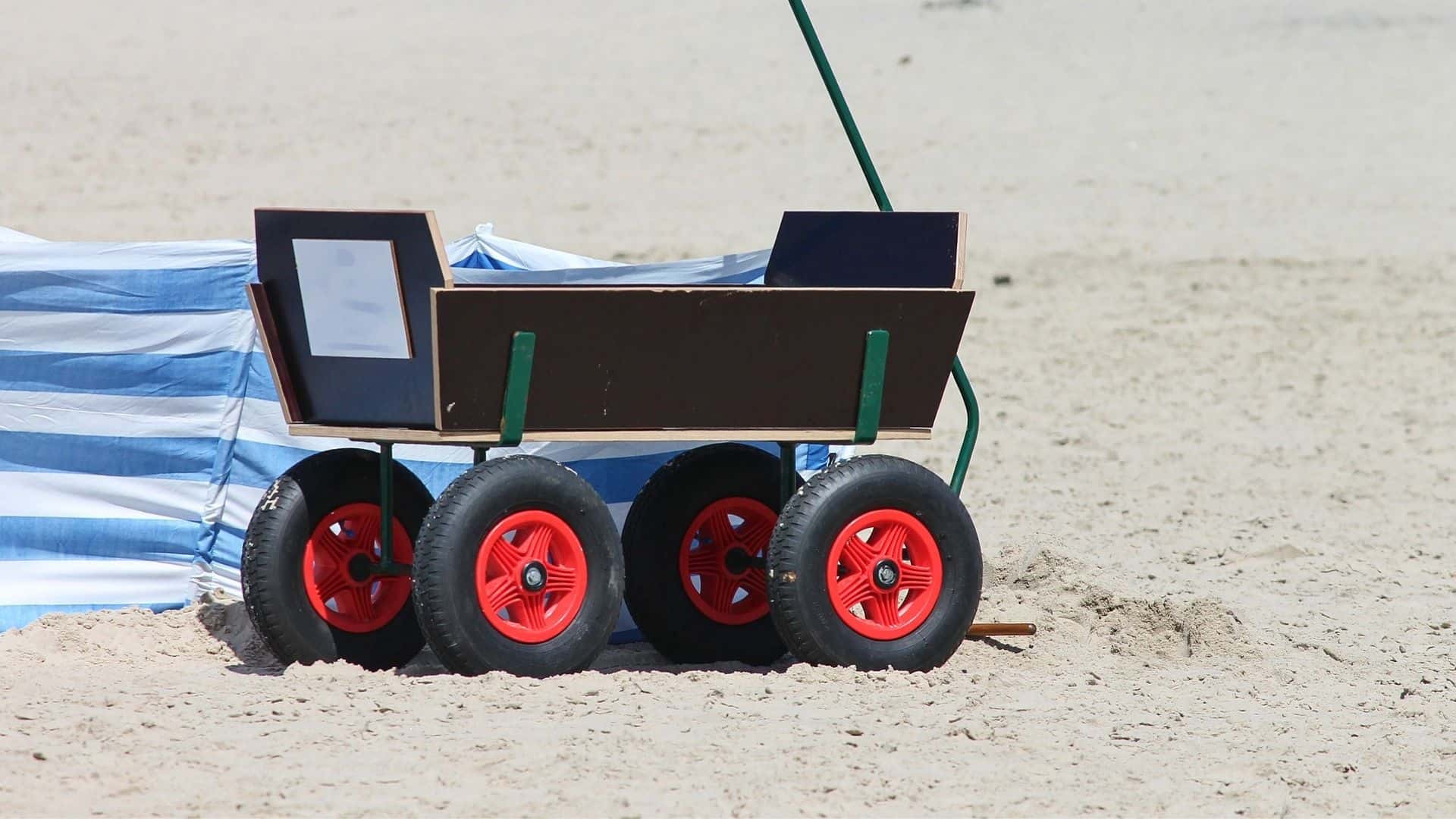 A Matter Of Detail
Spending a day out at the beach certainly counts as one of life's greatest pleasures. After all, very few activities outrank a fun filled picnic at the seaside, followed by a leisurely splash in the sea, all in the company of friends and family.
However, ensuring your best laid plans work out perfectly requires planning with military precision.
And a huge part of that involves making sure you are able to transport everything required for a magical experience on the beach, with a minimum of fuss.
And that is why we will be taking a look at the best beach wagons for soft sand which will ensure everything runs just like clockwork, leading to great memories in the golden sunshine.

Ensuring You Come Well Prepared
You've carefully packed your picnic basket, selected the right sun screen, finally ditched those old beach towels for a brand new set and even remembered to bring along your favorite beach ball.
And now all you need is that one essential factor which will make it all come together so beautifully - a beach wagon.
And not just any beach wagon, but one which comes with great capacity, flexibility and of course, wide wheels to enable it to glide smoothly over the soft sand on the beach.
Below we have 3 which do just that and more. However, what we are really interested in is the one which quite simply puts all the others in the shade.
And there is only one way to find out - by examining all their pros (and their cons too) in detail.
Only then will we be able to decide which beach wagon has what it takes to ensure a perfectly hitch-free day in the summer sunshine.
Comparison Chart
Folding Push Wagon Cart Collapsible Utility Camping Grocery Canvas Fabric Sturdy Portable Rolling Lightweight Beach Sand Buggies Outdoor Garden Sport Picnic Heavy Duty Shopping Cart Wagons With Wheels
Mac Sports Heavy Duty Collapsible Folding All Terrain Utility Beach Wagon Cart, Blue/Black
Timber Ridge Folding Camping Wagon/Cart - Collapsible Sturdy Steel Frame Garden/Beach Wagon/Cart
Folding Push Wagon Cart Collapsible Utility Camping Grocery Canvas Fabric Sturdy Portable Rolling Lightweight Beach Sand Buggies Outdoor Garden Sport Picnic Heavy Duty Shopping Cart Wagons With Wheels
Best Beach Wagons for Soft Sand Reviewed
1. ​Beau Jardin's Folding Push Wagon Cart
Review
It's versatile, flexible and easily maneuverable thanks to its rotating wheels. And even though our chief concern is functionality in this instance, the fact that it comes in a rather fetching dark blue is an added plus.
But what more has Beau Jardin's multipurpose wagon cart got to offer?
First of all, there's its ability to handle up to 300lbs which makes it something of a titan compared to most beach wagons which come with a maximum weight capacity which is often limited to 150 lbs at the most. And while that might be a tad too much for some of us, it must be admitted that there is a certain comfort in knowing that there's always room to sneak in an extra pack of your favorite cookies.
There is also its sturdy frame and robust 7 x 4 inch thick rubber wheels which means there is no risk of the beach wagon toppling over and sending all your best laid plans tumbling into the soft beach sand. The cart itself has been manufactured using 600D Polyester renowned for its impressive resistance to ultraviolet rays and wear and tear. As a result, it is perfectly capable of withstanding the rigors of frequent scrubbing and regular trips to the beach.
And if you're worried about the extra effort and hassle which comes with having to put it all together, you needn't be. No assembly is required - at all.
What's more, it has been built to ensure it fits perfectly into your car trunk and thanks to being multipurpose, might just do for a trip - or several - to the grocery store to stock up in preparation for your seaside picnic.
Talk about ticking every box and more! There is no doubt that Beau Jardin has produced an outstanding product which will ensure spending a day at the seaside is a joy and not a chore.
2. ​Mac Sports Heavy Duty Beach Wagon
Review
The next beach wagon on our list is brought to us courtesy of a brand which prides itself on its ability to provide first rate leisure equipment. And from its plethora of helpful features, it is pretty evident that Mac Sports knows what it's doing.
Its heavy duty beach wagon comes with the prerequisite robust frame and wheels and an adjustable handle which make all the difference between transporting 150lbs of your picnic and bathing gear across the beach with ease, and frantically struggling to free it from the relentless grip of the powdery sand underfoot.
The cart itself has been made from durable poly fabric which is resistant to mildew and wear and tear in addition to being easy to clean. And there's no need to worry about it taking up all the space in your car trunk - in spite of measuring 36.2 x 21.4 x 24.6 inches, it folds to a surprisingly compact thickness of 9.7 inches.
The surprising, but welcome addition of two mesh cup holders to prevent any bothersome spills are a clear sign that Mac Sports have quite simply thought of everything to create the perfect beach wagon for transporting all you need at the beach with a minimum of fuss.
3. ​Timber Ridge Folding Beach Wagon
Review
At a first glance, this product is the very image of efficient robustness and seems to provide an almost instant guarantee of a hassle free beach experience.
And quite happily, a closer look reveals that it is all substance and not just style.
There's its cart which is manufactured from the super durable and UV resistant 600D Polyester in a bold dark blue. There is also its steel frame which has been built to withstand weights of 100lbs on sandy surfaces - a figure which actually goes up to 150lbs on hard surfaces.
Its manufacturers have also taken the extra precaution of providing wheels which are larger than average, capable of rotating at the front and suitable for all kinds of terrain - an added bonus in terms of versatility.
They have also taken extra care to ensure that it is pretty compact and can be wheeled along even when folded and requires no assembly at all.
And with a capacity of 35.5 x 18.4 x 12 inches, it is pretty voluminous and capable of holding up admirably under the weight of all the food, drink and swimwear required for a memorable day out at the seaside.
And there is that very necessary requirement which is simply a must for every beach wagon - the telescopic handle.
All these features and more are excellent proof that this is a product which has been manufactured to enable your best laid plans to run perfectly.
A Beach Wagon Which Ticks All The Right Boxes

All three beach wagons pretty much deliver in terms of versatility and robustness - in addition to being stable, spacious and flexible. However, the clear winner is Beau Jardin's Folding Push Wagon Cart. The features which make it the beach wagon of choice are:
Its weight capacity of 300lbs which is pretty hard to beat.
The use of UV and abrasion resistant 600D in manufacturing its cart ensuring a quality product built to last.
Its amazing versatility making it ideal for not just the beach, but trips to the store, stadiums and even camping.