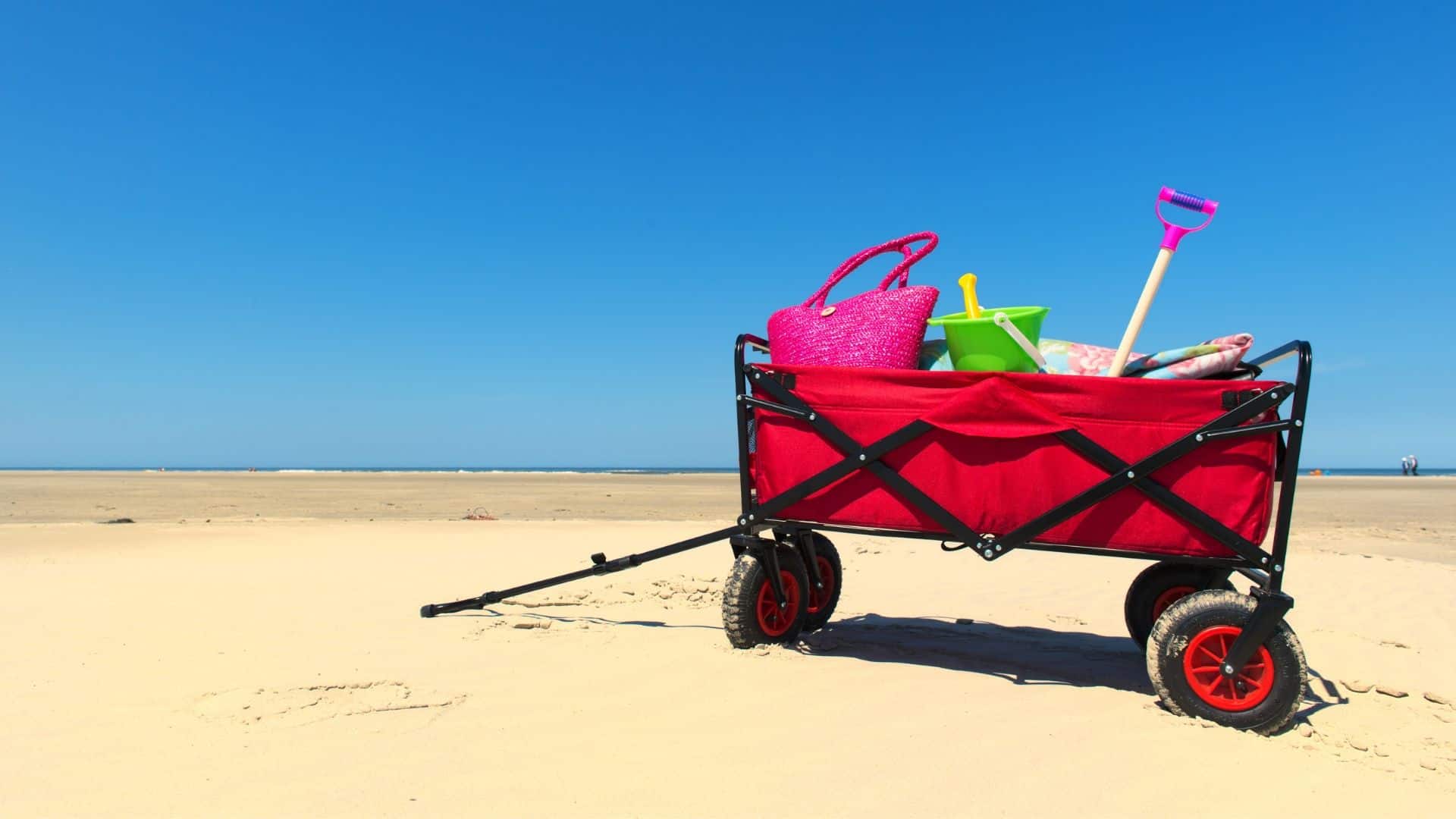 ​While going to the beach as a family is a lot of fun, without the correct gear it can be difficult to navigate the sand. This is especially true if you have toddlers in your family, as they often want to be carried or pulled in a wagon. They also will generally have a lot of beach gear and snacks with them that they require throughout the day. Buying the best beach wagon for toddlers will make it significantly easier for you to take your kids to the beach without having to carry them every step of the way.
​​Because I know that buying a beach wagon can be a little intimidating because you want to make sure you purchase the right one for your needs, I have put together a list of a number of options that will definitely meet your needs if you have toddlers. Any of these wagons will make transporting all of your essentials not only convenient but also incredibly easy due to their high-quality build and the fact that they will work well on sand.
Top Toddler Beach Wagon Comparison Chart
Radio Flyer 3-in-1 EZ Folding Wagon for kids and cargo
Little Tikes Deluxe Ride and Relax Wagon with Umbrella
Mac Sports Heavy Duty Collapsible Folding All Terrain Utility Beach Wagon Cart, Blue/Black
Timber Ridge Folding Camping Wagon/Cart - Collapsible Sturdy Steel Frame Garden/Beach Wagon/Cart
Creative Outdoor Big Wheel All Terrain Camping, Beach, Garden, for Kids and Toddlers Collapsible Folding Multipurpose Wagon Cart - Green
​Top Beach Wagons​ Reviewed
​1. ​​Radio Flyer Wagon
This EZ fold wagon is designed for kids and operates as bench seating, to have two kids riding in the wagon, or even as a flatbed to haul items. Since it folds flat with just one hand, it's perfect for a busy parent who has to keep one hand on an unruly child while operating the wagon. Thanks to the high backs on the seats, as well as the padded seat, which is very thick, children will be nice and comfortable when riding in this wagon.
Perfect for taking snacks and drinks on the go, the DuraClean fabric has been designed so that you can easily and quickly wipe it clean when there are spills, which means that parents don't have to worry about the fabric being stained and permanently damaged. Unlike other wagon handles that will fall flat and land in dirt and mud when not in use, this wagon features a magnet that is perfectly placed to keep the handle up and out of the dirt when not in use.
At only 19 pounds, this wagon is easily to take most anywhere without having to worry about how to handle the addition weight. In terms of safety, this wagon features two seat belts so that children can be as secure as possible when they are riding. Finally, parents are sure to love the storage loops on the back of the wagon, as they are perfect for securing extra water bottles, keys, hand sanitizer, and more when on the go, leaving more space in the wagon for kids to get comfortable.
​2. ​​Little Tikes Wagon
Parents who are looking for a wagon that will double as seating for both adults and children and can be used to haul large items around the yard will enjoy how easy it is to convert the Little Tikes Wagon from a wagon to a bench to a flattop card. When families are out in the sun, they won't need to worry about hot summer rays, as the attachable umbrella offers plenty of shade, and the attached cooler will do a great job at keeping drinks nice and cold on the go.
Thanks to the large and durable wheels, it's possible to take this wagon most anywhere, as the wheels can handle being used on hard surfaces such as concrete and boardwalks, as well as on packed sand and dirt. This means that parents will be able to haul their children and their snacks without having to worry about picking them up and carrying them if the terrain gets rough.
Not only are there durable seat belts included, which are designed to keep children safe and secure in the wagon, but the included drink holders ensure that kids can always reach their water or juice. The large handle is easy for most adults to hold, and it will limit the possibility of a hand cramp while hanging onto the wagon and pulling it.
​3. ​Mac Sports Heavy Duty Wagon​
This beach wagon is very durable and made of tough fabric and a sturdy frame so that you won't ever have to worry about it breaking while it's in use. Thanks to the large storage area, you will easily be able to pull your toddler along with their gear and a cooler full of snacks and drinks without worrying about how you are going to manage to carry everything. When open, the interior of the MAC wagon has a capacity of 36.2" x 21.4" x 24.6".
Because it is difficult enough to travel with a wagon and a lot of gear across the sand, MAC has provided a number of features on this wagon to make using it as easy as possible, including an adjustable handle. There are also 2 cup holders to keep your drink secure while you are moving the wagon and very large wheels that won't sink into the sand.
Being able to collapse this wagon and fold it flat when it is no longer in use is a great perk and makes storage easy.
​4. ​Timber Ridge Folding Wagon ​
Timber Ridge has their own utility wagon that is ideal for taking your kids and all of their gear to the beach. It can easily support up to 150 pounds on solid roads and 100 pounds on the sand, making it sturdy enough to handle a toddler and a cooler without problems. Because you don't have to perform any assembly, it's easy to pop your wagon open and take it directly to the beach.
While the four wheels rotate for all-terrain use on sand, they are a little difficult to steer, which means that only adults should try to operate this wagon. The carry back included is incredibly easy to use once you have folded the wagon down to a small size, and makes it simple to pack up the wagon and put it in the car. The heavy duty polyester is designed specifically to stand up to outside weather so you don't have to worry about the salt of the ocean damaging it or heavy winds ripping through it while you're on the beach.
​5. ​Creative Outdoor Wagon​
This durable wagon from Creative Outdoor is great if you want to make sure that you can use your new wagon not only at the beach but also on other trips. Unlike other large collapsible wagons, you won't have to worry about the wheels on this wagon making a racket when you use it on solid surfaces such as asphalt. I love that this wagon is durable enough to travel from the beach to the hotel without being a distraction.
It's easy for just one person to fold up this wagon, so you don't have to worry about how you are going to corral your kids and open or close the wagon. Additionally, the steel frame and bright fabrics help to make it an eye-catching wagon that you won't have to worry about accidentally losing on the beach. There are six pockets located under the flap and three at the front of the wagon, so you can easily stash your belongings in the wagon without worrying about them falling out or someone trying to take them.
With a weight limit of 150 pounds, it is very difficult to overload this wagon. This means that you can easily pull your toddlers, their beach gear, and any shells they have picked up without having to worry about the frame or the fabric being damaged or failing.
FINAL VERDICT
When you are in the market for the best beach wagon for use with your toddler, it is important to pay attention to the ease with which it can be maneuvered, the size of its wheels, and how much weight it can carry. I have found that carefully comparing these three wagons makes it easy to see which one will work best for your family and can help you make the right decision. Taking a trip to the beach should not be stressful, and with the right wagon, you'll be able to easily transport your child and all of their gear to the beach without the frustration of having to carry everything.