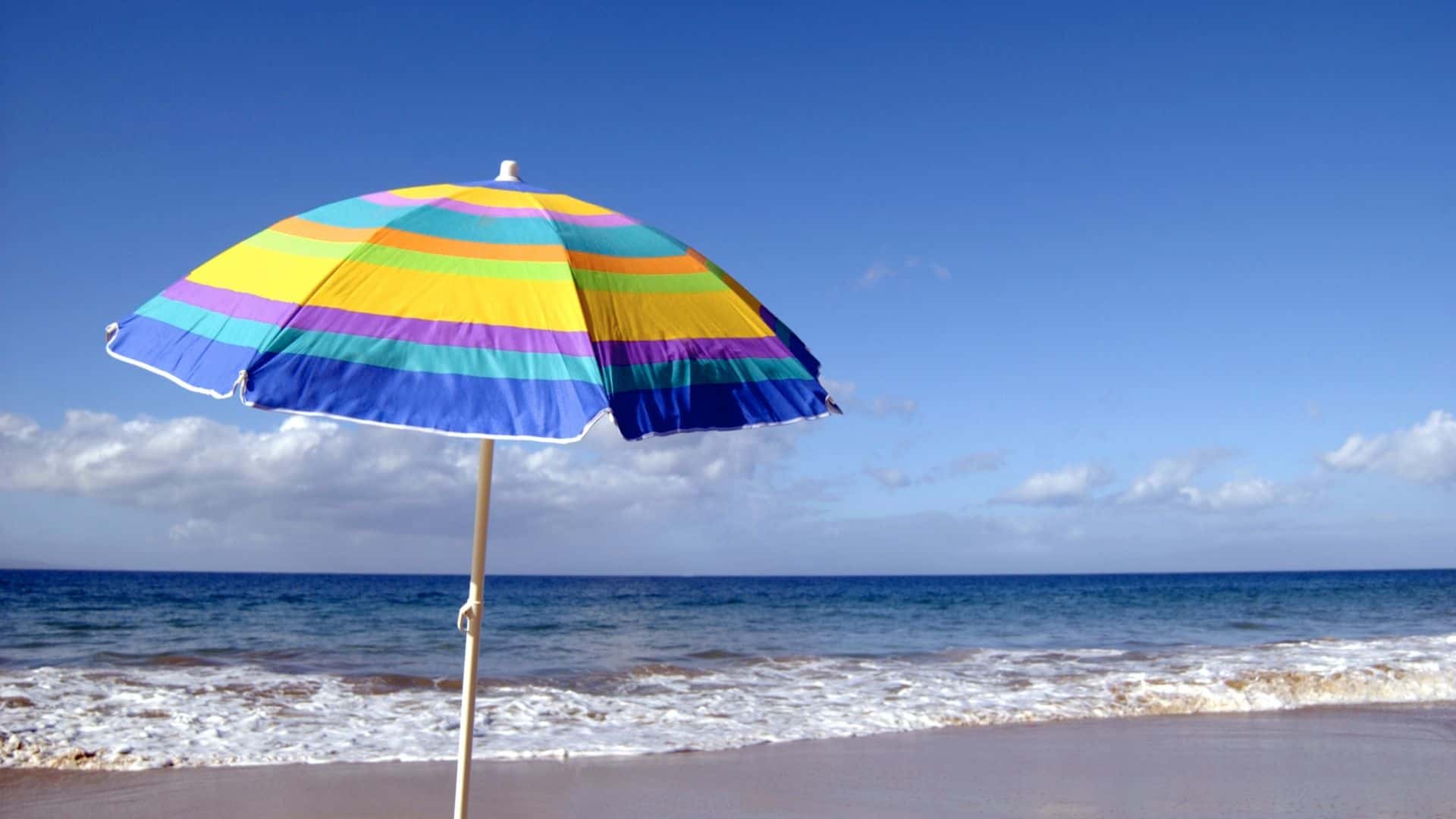 Summertime is finally here, so it's time to go outside and enjoy hanging out at the beach as much as you can. When you were a kid, you'd probably do anything you can to stop your parents from making you sit under a beach umbrella.
However, by now you know how important it is to have a good beach umbrella. Not only does it make beach days more enjoyable, but it also protects you from the sun's harmful rays. There are many different options out there, so to help you choose the best beach umbrella, here are our top picks.
​Top 5 Beach Umbrellas Comparison Chart
BEACHBUB All-in-One Beach Umbrella System. Includes 7 ½' (50+ UPF) Umbrella, Oversize Bag, Base & Accessory Kit
Sport-Brella Versa-Brella 4-Way Swiveling Sun Umbrella (Midnight Blue)
AMMSUN 6.5 Ft Outdoor Patio Beach Umbrella Sun Shelter with Tilt and Carry Bag UPF 50+ Multicolor Red Blue
7.5 ft.Steel Commercial Grade Beach Umbrella Ash Wood Pole & Carry Bag
Tommy Bahama Sand Anchor 7 feet Beach Umbrella with Tilt and Telescoping Pole (Blue/White)
Best Beach Umbrellas Reviews
1. ​beachBUB All-in-One Beach Umbrella System
This beach umbrella offers pretty much everything that a beachgoer needs. It makes the process of setting up an umbrella a breeze, and it offers great sun protection. ​There's no doubt this is one of our favorite (and top-rated) beach umbrellas.
Review
The beachBUB All-in-One Beach Umbrella System eliminates virtually all issues that beachgoers face. It allows you to have a stress-free day without having to worry about sunburn. It's also convenient and easy to carry.
If you need proof, the American Lifeguard Association has recently endorsed this product. The main reason for this is that it eliminates the concern of beach umbrellas flying away and creating other hazards. That won't be the case with this one, which is why it's one of the best beach umbrellas you can buy right now.
The reason why it's so secure is the beachBUB® Base, which ensure that your umbrella won't tip over or fly away. When filled, it weighs around 125 lbs. and can hold around one cubic foot of sand. Aside from this, there's also the beachBUB® Sand Gopher which can help you create an 8" hole in the sand in no more than 10 seconds.
As for the canopy, it opens up 7.5' wide, so you can rest assured that there will be enough space for your family or a group of friends. It offers great protection from the sun and ensures that you can cool down during a hot day at the beach.
An issue that we should point out is that the pole's height isn't adjustable, which is the feature that many people look for. Also, there's no tilting in any direction, so it can only stand straight. In return, you get better stability than telescoping and tilting poles.
Despite a couple of drawbacks, there are many reasons why this is a top rated beach umbrella. You can also check out the video below to see how the system works.
2.​ Sport-Brella Versa-Brella
This is one of the best personal beach umbrellas out there. It's compact and lightweight, yet sturdy and wide enough to ensure great protection. ​​
Review
One of the best things about the Sport-Brella Versa-Brella is the variety of adjustment options. Thanks to the 360° swivel, paired with the two-button hinges, you can rest assured that you'll be covered from any angle. So if you plan on spending an entire day at the beach, this can be a great choice.
It features a heavy-duty clamp that allows you to connect it to different surfaces easily. Even though this is convenient, unwanted tilting might be an issue, and the base isn't that strong.
When you open it, it's 40" x 42". While it's not the biggest, it is big enough to cover a small group of people would make a great baby beach umbrella. It only weighs 1.8 lbs., so you can easily take it with you wherever you go.
You also get a carrying case in the package, so you can conveniently store the umbrella after you're done using it.
3. ​AMMSUN Outdoor Beach Umbrella
This is a standard beach umbrella with some useful features that make it among our top 5. It offers great durability and protection, and it's wide enough to cover a fair amount of surface. ​​
Review
At first glance, this beach umbrella looks pretty standard, but don't let that fool you. It's the quality of the materials and great protection that make the AMMSUN one of the best beach umbrellas on the market right now.
It features a sturdy steel pole that ensures longevity and stability. You can also adjust the pole to find the right height. The canopy is supported by 8 steel ribs, so you won't have to worry about your umbrella losing its strength.
The canopy is 6.5' wide and features the familiar umbrella shape to provide protection for multiple people. It's made of polyester and has an aluminum undercoating that offers added protection from UV rays.
At the top, there's also a vent which provides better air flow and ensures that the umbrella can handle stronger winds much better. The umbrella is available in 6 different color schemes.
An issue about this umbrella is that it doesn't come with a base. This can be very inconvenient, as it might take a bit of time to set it up properly, unless you buy a base separately.
4. ​Frankford Umbrellas Commercial-Grade Beach Umbrella
This umbrella features great design and an amazing build quality. It offers ​stellar protection and has some impressive features. ​If you ​recognize and appreciate the value in ​a product that is built to last, there's no doubt that you should consider it.
Review
The canopy of this beach umbrella is of unparalleled quality. The military-grade acrylic is designed to prevent tearing and scratching. The construction is precise and heavy, so you won't have to worry about the durability. The fabric is also resistant to mildew and mold.
​This lightweight, portable umbrella is 7.5' wide, which is one of the largest sizes in our comparison. It can provide shelter for a group of people without issue, and it offers UPF 50+ protection.
The pole consists of two ash wood pieces and has an open height of 94". However, there's no height adjustment, which might be an issue to some. You also can't tilt the pole, which can be inconvenient if you plan on staying at the beach for a longer period of time. But as mentioned earlier, the sturdiest beach umbrellas are usually not equipped with telescoping or tilting poles.
The pole features stainless steel joints that will do a great job against sun and wind. The ribs of the canopy are made of 5mm zinc-plated steel, and there are also stainless steel springs. All of this ensures that the durability of this beach umbrella won't be a problem.
This is another item on our list that suffers from a lack of a sand anchor. ​A base can be very important for a beach umbrella, and having to pay extra for it might be a bit too much for some.
5. ​Tommy Bahama Sand Anchor Beach Umbrella
This is another great option for everyone who's on a budget but still wants a beach umbrella that does a decent job of protection from the sun. In fact, this one has some neat features to boot. It's not the most exciting or highest rated of our choices, but it's definitely worth considering.
​Review
The Tommy Bahama Beach Umbrella offers many things that an average beachgoer needs. The canopy is 7' wide and has a vent on the top. It will protect you ​​from UVB rays and withstand strong wind. The ribs are made of fiberglass, and while this is not a bad material you might expect some unsteadiness.
There's also a two-part aluminum pole. Even though this might not be the sturdiest material out there, it's still strong enough to ensure good stability. The pole features a tilting mechanism, so you can change the umbrella's angle according to the position of the sun.
At the bottom of the pole, there's a built-in sand anchor, which will help prevent the umbrella from unwanted tilting and flying away. It's very easy to use, so you can have it set up in no time.
​The Verdict
Now that you've seen our top picks for the best beach umbrella, it's time to announce our winner. Even though each of these products brings something to the table, we believe that you might want to go with the beachBUB All-In-One Beach Umbrella System.
The reasons for this are very clear; it's one of the widest beach umbrellas, and it provides great protection from the sun. It uses very durable materials and can ensure that you won't have to worry about it being carried away by the wind. It's also portable & weather friendly.

You also get some great accessories, such as the little shovel for filling the sand anchor with sand on the spot, as well as a sand gopher and a bag. If you can ignore the fact that you can't really adjust it, this can be a perfect product for you.
​If you're looking for a ​small portable option, the Sport-Brella Versa-Brella can be your choice. This thing is super stylish and comes with a universal clamp that you can use to easily affix the umbrella to a comfortable beach chair or other structure.
In the end, we're confident that you'll be satisfied with whichever of the above worthy beach umbrellas that you end up going with.