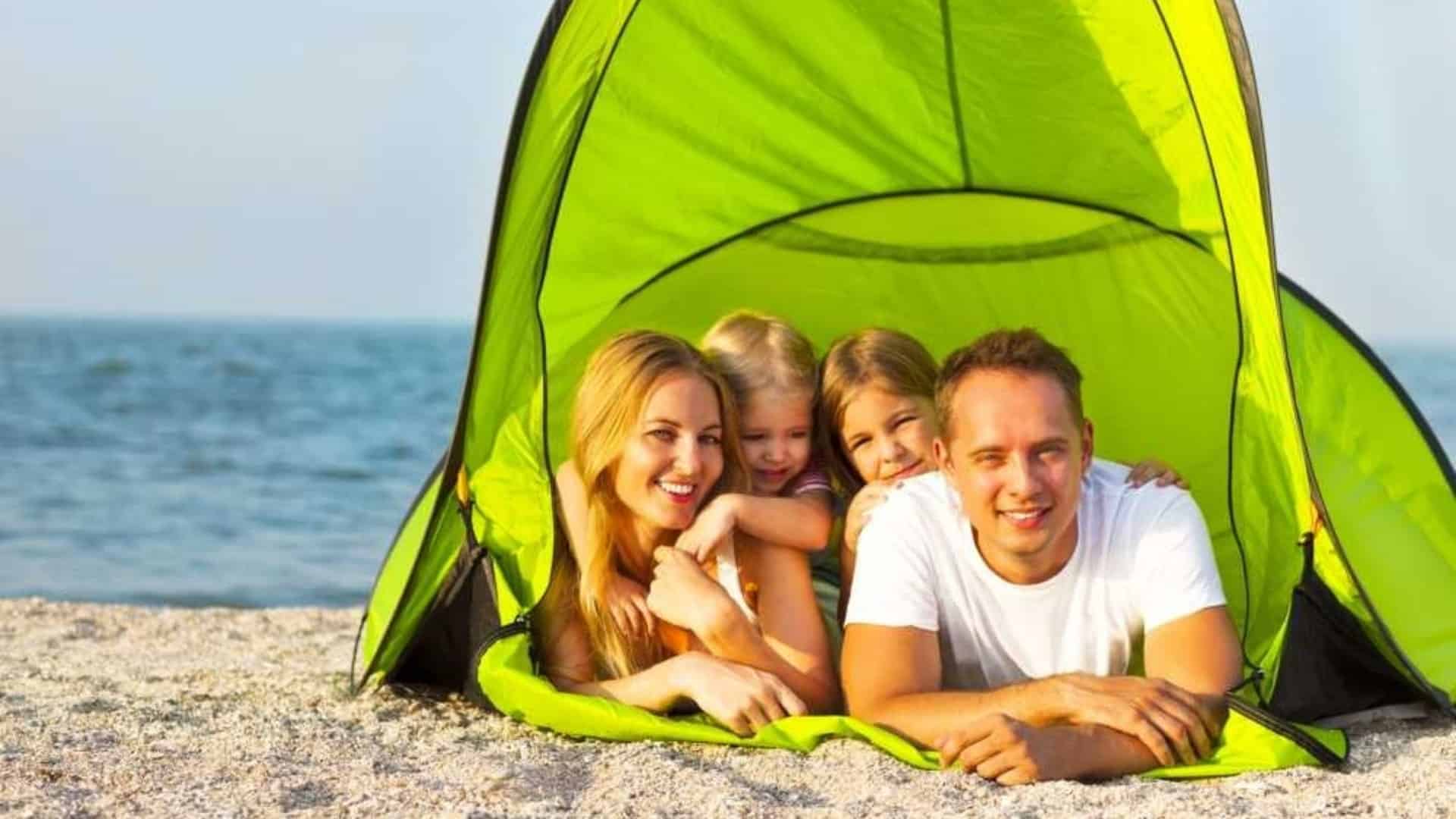 Summers are known for long, lazy, ice-cream-filled days spent on the beach, in the garden, or at the park.
However, you need to make sure that you seek out shade to keep you and your family protected from the harmful UV rays emitted by the sun. This can cause terrible sunburns and sunstroke.

Being able to sit beneath a beach tent will provide you with the shade you need without sacrificing your prime beach position near the water. This means you can get the most out of your summer without compromising your family's safety.
Below we have reviewed the 5 best beach tents for families available on the market. These are all very reasonably priced and offer technology to keep your family happy and safe. Read on to find out more.
Top 5 Family Beach Tent Comparison Chart
OutdoorMaster Pop Up Beach Tent - Easy to Set Up, Portable Beach Shade with UPF 50+ UV Protection for Kids & Family (Blue,L)
mittaGonG Pop Up Portable Beach Tent Sun Shelter Blue Sky and Ocean XL 95" L 53" W 51" H Comfortably fits 3-4 Person
Shade Shack Beach Tent Easy Automatic Instant Pop Up Sun Shelter - Blue/RED - Extra Large
EasyGo Shelter XL - Instant Beach Umbrella Tent Pop Up Canopy Sun Sport Shelter with PVC Floor - 8 Foot X 8 Foot XL Size.
Tagvo Pop Up Beach Tent Sun Shelter Easy Set Up Tear Down, Portable Instant Beach Baby Canopy Lightweight 4.7 Pounds, UPF 50 Plus Sun Protection 3 Mesh Screen Windows Good Ventilation Sports Sun Shade
Best Family Beach Tent Reviews
1. OutdoorMaster Pop Up Beach Tent
This is one of the easiest tents to use. It doesn't require assembly and takes only a few minutes to pop open into position. It also comes with various features that make it great for kids and adults who want to enjoy the beach without getting sunburned.
Review
This tent is very spacious, making it ideal for feeding and changing your baby, storing chilled items, and providing shelter from the wind. The fabric offers excellent UV SPF 50+ protection.

The tent comes with guy lines, sewn-in sand bags, and tent pegs to secure the tent in place. It also comes with a handy carry bag making it simple to take anywhere. The tent comes with a 6-month warranty which speaks to its quality build.

The tent weighs just over 8 pounds when packed in the carry bag. It has a large door that provides great access. The door has a zipper to close it, which is rare in beach tents. It is large enough to fit 2 adults and 1 child when sitting, or 2 to 3 children when lying down.

The polyester and mesh nylon windows provide privacy and airflow which keeps the tent fresh and cool. The tent also has a privacy flap that fastens shit with Velcro strips, allowing you to change and feed your baby or change into your bathing suit.
2. mittaGonG Instant Pop Up Beach Tent
There is no way to deny that this tent is awesome. Its unique design allows you to set it up in less than a minute. It is lightweight and very portable. The tent fabric provides great UPF 50+ protection, keeping your family safe when outdoors.
Review
This tent is compact and lightweight enough to be placed in a suitcase, so you can take it fishing, camping, and on beach trips. It weighs only 6 pounds and has plenty of space inside, even though it is compact.

The mittaGonG is waterproof and water resistant. It provides protection from UV rays thanks to its UPF 50+ protection. The tent pegs and sand bags allow you to stabilize your tent in windy or rainy conditions, no matter whether you camp on firm grassy areas or soft beach sand.

You can accommodate up to 4 people inside this tent, or you can easily place 2 low beach chairs inside with ease. The internal pockets allow you to keep your personal items safe. There is also a hook on the roof to hand a light when camping overnight.

The mittiGonG also has an extended zippered floor that helps keep sand out of the tent while providing additional space to sit. You can remove it when unneeded. The-1 year warranty speaks to the high quality of this tent.
3. Shade Shack Pop Up Beach Tent
You can easily take the Shade Shack tent along with you on any outdoor adventure. Simply pull it out of its carry bag and it will pop up into shape. This shape shades your whole family from harmful UV rays while still being lightweight enough to bring with you everywhere.
Review
This tent is large enough to fit adults and kids inside, and is around 30% bigger than similar tents. The tent doesn't have a floor, making it easy to place over a play pool or sandbox. This also means you do not bring the whole beach back home with you.

The side pockets can be weighted using a few handfuls of sand to ensure that the Shade Shack does not blow away if a gusty breeze or wind starts up. If you are on more solid ground, you can peg the tent down with the included stakes.

The tent weighs just 4 pounds which allows you to take it with you anywhere you go without being overloaded. The large windows and the back of the tent can be opened to let in cool breezes and increase airflow to ensure that your family does not overheat. Plus, the zinc-coated fabric blocks more than 96% of the sun's rays.
4. EasyGo Shelter Instant Beach Tent
This EasyGo Shelter is one of the fastest and simplest tents to set up. The pop-up tent gives you great shade and you do not need to do any assembly to erect this instant beach tent.
Review
This tent can be set up in second by simply pulling the string upwards and popping the tent open. This tent can easily be used on the beach or in the park, offering maximum shade and good protection from the wind.

The tent stakes are included and the sewn in sand packets hold the tent securely in place in windy conditions. The tent is lightweight and portable, weighing in at just 8.5 pounds. You can easily carry this tent with you anywhere you go without being weighed down.

The EasyGo Shelter tent measure 8 x 8 feet and is 5 feet tall in the center of the tent, making it a spacious option for the whole family. The tent comes with a full 30-day money back guarantee that speaks to the manufacturer's confidence in this product.
5. Tagvo Pop Up Beach Tent
This tent is perfect for beach days thanks to the easy, convenient setup that can be done in just minutes. The various features also keep your family safe from the sun.
Review
The portable tent is easy to set up and take down, taking just a minute by yourself. This tent is lightweight and compact, weighing just 4.7 pounds. It is large enough that 2 adults and 2 kids can fit inside with ease.

While this tent is not waterproof, it provides excellent sun protection, with the material offering UPF 50+ safety for shade on the beach. The breathable polyester and 3 large windows offer good ventilation.

This tent comes along with 5 sewn-in sand pockets and 8 steel tent stakes that help anchor the tent in place. The mesh pockets located under the back window is great for keeping personal items such as keys, phones, and wallets. Plus, the user manual is sewn into the liner, making it easy to find anytime.
FINAL VERDICT
Using a beach tent for family outings in the outdoors is important, especially if you have younger children. While speed of setup and price are important, the type of material and protection offered is the most important consideration. This is why the OutdoorMaster Pop Up Beach Tent is our favorite. It has excellent UV SPF 50+ protection and the windows provide good airflow. It weighs just over 8 pounds and comes with a 6 month warranty that speaks to the high quality of this tent.