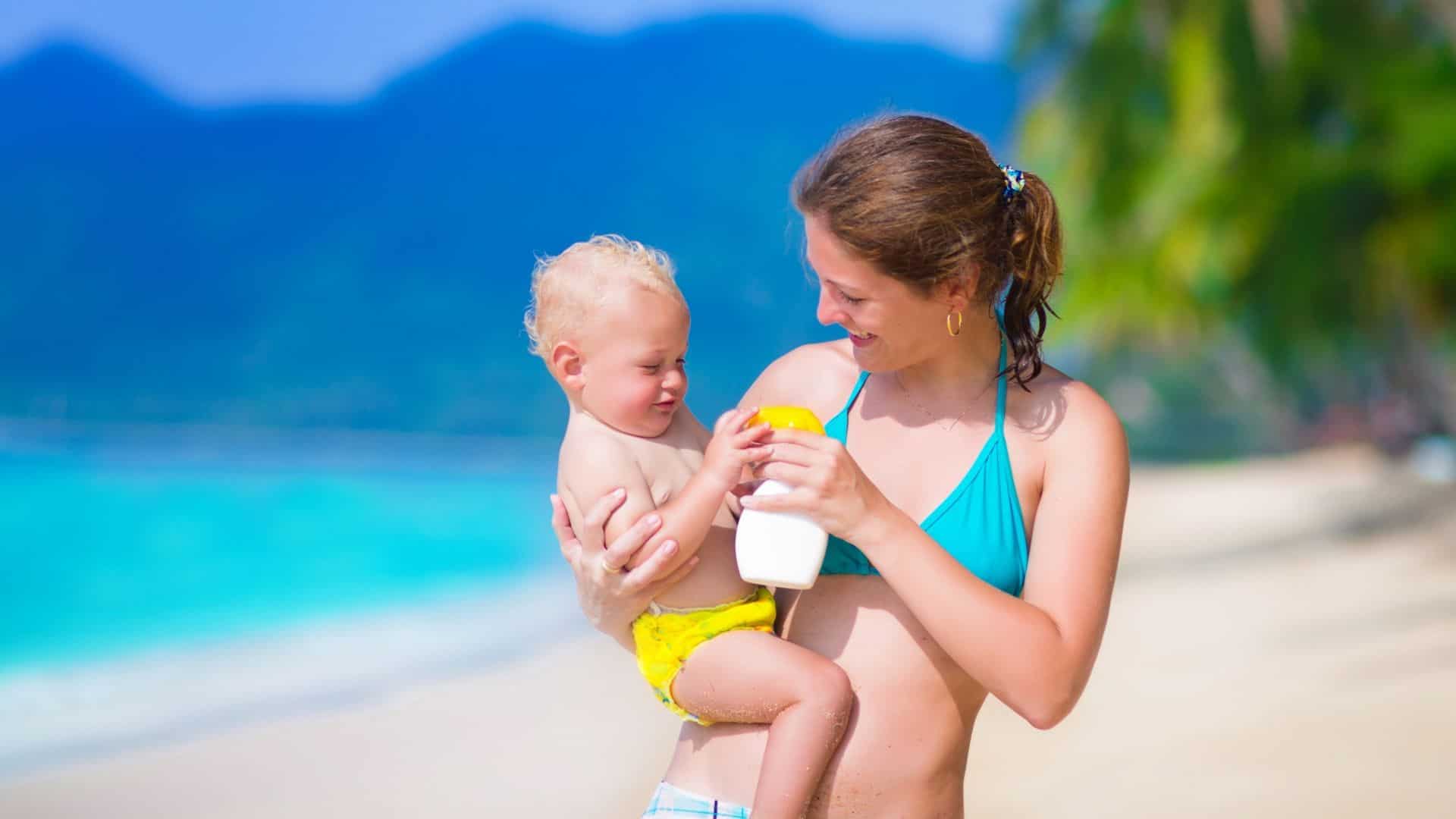 Are you planning a family beach trip with the kids? Maybe you have just had another addition to the family, a cute baby boy or girl. Of course, there is no reason why the newest addition to the family should have to miss out on going out for a day in the sun. However, you are going to want to bring some things along. Kids that are bored are not going to be fun for anybody. So, let's take a look at some of the best baby beach gear to see what the summer has in store for you.
Comparison Chart
Monobeach Baby Beach Tent Pop Up Portable Shade Pool UV Protection Sun Shelter for Infant
SwimSchool Baby Splash Mat with Backrest (No Canopy), Extra-Wide Inflatable Mat with Three Toys, 6 to 24 Months, Aqua
i play. Baby & Toddler Flap Sun Protection Swim Hat (White, 0-6 Months)
Thinkbaby Safe Sunscreen SPF 50+, 3oz
JIASUQI Babys Girls and Boys Comfort Walking Water Shoes for Outdoor Swimming River Green Octopus 6-12 Months
SwimSchool Baby Splash Mat with Backrest (No Canopy), Extra-Wide Inflatable Mat with Three Toys, 6 to 24 Months, Aqua
i play. Baby & Toddler Flap Sun Protection Swim Hat (White, 0-6 Months)
Best ​Baby Beach Gear Reviews
1. ​Monobeach Baby Beach Tent
Review
If you have a baby and want to go to the beach, but do not want to let them hit the surf just yet, you can always take a look at this Monobeach Baby Beach Tent. It's an innovative little play tent that allows your baby to get into the water while also offering some protection from the sun. It's a great way to give parents some peace of mind.
For one, this is a neat little pool because it is a 3-in-1 option. First off, it can be used as a mini pool, a sun shade, or a mini pool and sun shade. This is a 2-piece design that can be taken apart or put together based on what you need. It comes with a mini-pool, one that is a few inches deep. You can put some water in it, place your baby in it, and watch as your baby has fun splashing around.
Next, it also comes with a tent-like sunshade. You can choose to set it up on its own or in combination with the mini pool. Either way, it is a good way to provide shade for your child. With the sun shade up, it provides up to 50+ UV protection. The rear of the sun shade features a mesh opening that can be opened or closed; if you want your kid to get a bit of a breeze while they play, you can open it up. The Monobeach Baby Beach Tent comes with 4 pegs so it will not blow away if there is a bit of a breeze. It can easily fold together and fit into the provided carrying bag for easy transportation.
2. ​SwimSchool Beach Baby Splash Mat
Review
If you need a small and fun activity area for your kids, this is a great way to go. You can set up the SwimSchool Beach Baby Splash Mat at the beach, the pool, or just in your backyard. It is nothing overly fancy or huge, but it should be more than enough to provide your baby with fun.
The SwimSchool Beach Baby Splash Mat is a cool little splash pad for kids. There is really not much to say about it, but it should provide your baby with lots of fun. The mat itself is big enough for 1 baby to fit comfortably. It features an inflatable backrest so your baby can sit upright with some back support, plus it helps add a certain level of comfort to the mix. Keep in mind that this mat is inflatable, so you will need some good lung power to inflate it before you can put it to use.
The SwimSchool Beach Baby Splash Mat is a good option if you want to introduce your baby to water. Just inflate it, put some water in it, and place your baby in it. It features lots of cool patterns and drawings to keep your kid's attention. It also comes with a cool little ring stacking game, something which should keep your child occupied. Now, while the SwimSchool Beach Baby Splash Mat is durable enough for simple playing, it is not the most rugged item around, so it could pop if something sharp hits it.
3. ​i play. Baby Swim Hat
Review
Babies are especially susceptible to the sun. It does not take too much heat or exposure to the sun for babies to get severely ill. The i play. Baby Swim Hat is a simple but effective sun hat for baby boys, although it is technically unisex and works fine for girls too.
It is not like this hat will give your child magical powers, but it will protect them from the sun quite well. It fully covers the head, plus it comes with extra-large ear flaps, a large brim, and a long neck cover too, all of which work to shield your child from those harmful UV rays. The fabric is specially designed to ward off harmful UV rays, which is, after all, the main point of it.
Luckily it can be used for swimming as it has also been treated to not degrade due to water exposure. Moreover, it can be machine washed, but it should be hung up to dry, not dried in a tumble dryer. The i play. Baby Swim Hat comes with an easy-to-use drawstring so you can easily secure it to your child's head.
​4. ​Thinkbaby Safe Sunscreen SPF 50+
Review
Parents want to make sure that they keep their children safe when they are playing outside, but finding the best sunscreen that offers a high SPF as well as very few dangerous chemicals can seem impossible. Thinkbaby has a sunscreen that is mineral-based, meaning that there are no dangerous chemicals in the product so that you don't have to worry about rubbing them on your child's skin. Because this product protects against UVA and UVB light, you never have to worry about using two sunscreens for the best protection.
This lotion is not only easy to apply and to rub in, but it offers non-oily water resistant protection for 80 minutes before needing to be reapplied. This makes it incredibly easy to keep your children and yourself protected when you are spending time in the hot sun at the beach. Unlike other types of sunscreen that will quickly wash off in the water, this option from Thinkbaby does a great job of staying where you put it so that you don't have to worry about getting in and out of the pool or ocean.
​5. ​JIASUQI Baby Boys Girls Aqua Socks
Review
Water shoes are important if you are taking your child to the beach, the splash pad, the pool, or even to play in a local river. Without protection on the feet, it is very easy for a child to accidentally step on something sharp and get injured, which can quickly ruin the rest of the day. These aqua socks from JIASUQI are a great option for anyone looking for a cute and easy way to protect their child's feet from injury.
Made of very high-quality materials, these aqua socks are stretchable and will breathe so that little feet don't get too hot when wearing them. The top of the aqua socks is a softer fabric, while the sole of the sock is a durable rubber. These unisex shoes are great for boys and girls and come in a variety of fabrics and colors so that parents can choose ones that their child will be willing to wear.
​The Verdict
No matter what the case may be or which beach you are going to, if you have children with you, especially very young ones, you need to find a way to keep them occupied. Otherwise you as a parent are not going to have much fun at the beach. We would recommend getting ​some of the above items for your next family trip to the beach.