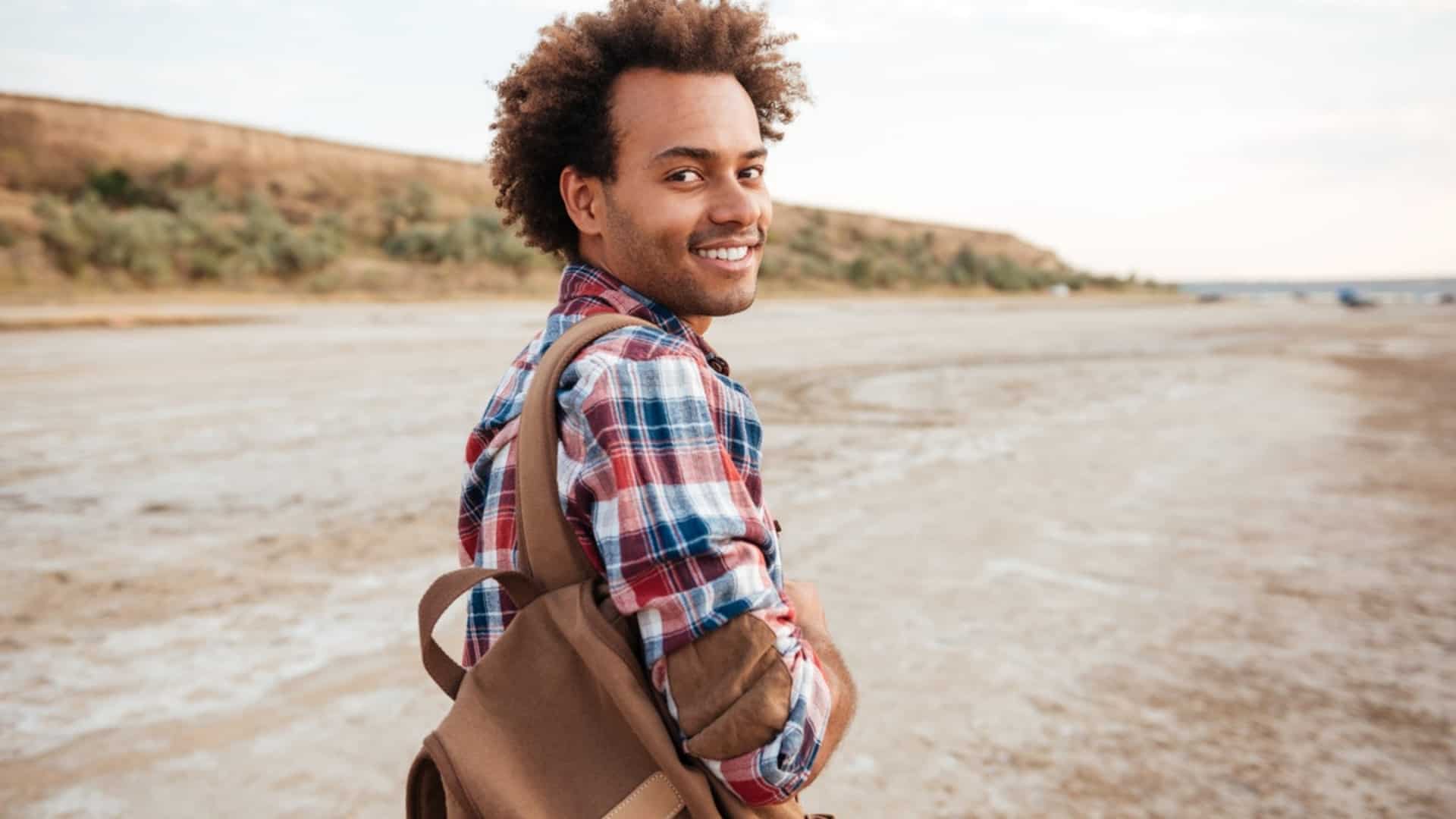 Style and convenience in equal measure
It's the one moment you have been looking forward to all week. And after what has felt like an eternity of back to back meetings, it's finally here - a blissful afternoon at the beach.
Now you will be able to practice your crawl, put your surfing skills to the test, and relax on the beach with a good book.
And being able to do so in style and in comfort all boils down to the very handy presence of that all essential seaside companion - your beach bag.
And that's what this guide's all about. The very best beach bags for guys which will become a much-loved fixture during those much needed moments of downtime by the ocean.
A seaside experience with a difference
Ensuring you have everything you need right where you want it is the key to experiencing a wonderful time at the beach.
That way you can rest secure in the knowledge that there will be no frantic searching for your sunblock, swimming trunks or worst still your car keys, and focus on having a great time.
The beach bags we have selected are just right for an unforgettable afternoon spent listening to the crashing surf and basking in the magic of summer.
They're stylish, spacious and best of all, durable. But which one of them deserves to become your trusty companion on the beach?
We invite you to examine their various merits and drawbacks with us and find out which one emerges the clear winner at the end of it all!
Comparison Chart
TOURIT Cooler Backpack Large Insulated Lunch Backpack Lightweight Backpack with Cooler Compartment for Men Women to Work Picnic Hiking Beach Park or Daily Trips - Double Decker Backpack
Gym Tote Bag with Yoga Mat Holder - Beach Totes for Men and Women
Speedo Printed Teamster 35L Backpack, Bright Orange/Black, 1SZ
Best ​Beach Bag for Guys Reviews
1. ​TOURIT Insulated Cooler Bag
Review
With the ability to keep your lunch as hot or as cold as you'd like it, and extra space for your other possessions as well, this beach bag is the stuff dreams are made of.
What's more, its deep sea blue fabric and peach colored zip and lower straps are the perfect complement for its trendy design.
And we're only just getting into how wonderful this beach bag is.
The presence of a special leak proof insulated cooler placed in a specially insulated compartment at the bottom means your food stays at the right temperature for no less than 16 hours - which we think is pretty awesome.
There is also a top compartment for dry stuff such as your clothes, books and even an extra packet of candy.
You can also bring your laptop along too if you want to. With the presence of a waterproof compartment for the one gadget capable of supplanting your mobile phone, the chances of any troublesome spills knocking it out for the count are simply less than zero.
And to ensure you remain well hydrated in the sunshine, the manufacturers of this bag have also added not one, but two mesh compartments for bottles of your favorite drinks.
Best of all it is pretty compact too, and measures just 16.9 x 10.6 x 7.9 inches. There's also extra padding at parts of the bag and straps in contact with your body for an extra touch of comfort.
It isn't very often that a product achieves the perfect combination stylishness, functionality and convenience. And that is what makes the Tourit Insulated Cooler bag the ideal companion for a tranquil afternoon at the beach.
TOURIT Cooler Backpack Large Insulated Lunch Backpack Lightweight Backpack with Cooler Compartment for Men Women to Work Picnic Hiking Beach Park or Daily Trips - Double Decker Backpack
Durable and Water Resistant: Made of leak resistant, durable fabric, lightweight cooler backpack for men women to work, picnics, road/ beach trips, hiking, camping, fishing
Leak-proof Insulated Cooler: High-Density insulation material and leak-proof liner inside of the insulated backpacks work together to make sure anti-leaking and keep food hot/ cold for 16 hours
Large Dual Backpack with Cooler: 1 bottom insulated cooler compartment for you lunch, 1 top packable storage room for your dry storage, 1 back water-resistant compartment for you 15.6" laptop, 1 front zipper pocket for your personal effects, 2 side mesh pockets for your water bottle; Dimension: 16.9" x 10.6" x 7.9" / 43cm x 27cm x 20cm (L x W x H), Weight: 1.1 pounds / 500g, about 25L, own enough space for all your necessities
Lightweight and Comfortable: Careful attention has been paid to the padded shoulder straps and thick padded sections on the back of the soft lunch backpack cooler to ensure you feel ultimate comfort and portability
MULTI PURPOSE: The insulated Back Pack Cooler Bag is a perfect gear for hiking, camping, fishing, hunting, lunch, picnic, backpacking, travel, trail, cycling and other outdoor activities
2. ​Costa Men's Beach Bag
Review
This beach bag has been made by fans of sea and surf for other fans just like them. And since there's no one more qualified to create beach gear, it's no surprise that they have left no stone unturned in bringing you a handy companion for those wondrous moments of sun, sea and sand - because they want you to love the beach as much as they do.
And there's no doubt that you will too, thanks to this amazing offering which comes with all the features you could ever wish for in a beach bag and more.
From its waterproof and abrasion resistant fabric to withstand all that sand and saltwater, to its padded bottom, it has everything you need to protect your possessions from a sudden and unwelcome soaking.
There's plenty of space to store them in too and it's been cleverly compartmentalized with an outer zip pocket for extra clothing, an inner one for your accessories and the main space for the bulk of your stuff. It even comes with additional pockets for bottles of water or your favorite drinks.
And the icing on the cake is its trendy design brought to you in neutral gray with touches of blue, black and an aqua logo.
With all these amazing features you can be certain that the Costa Men's Beach Bag has what it takes to make the beach one of your favorite places.
Costa Men's Beach Bag
Outer side zip pocket
Inner accessory/tablet zip pocket
Snap closure
Padded bottom
Side water bottle pockets
3. ​Gym Tote Bag with Yoga Mat Holder
Review
It's 100% waterproof and resistant to wear. It's made of nylon too meaning you can expect it to be rather light and dry pretty fast on the outside.
And because all good beach bags are meant to have them, it also comes with loads of internal and external pockets in which you can store your favorite possessions.
These include two outer compartments in which to store clothes you have worn at the beach and those for your water bottle, shoes and clean clothes. And that's not even counting the main compartment - or the straps at its bottom which are rather handy for your yoga mat or even an extra jacket.
The fact that it's rather spacious too - just in case you'd love to bring an extra bottle of your favorite soda along or even an extra change of clothing - only adds to its charm.
And best of all, the qualities which make it ideal for a visit to the beach also mean it is perfect for the gym, going to the store and even going on a trip.
And while it may not look as trendy as​ some others, it is a great choice for an item which embraces the functional.
Gym Tote Bag with Yoga Mat Holder - Beach Totes for Men and Women
Gym tote bag for women made of 100% waterproof and tear-resistant nylon.
Main compartment features one large zipped pocket and has a ton of extra pockets for storing shoes or clothes.
The tote bottom designed 2 straps for easy carrying a yoga mat or coat.
Outside have 2 mesh pockets, which is great for carrying dirty sweaty gear
Tote Bag for Beach, sports, swim, yoga, travel, shopping, diaper, carry on with LIFETIME GUARANTEE
​4. ​​Speedo Large Teamster Backpack

Review
​Guys who need a bag that is large and durable enough to easily hold their gear may find that this Speedo bag is the perfect option for them. Because it was designed with athletes in mind, it has great features that ​active beach goers are sure to love. There is very little chance of gear stored inside the bag, such as electronics, dry clothes, papers, and shoes becoming wet or damaged. Due to the roomy design of the bag, it's easy for athletes to bring with them everything they need for practice or for a sporting event.
There isn't any worry about electronics being damaged when stored in this bag, as there is a built-in sleeve designed for laptops and other electronics. Thanks to the water resistant bottom, there isn't any chance of water seeping up into the backpack and ruining the electronics when the backpack is set on the ground or on a damp bench. Additionally, the durable exterior of this backpack was designed specifically to withstand heavy use without ripping or tearing, and it is a combination of 91% polyester and 9% nylon.
Perfect for keeping wet or dirty contents separate from the rest of the clothing or gear in the bag, the removable dirt bag is durable and roomy. It can easily fit a few bathing suits, and is designed to prevent any leaks so that water doesn't ruin the rest of the gear inside. Because this bag is removable, it can be cleaned and dried before being placed back in the backpack, which will reduce the likelihood of mold or mildew growing in the bag and in the backpack.
In addition to offering great storage for items, this backpack has a removable bleacher seat, which provides a comfortable and dry place to sit. It's easy to use the bleacher set and enjoy protection from any cold, wet, or hard surfaces, and the seat can be brushed off when it's time to store it again. With so many different color options to choose from, it's easy for people to pick one that appeals to them and then not have to worry about other teammates having the same exact bag.
Sale
Speedo Printed Teamster 35L Backpack, Bright Orange/Black, 1SZ
Classic iconic shape and styling with new and improved quality and features
Built in laptop sleeve with water resistant bottom to protect PC when pack dropped or sitting on the ground
Durable exterior shell; built tough with abrasion resistance for demanding athletes
Removable trademarked dirt bag keeps wet/dirty contents separate from electronics or dry/clean items
Handy removable bleacher seat for cold, hard, or wet surfaces
​The ​Perfect Beach Companion
The beach bags all mentioned above do tick all the right boxes in terms of being waterproof and extra convenient. And the Costa Men's Beach Bag is pretty remarkable with its many compartments and extra bottom padding.
However, it is the TOURIT Insulated Cooler Bag which deserves the best beach bag award in this instance. And in closing here's a brief recap of all the features which set it several notches above the rest:
It's leak proof and high insulation cooler and waterproof cooler compartment capable of maintaining the temperature of its contents for 16 hours.
Its waterproof laptop and dry storage compartments and mesh drinks holders.
The extra padding on its strap and back for added comfort.
Its astounding ability to not only score pretty highly regarding aesthetics in addition to its superb functionality.